A Toast to Stetson's Class of 2017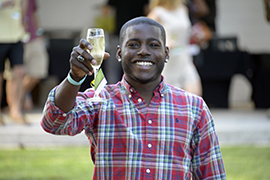 Every year, near the end of spring semester, Stetson University celebrates its graduating class during Senior Week. One of the signature events is the Champagne Toast in the President's Garden.
On Monday, April 24, President Wendy B. Libby and others offered encouraging remarks to the senior class, including Katelyn Ferris, a Communication and Media Studies major, and Wesley Dickson, a Public Management major, who both made the Senior Toast. 
Among the graduating seniors who attended was Dereck Williams from Davenport, Florida, below, co-Captain of the Stetson Hatter Cheerleaders and a Communication and Media Studies major. Williams and other seniors enjoyed the refreshments in the President's Garden and were given the champagne flutes as gifts.
http://
Stetson's Commencement Ceremony for undergraduates will take place on Saturday, May 13, at 8 a.m. at Spec Martin Memorial Stadium in DeLand. The Commencement and Hooding Ceremony for graduate students will take place Friday, May 12, at 7 p.m. in Lee Chapel inside Elizabeth Hall on the DeLand campus.
For a list of Senior Week events, go here.
For more information about Commencement 2017, including a full schedule of events, go here.