Donald Payne Signs with NFL's Baltimore Ravens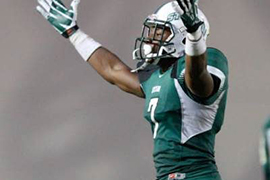 Donald Payne is headed to Baltimore.

The Stetson All-American safety signed with the NFL's Ravens as an undrafted free agent who will be invited to try out for the team. He becomes the first Hatter to sign with an NFL team in the modern era.
Payne, who graduated with a finance degree in December 2016, made the announcement on Saturday night, April 29, via Twitter (@7PayneTrain) – just hours after the NFL Draft concluded without him being selected.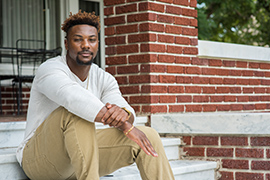 The three-time Defensive Player of the Year in the Pioneer Football League was signed to play outside linebacker. This week he's scheduled for a Ravens team physical before participating in a three-day minicamp for rookies this weekend.
Payne was not immediately available for comment, but Stetson Director of Athletics Jeff Altier has no doubt about Payne's ability to make a positive impression.
"Donald has certainly been an exceptional athlete for us. He's been an amazing athlete and a very strong student as well as a leader on our campus. … He definitely has an opportunity to play there," Altier commented Monday morning, noting that Davion Belk, another Hatter standout, still possibly might be signed by an NFL team.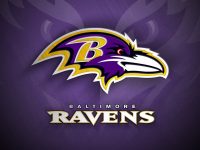 Payne and Belk arrived on campus in fall 2012 with approximately 120 other players, simply looking to play college football as Stetson was bringing back the sport following a 57-year absence. Most players were overlooked by other colleges, including Payne, who had an excellent career at private Landmark Christian School in Fayetteville, Georgia, but nonetheless was bypassed by larger schools in the recruiting process.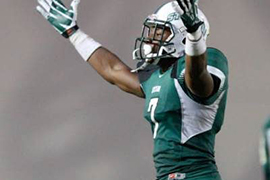 At Stetson, Payne finished his career with 538 tackles. Prior to the draft, he acknowledged interest from other teams, such as the New York Jets, Indianapolis Colts, Miami Dolphins, Tennessee Titans and Seattle Seahawks. It's likely he will have to make his initial mark on special teams, during punts and kickoffs. He blocked three kicks for the Hatters last season.
Stetson head coach Roger Hughes successfully recruited Payne, who took on the challenge of becoming a leader during the 2012 transition year (reserved for team practices only) before beginning to make game highlights in fall 2013. Aside from excelling on the field, he was a two-time academic All-American.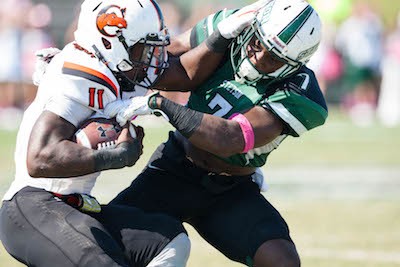 "It's outstanding for the program to have a professional player in our first recruiting class. And Donald is an outstanding representative of our program," Hughes said.
According to Hughes, while signing a contract essentially means an invited tryout, Payne was able to choose a good fit in terms of team and talents. And, despite not getting drafted, he's on roughly the same footing as all the other NFL rookies. Citing that his former player has gained muscle in the offseason (up to 225 pounds), plus gained speed, to complement his intelligence and attitude, Hughes believes Payne is in a good place.
"I really do like his chances. I think he's up for it," Hughes said. "He's in no different position than anyone else. So, yes, Donald has to prove himself, but so does everyone."
This time it's in the NFL.
-Michael Candelaria
Note: Read our earlier story about the two Hatters awaiting the NFL Draft.