Ibram X. Kendi Presents Social Justice Lecture at Stetson on April 27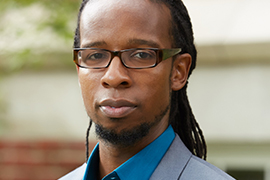 As part of its continuing Social Justice Lecture Series, Stetson University will host a lecture by Ibram X. Kendi, Ph. D., titled "Black Students and the Redefinition of Racist Ideas."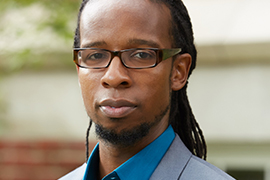 The New York Times best-selling author and award-winning historian will discuss the history of racist and antiracist ideas and movements in America. The lecture will be held Thursday, April 27, at 8 p.m. in Stetson's Marshall and Vera Lea Rinker Welcome Center, 529 N. Woodland Blvd., DeLand. The event is free and open to the public.
Earlier in the day, Kendi will join Rajni Shankar-Brown, Ph. D., associate professor of education at Stetson, for a discussion on racism and activism in the Rinker Auditorium in the Lynn Business Center, 345 N. Woodland Blvd., DeLand, from noon to 1 p.m.
Kendi's book, Stamped from the Beginning: The Definitive History of Racist Ideas in America, won the 2016 National Book Award for Nonfiction and was named a finalist for the 2016 National Book Critics Circle Award. Described as "engrossing and relentless" by The Washington Post, Stamped was named to Best Books of 2016 lists in the Boston Globe, Kirkus, The Root, Chicago Review of Books, and Buzzfeed. Stamped has been nominated for the NAACP Image Award for Outstanding Literary Work in Nonfiction.
Kendi is also the author of the award-winning book The Black Campus Movement: Black Students and the Racial Reconstitution of Higher Education, 1965-1972. He has published 14 essays in journals and books, as well as many op-eds in publications including The New York Times, Salon, New York Daily News, The Huffington Post, and The Chronicle of Higher Education. In addition, he is the associate editor of the leading online platform for public scholarship on Black life, Black Perspectives. A graduate of Florida A&M University and Temple University, Kendi is an assistant professor of African American history at the University of Florida.
Stetson University launched the Social Justice Lecture series in fall 2013 to explore issues central to the university's mission and values — those that speak to human freedom, personal and social responsibility, the connections we have with each other, and the obligations that flow from our shared humanity. The series engages communities in intensive exploration of social justice issues by inviting accomplished leaders to Stetson University to enrich community understanding of those issues and, in doing so, motivate participants to effect social change through community engagement and civic responsibility.
About Stetson University
Founded in 1883, Stetson University is the oldest private university in Central Florida, providing a transforming education in the liberal arts tradition. Stetson stresses academic excellence and community-engaged learning, and consistently earns high marks in national rankings. Stetson encourages its students to go beyond success to significance in their lives, the lives of others and their communities. Stay connected with Stetson on social media.