Stetson University in the News, April 14-20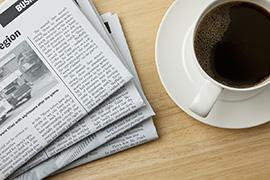 Top Stories
Stetson's Institute for Water and Environmental Resilience hosted a meeting of St. Johns River Water Management District scientists, other scientists, officials and springs advocates to discuss a proposal that will affect water flow in Gemini Springs, according to the article, "Local Officials Question Proposal to Allow Decreases in Gemini Springs Water Flow," posted by The Daytona Beach News-Journal April 17. The article quoted Institute Executive Director Clay Henderson.
K.C. Ma, Ph.D., finance professor, was featured in the article, "8 Unsexy Stocks With Super-Sexy Returns." Ma discussed Procter and Gamble Co., a company that produces razors and other household products. Because of the consistent need for these products, according to Ma, Procter and Gamble Co. is a great company to invest in, posted by U.S. News & World Report April 11.
Shasta Ford, graduate of Stetson University, was featured in the article, "Florida Film Festival: Field of Dreams for Filmmakers." Ford's 10-minute short film that celebrates vinyl records was presented at the Florida Film Festival, posted by Orlando Sentinel April 15.
Stuart Michelson, Ph.D., professor of finance, was quoted in the article, "Robert Powell: How To Save for Retirement When Politicians Keep Making it Harder." Michelson stated, "The removal of the Obama-era regulation only hurts those that are not looking out for their retirement, so those workers will not be automatically enrolled in retirement accounts," posted by My Informs April 14.
K.C. Ma, Ph.D., professor of finance, was quoted in the article, "What Happens to Uber Now?" Ma stated, "Most anticipate that Uber's highly anticipated IPO won't happen soon because of recent negative publicity. Uber's loss on public opinion – from early 2017's '#DeleteUber' campaign to its recent scandals – is Lyft's gain," posted by Yahoo Finance April 18.
Hari Pulapaka, Ph.D., professor of mathematics and professional chef, was featured in the article, "At Tampa Bay Farm-to-Table Restaurants, You're Being Fed Fiction." Pulapaka said, "I'm not trying to re-enact a scene from Portlandia, but consumers have to take ownership," posted by True Viral News April 15.
Law alumnus Ahmad Yakzan is featured in the April 19 10News interview, "Buy American, Hire American: what does executive order actually do?"
Other News
K.C. Ma, Ph.D., finance professor, was featured in the article, "Investors Can Profit From Volatility By Selling Puts." According to Ma, selling options, instead of buying options, can reduce the amount of risk by offsetting part of the capital invested in underlying assets, posted by Times-Herald Online April 18.
Law Professor Ciara Torres-Spelliscy is referenced in the April 14 Friday Round Up of SCOTUSblog.
Law Professor Theresa Radwan's quote in the Kiplinger article, "Dealing with Debts after Death," was picked up by Yahoo! News india.
Law alumnus Ahmad Yakzan is featured in the April 19 10News interview, "Buy American, Hire American: what does executive order actually do?"
Stetson was mentioned in the article, "Engaging Activities in Political Science." Stetson hosted the annual Model Senate Competition in March, bringing in students from other colleges to play the role of U.S. Senators and debate current issues, posted by Targeted News Service, April 12.
The April 13 Cape Codder and Wicked Local reported that Stetson law students assisted with a model U.N. intergenerational program.
The April 19 Gulfport Gabber covered news of Stetson students participating in the Fun in the Sun community event.
Alumni News
Michael Duckworth, Stetson graduate, was covered in the article, "Lennar Atlanta Welcomes Michael Duckworth as New Home Consultant." Duckworth was welcomed as New Home Consultant for the Roswell-based division of Lennar, the second largest residential builder in the U.S., posted by Patch April 15.
Trent Tomengo, Stetson University graduate, was mentioned in the article, "48th Annual Juried Student Art Exhibit Awards Announced." Tomengo judged the Seminole State College annual art exhibit and awarded prizes in the Best of Show, Best of Media, Awards of Excellence, and Merit Awards categories, posted by Targeted News Service April 19.
Stephanie Fischer, graduate of Stetson, was featured in the article, "Stephanie Fischer Named a Board Member of Georgia Restaurant Association." Fischer has been named a board member of GRA, where she oversees Learning and Development, Guest Experience, and New Store Openings, posted by Restaurant Informer April 19.
The April 13 State Capital News Feed reports that Jason Emilios Dimitris has been appointed the newest judge to serve on the 11th Circuit.
According to the April 19 Contacto Latino News, Law alumna Suzanne Boy will present "The Hottest Employment Law Topics in 2017" at the RetNet Forum Spring Meeting, on April 22 at the Meritage Resort and Spa in Napa, California.