Meet Cathy Downes, Stetson's Title IX Coordinator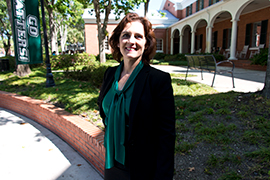 In her first three months on the job, Stetson University's Executive Director and Title IX Coordinator Cathy Downes has hired a full-time investigator, attended conferences and met with numerous student leaders.

"I want students to know and see me before they have to see me," she said.
Known for her unique television anchorwoman presence and bright yellow office walls, Downes is passionate about shedding light on an important policy on Stetson campuses: her job's namesake.
What is Title IX?
For most students, Title IX is associated with rape. "That's what's in the media the most," said Downes.
However, the policy's overarching purpose is to prevent gender-based discrimination, harassment and violence in higher education, including sexual assault, sexual harassment, stalking, domestic violence, and dating violence. Whether it happens in a classroom or in a club or organization, Downes said, Title IX applies to harassment that is gender based or sexual in nature, and is "persistent, pervasive and interferes with a person's ability to get their education."
What's the difference between sexual harassment, sexual assault and rape?
Though often used interchangeably, Downes offered important distinctions.
"Sexual harassment is unwelcomed conduct of a sexual nature — such as unwanted sexual advances," which creates a hostile environment, she said. This can mean someone in authority asking for sexual favors in exchange for grades or organizational memberships, continual sexist comments in the classroom, and also includes sexual assault. "Sexual assault can be non-consensual sexual touching, which can be groping, and non-consensual sexual intercourse, which would be rape," said Downes.
What has Title IX done and what does it do now?
Title IX's applicability has broadened to include investigating and preventing gender-based violence and harassment. However, this is not reflective of the law's history. According to the Educational Amendments of 1972 to the 1964 Civil Rights Act, "No person in the United States shall, on the basis of sex, be excluded from participation in, be denied the benefits of, or be subject to discrimination under any educational program or activity receiving Federal financial assistance."
Title IX originally sought to rectify disparity between men's and women's athletic teams in all resources, from scholarship dollars to uniforms. For example, preventing men's teams from monopolizing the gymnasium and ensuring that women's sports opportunities were proportionate to the school's enrollment, often having multiple smaller women's sports teams to balance out the large men's football teams.
"Title IX said to schools, 'you have to level the playing field,'" said Downes. "It needs to be balanced."
This is still the case and to protect that specific area, most schools identify a Deputy Title IX Coordinator for Athletics. Alicia Queally serves in that role for Stetson University.
However, in 2011, the Office of Civil Rights (OCR) called for schools to do more to protect their students from gender-based discrimination and harassment overall, rather than just balancing gender equity within athletics.
"What really changed was the interpretation of that and made a clearer outlining of what schools needed to do (to protect their students)," Downes explained.
To be in compliance with Title IX, schools have to designate a Title IX coordinator, print their policy, have their rules and procedures easily found on how the university responds to complaints, have an accessible reporting system for people to use, provide the option of a fair and unbiased investigation once a complaint is reported, and have that investigation conducted in a timely manner (later defined as within 60 days.)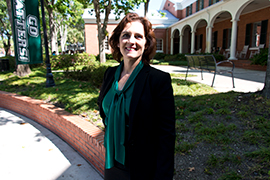 Who does Title IX protect?
Title IX protects everyone in K-12 and post-secondary education, as the first line in the amendment states, "No person in the United States …" Other laws have added to the requirements for schools and they align closely with the objectives of Title IX. The Violence against Women Act (VAWA), incorporated in the Clery Act (signed in 1990 in regard to campus safety and alert system), provided mandates regarding resources for awareness education and investigating reports of dating violence, stalking and sexual harassment — which ties in with Title IX responsibilities. However, neither Title IX nor VAWA limits protections to just women.
"Title IX protects students who identify as non-binary and anyone in the LGBTQ+ community," said Downes. "Gender-based harassment can be using homosexual slurs because you think or know that person to be homosexual. It includes sexual discrimination." This type of harassment and discrimination can take many forms against any person.
What happens after I file a complaint?
After an incident is reported to the Title IX office, there are different options a victim (the complainant) can take. "You can just tell me and that can be the end of it; you can go through an informal resolution where we put some remedies into place so that you feel safer and the behavior stops, and we can pursue formal charges at the university level as an investigation. You could (decide to) never tell us and (instead) go straight to the police," said Downes. "Whether or not you choose to report a complaint through the university or off-campus, you are always eligible to attend our counseling services or seek assistance at health services."
What rights do the victim (the complainant) and the accused (the respondent) have?
Both parties have a right to be protected against retaliation. On a small campus, especially, Downes sees that as a priority. "This should be a community of reporting, when people are concerned," she said. "If you come forward and you receive retaliation, whether it's social ostracization or threatening text messages, that is considered retaliation and we take a very strong stance against that."
Downes also makes clear that if the friends of the parties engage in retaliation on their behalf, they are also culpable. "Sometimes people think they're being helpful, saying, 'On this whole team, we're not going to talk to this person,' and it can do far more harm to the person who's being investigated, than helpful," she said. In that same vein, retaliation against the respondent is also not tolerated. "We are not going to have a name written on bathroom walls with the word 'rapist.'"
The victim has the right to decide what they want to do with the complaint. They can proceed to an investigation or seek informal sanctioning for non-violent situations, such as changing a classroom. The office's objective for the victim is to stop the harassment, prevent it from reoccurring, and issue remedies.
The office can reach out to professors – without disclosing the investigation — but request flexibility and discretion in extending deadlines, implementing no contact orders, removal and placement of housing, and interim suspensions in extreme cases. Each party is offered a designated university support person who can help and guide as needed. They also have the right to a fair and timely investigation as well as the right to request the federal Office of Civil Rights to investigate the handling of a case.
The Office of Civil Rights would review the request to determine if it needs to review the specific case and/or other Title IX cases. Its process is different and the agency has the option to offer recommendations for the university to follow concluding its review. The review is not the same as an appeal within the university system and would not be in place of university procedures. It would be an independent decision after the conclusion of the university process.
The rights of the respondent also include the right to a fair and timely investigation, even within that 60-day investigative period. The respondent is entitled to know the charge, as well as be provided with a designated university support person. "Both parties have the right to appeal findings and sanctions once everything is concluded," said Downes.
Decisions about how a Title IX complaint will be handled is at the discretion of the victim. No information on the case becomes public during an ongoing investigation or once the case is concluded. Short of a court order, all information remains confidential within the system. "Rape is about taking control," said Downes. "And the process is designed to give the victim that control back."
What does a Title IX Coordinator do?
Downes was the first Title IX Coordinator at her previous institution at Embry-Riddle Aeronautical University and laid the groundwork for implementing all aspects of new standards of Title IX into the school's policy when it came, not only to tracking cases, but also to education and prevention, while also serving as Associate Dean of Students from 2013 to 2016. At Stetson, Downes said her predecessor left a very well-written policy.
"Most of those things are in place. It's a matter of making sure we follow them," she said. "If you have a policy and procedure, it's only as good as the people who follow it, so making sure we follow all those rules and regulations and that whenever a person comes forward with a complaint, that they are listened to and their options are clearly explained to them."
In an effort to educate students on Title IX issues, Downes credits the Wellness Educators for Life-long Learning (WELL) Team for providing important programs. It is her plan to work with the team more closely to fulfill the Title IX components and further that information.
"That education must include bystander intervention, who is a confidential reporter, what resources are available on and off campus — and that education must be ongoing," said Downes.
Downes is responsible for the Title IX process on the Stetson campus in DeLand, the College of Law in Gulfport, and the centers in Celebration and Tampa. She has a team of professionals who implement the policies and procedures on a regular basis. The Deputy Title IX Coordinators on each campus effectively run the process at a campus level.
For students on the DeLand campus, that is Jess Varga, the director of Community Standards, and at the College of Law, that is Dean Tammy Briant.
Alicia Queally, senior associate Athletics director, serves as the Deputy Title IX Coordinator for Athletics.  There are also Deputy Title IX Coordinators for employees, Drew Macan, associate vice president for Human Resources for the DeLand campus, and Pam Skoularakos, director for Human Resources at the College of Law. On both campuses there are many employees trained to do investigations and serve as support persons. Scott Kern is the newly hired full-time Title IX investigator and he will serve all of the Stetson campuses and centers, as well.
For questions or more information, please contact Cathy Downes at [email protected] or [email protected] or visit https://www.stetson.edu/other/title-ix/.
-Veronica Faison