'Stetson Runs on Student Employment'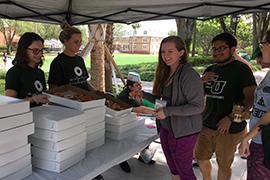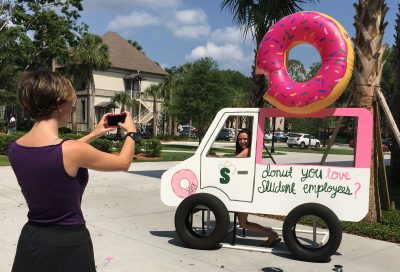 Sophomore Jenna Algieri has two majors and three student jobs at Stetson University.
Not surprisingly, her twin sister, Jessica Algieri, has the same.
The Algieri twins were enjoying Student Employee Appreciation Day on Friday, April 28, outside the Rinker Welcome Center. Student workers were given doughnuts from Mr. Bill's Donuts & Sandwiches shop in downtown DeLand, and played a doughnut-toss game to win prizes.
This was Stetson's first Student Employee Appreciation Day and Nora Huth, Stetson's Student Employment coordinator, hopes to expand it next year. Huth wanted to recognize student workers, and credited her office's student workers — Sommer Mark, Ally Topliff and Sam Holleman — for organizing, marketing and helping to run the event.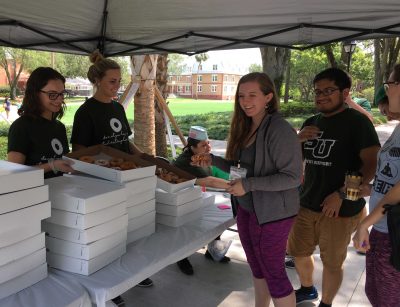 "Stetson runs on student employment," said Huth, adding Stetson employs 957 students in 1,132 different jobs. "They affect over 100 different departments on campus. They do everything from helping paint, helping recycle to running major projects for different departments.
"All of the students across campus do so much," she said.
Jenna Algieri, a sophomore from Rhode Island, is majoring in Digital Arts and History, and works about 20 hours a week in three student jobs: Lifeguard at the pool, clerical desk assistant at the duPont-Ball Library, and office assistant for the Computer Science and Math Department.
Sister Jessica Algieri has the same double major and two of the same jobs — lifeguard and library assistant — and works as an event coordinator for Hatter Productions. The two are roommates, too, this year, after living apart their freshman year.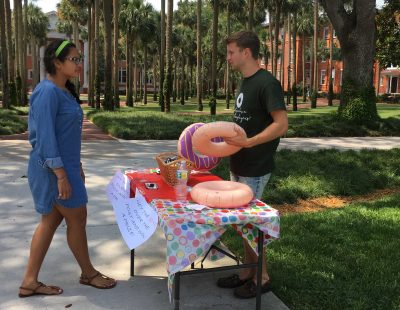 "It's fantastic that they put all this on for us," Jessica said about Friday's event. "It feels like we're all working really hard. We're in college and we're working, and it's a tough balance to have sometimes. So to have an event like this, where they have doughnuts and cute little prizes and stuff, it really means a lot."
Added Jenna, "It never occurred to me that you'd have Student Employee Appreciation, but we are a focal point on the campus. I feel like a lot of buildings couldn't be run if there weren't as many student employees as there are, so I do think it's important that we get recognized."