Stetson Showcase to Highlight Catalyst Houses, other projects on Tuesday, April 18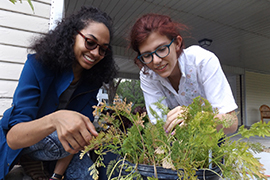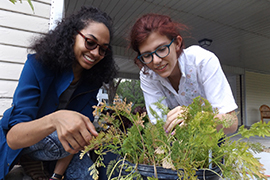 Stetson student Alissa Pagano loves the hydroponic garden she created and tends with five of her classmates at their residential house.
But she has her limits.
The garden is the main project of Sustaining Green Living, one of four Community Catalyst Houses the university established at the start of the 2016-17 academic year. The project brings together students with a common interest who live under one roof and "work together to serve as a catalyst for positive change in the community," said Larry R. Correll-Hughes, Executive Director of Housing and Residential Life.
Pagano, a senior English major, said she "wanted to live more sustainably and greenly, and have a lesser footprint. I thought this would be a good opportunity to try to commit to that."
That commitment has been a challenge sometimes at the Sustaining Green Living home on East University Avenue.
"Some Fridays or Saturdays have been like, 'Oh, let's gather and spend some hours for the garden' and I'd be like, 'Oh no!'," Pagano said, eliciting hearty laughter from housemate and fellow greenie Lex Rasdal, a senior psychology major.
"I really love the garden," Pagano added. "But the commitment part sometimes is . . . maybe not a struggle but definitely you have to stay committed to it."
While Stetson has committed to the catalyst house program for another year, the first year will be discussed during Stetson Showcase on Tuesday, April 18. A session titled "New Ways to Live: The Community Catalyst Houses" will feature two presentations by catalyst house students.
Along with Sustaining Green Living, this year's themed houses included Futures in Healthcare (16 students with an interest in healthcare, but not necessarily pre-med), Intersections of Faith (four students of various spiritual traditions, including Pagan-agnostic house manager Nichole Cheslow, who all sought to foster interfaith cooperation) and World Kitchen (five students whose goal was to use cooking and cuisine as a means to explore diverse cultures).
Sustaining Green Living is returning for the 2017-18 academic year, and there will be two new catalyst houses, said Jessica Day, Associate Director of Residential Education and Community Programs. Multilingual Living will bring together people who speak different languages to foster learning and understanding of different cultures. Arts on the Rise will be a creative arts house in which its four students, Day said, will "challenge themselves, critique each other, stretch each other and educate the community about the impact of the arts in life."
Although the majority of positions for next year are filled, students can contact Day at her office in University Hall to be put on a waiting list in case students drop out of the program. That list will be maintained until the start of the new academic year in August.

Themed housing is not new at Stetson or at universities across the country, said Correll-Hughes, who also is Assistant Vice President for Campus Life and Student Success. But Stetson wanted to "maximize" the potential of residential housing and such residences are "most successful when they have a focus," he added.
"We solicited student feedback in winter break 2015, and that's what really brought it into being," he said. "One student said as a university we have a commitment to community engagement, community service. Other students said Stetson is known for project-based learning. We melded those ideas together for Community Catalyst Houses."
Students proposed the themes. Once established, each house was required to create a group project. Intersections of Faith is creating a website that will provide students with information and resources on diverse faiths and spiritual paths. Sustaining Green Living is learning how to grow kale, carrots and other veggies hydroponically.
Futures in Healthcare "had the most successful education happening," Day said. "They brought in speakers. They held study sessions. When you go into their common lounge, they have a board that talks about when they're going to study for what. They organized this ability to be able to support each other academically."
As for Intersections of Faith, "their success was not only in their website project," Day said. "They were bringing in individuals who practiced different faiths and having dinner and spiritual conversation. Part of their mission was to spread the understanding that there are all these varieties of spiritual options for people to explore. And they had a really strong relationship with their faculty mentor, Dr. Phillip Lucas (professor of religious studies)."
Rasdal said being in Sustaining Green Living had both consciousness-raising and practical benefits.
"Most of us in the house had no idea how to do the hydroponic system," she said. "So we learned that together. The garden was a big thing. I really like sustainability and the idea of lowering wastes. Being in a community with everyone else that's like-minded helped a lot. We all try to encourage each other to grow in a sustainable way."
The catalyst houses "give students an opportunity to create an experience at Stetson that they can call their own," Day said. "You get a project here, a project there, but how often do you get to say I spent an entire year engaging not only myself but my peers – and create change?"
-Rick de Yampert
To Learn More about Stetson's Community Catalyst Houses:
— "New Ways to Live: The Community Catalyst Houses" will feature two presentations during Stetson Showcase on Tuesday, April 18, at 25 Library Auditorium – Media Center.
"Hatter Hydroponics in the Catalyst House" will be presented from 10:55 to 11:10 a.m. by Sarah Coffey, J.B. Pitts, Lex Rasdal, Alissa Pagano, Jad Lotoc and Jen Trinh. "Experiments in Catalyst Living: A Group Session — Community Catalyst Houses" will be presented from 11:10 to 11:55 a.m.
What do Mozart, U.S. Presidents and Snails Have in Common?
Annual Stetson Showcase allows undergraduate students to present research findings
What do public health, apple snails, Wolfgang Amadeus Mozart and several United States presidents all have in common? They all are subjects of research by Stetson University students who will present their findings during Showcase, an annual tradition since 1999 that focuses on the research of undergraduate students.
On Tuesday, April 18, 9 a.m-4 p.m., Stetson students will share their research through presentations, posters, music and theater performances, and more. The 2017 Showcase program is available online at Stetson.edu/showcase and provides presentation locations, times and abstracts. The projects presented will be a diverse range of topics across many academic disciplines. Throughout the day, guests can explore art and digital art presentations and exhibitions at the Homer and Dolly Hand Art Center, and attend music recitals and theater performances. All presentations are open to the public, free of charge.
Following the presentations, keynote speaker Michael Jackson, Ph.D., dean of the College of Science and Technology at Millersville University in Pennsylvania, will discuss lessons of and reflections on his research experience.
Presentations have been tailored to a public audience allowing guests an opportunity to gain insights into new areas of exploration. Many student presenters were grant recipients allowing them to conduct extensive research. A sample of the research to be presented includes:
Nicholas Fuller will present "The Effect of Florida Apple Snail Density on Vallisneria americana Weight and Reproduction," which investigated how apple snail grazing affects eelgrass reproduction. The research funded by a 2016 SURE (Stetson Undergraduate Research Experience) Grant used fertilizer in one trial to replicate the conditions of Blue Springs. This research provides a foundation for further research to understand how apple snail grazing affects the reproduction of this aquatic vegetation.
Natalie Frandsen traveled to Washington, D.C., to collect primary documents in the National Archives and Library of Congress on the evolution of executive power. She will present her findings during the presentation of "National Crisis and the Expansion of U.S. Executive Power: The Presidencies of Franklin D. Roosevelt, George W. Bush, and Barack Obama." This research was funded by a 2016 Evans Johnson Grant.
Naser Mubarak will present "Effects of Powerful Female Role-Models in Media on Attitudes Towards Women, and Female Viewer Anxiety." Through this research, Mubarak investigated whether sexualized images or the presence of assertive versus passive female characters influenced negative attitudes towards women.  This research as funded by a 2016 SURE Grant.
Also on display is "Track It, Zip It," a Digital Musical Instrument (DMI) designed by Victoria Grupp with the support of a 2016 SURE grant and IDMIL, McGill University, in Montreal, Quebec. In designing this musical instrument of the future, Grupp researched and prototyped innovative ways to design fabric sensors and integrate them onto a shirt incorporating the preferred gestural movements demonstrated by professional improvisational percussionist Jim Black.
Wolfgang Amadeus Mozart was one of the most famous opera composers of all time, and his operas are widely performed and studied to this day. Stetson student Melaina Cartwright-Mills conducted a study to examine Mozart's characterization of women in his comic operas. The exploration of these characters' relationships and identities is useful for singers who wish to give authentic performances of these opera roles. This research was funded by a 2016 SURE Grant.
Emma Schaefer will present "Public Health and Community Needs Assessment Report of Spring Hill Community 2015-2016." Now considered the poorest community in Florida, Spring Hill was once the site of housing for workers in the booming citrus and fern industries in the late 1800s. To examine the community needs, twelve Stetson students and the Florida Department of Health generated and administered a survey in the community assessing their health, environmental, and public safety concerns of residents. The results of this analysis funded by a 2016 SURE Grant were presented to the Spring Hill Community Redevelopment Agency and the City of DeLand.
While many Stetson University students can present their scholarly work at professional meetings across the country, Showcase provides an additional opportunity to display their work to faculty, fellow students and interested members of the community.
Every presentation will be judged by a panel comprising a diverse group of individuals who are experts in their field. Winners at each location will receive a Maris Prize of $200 and a certificate of excellence. An honorable mention is also chosen for each venue.
About Stetson University
Founded in 1883, Stetson University is the oldest private university in Central Florida, providing a transforming education in the liberal arts tradition. Stetson stresses academic excellence and community-engaged learning, and consistently earns high marks in national rankings. Stetson encourages its students to go beyond success to significance in their lives, the lives of others and their communities. Stay connected with Stetson on social media.