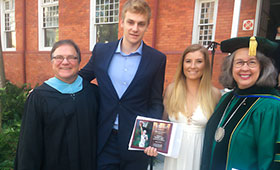 Algernon Sydney Sullivan certainly would have been proud. So, too, would have John Hague, Ph.D.
Sullivan was a public citizen and attorney who dedicated his life to service for others, highlighted by "nobility of character." Hague, Professor Emeritus of American Studies at Stetson University, was an admired teacher, scholar and academic leader.
On Friday, May 12, at Lee Chapel on Stetson's historic campus in DeLand, Florida, those characteristics were on full display at the 2017 Undergraduate Awards and Recognition Ceremony, including awards bearing their names. The festive, high-energy event, serving as a prelude to Commencement May 13, was Stetson's salute to its Class of 2017 and the faculty members partly responsible for their achievement.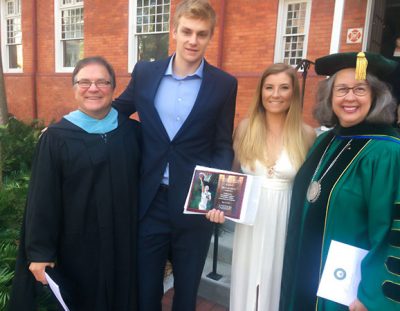 In all, there were more than 80 awards presented to students and faculty, with Stetson President Wendy B. Libby, Ph.D., opening the ceremony with heartfelt congratulations.
The Algernon Sydney Sullivan Award, jointly presented by Stetson and the Algernon Sydney Sullivan Foundation to two members of the graduating class (male and female), was given to Cory Zirkel and Valerie Hiller.
Although GPA is not the driving factor for the award, both students excelled with GPAs exceeding 3.9. Zirkel was part of Stetson's honors program and earned a degree in health sciences with a minor in psychology. He also was a Resident Assistant for more than three years, founded the Stetson Pre-Dental Society and was a peer instructor in organic chemistry.
Hiller, graduating in elementary education with a minor in Spanish, was a student-teacher in the Volusia County Schools district, volunteering more than 700 hours in elementary and middle schools. She also worked to provide a safe haven for teen girls by partnering with the Chisholm Center and helping lead an organization called The Beautiful Movement. In addition, she was a building manager at the Hollis Center on campus.
The John Hague Award for Distinguished Teaching in the Liberal Arts and Sciences was presented to Grady Ballenger, Ph.D., professor of English. Ballenger came to Stetson to serve as dean of the College of Arts and Sciences and now has happily returned to teaching literature and film. Sharing Hague's guiding principles, he serves as president of Stetson's chapter of Phi Beta Kappa and as faculty advisor to the Department of English's chapter of Sigma Tau Delta, the international honor society in language and literature.
The university's most prestigious faculty honor, the William Hugh McEniry Award for Excellence in Teaching, and a top student honor, the Etter McTeer Turner Award, will both be presented at Commencement 2017, set for Spec Martin Memorial Stadium in DeLand, 8-10:30 a.m. on Saturday, May 13.
-Michael Candelaria
2017 Commencement Ceremony Survey
Please share your feedback with us on Stetson University's 2017 Commencement Ceremonies Survey. We will be accepting responses until May 31. Thank you for your feedback!