Army ROTC Commissions 4 at Stetson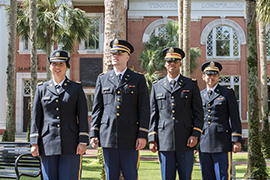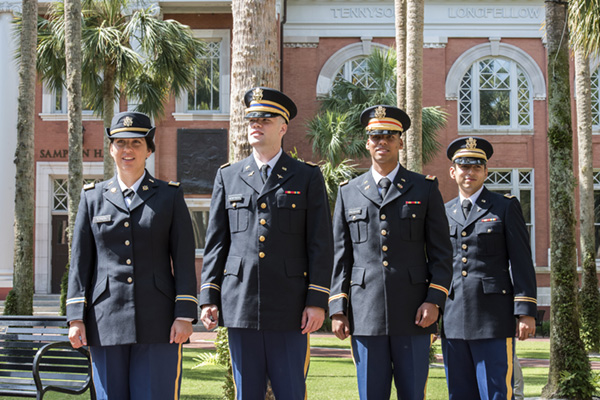 On Friday, May 12, four Stetson University graduating seniors in Eagle Battalion Army ROTC were commissioned as second lieutenants in the U.S. Army. The new officers are listed below with their hometown, academic major, first duty station and first assignment:
2nd LT Maria Frank, Fort Myers, Florida, history and Russian studies, Fort Carson, Colorado, Military Intelligence (active duty);
2nd LT Ryan Newfrock, Gloversville, New York, business and applied statistics, Fort Rucker, Alabama, Aviation (active duty);
2nd LT Johnny Wayne Pingshaw, Panama City, Panama, health science, Signal Corps (Florida National Guard);
2nd LT James Joseph Rainey III, Miami, Florida, environmental science and public health studies, Fort Sam Houston, Texas, Medical Service Corps (active duty).
After family and friends pinned gold bars on their shoulders, the new officers took a few minutes to speak to their supporters. Frank thanked the many strong, female role models in her life, saying, "They have endowed me with strong values that I will take with me for the rest of my life." Frank earned her Distinguished Military Graduate Certificate, finishing in the top 1 percent of cadets in the nation.
Newfrock thanked his parents for their ongoing support while he was 1,300 miles from home, and his siblings, who "traveled a combined distance of 3,000 miles to be here." Newfrock, who wore his father's uniform for the ceremony, was selected as one of just 140 out of 6,000 cadets nationwide for flight school. Newfrock also earned a Distinguished Military Graduate Certificate, finishing in the top 20 percent of cadets in the nation.
"This has been an incredible period," said Rainey. "It feels like a dream." Pingshaw took a moment to thank 2nd LT Frank, who he said was one of the best friends he could ask for and who wouldn't let him give up on himself. He closed by saying, "Thank you all for … seeing this Panamanian boy live his American dream."
Lieutenant Colonel Todd Mitchell, Lieutenant Colonel (retired) Oakland McCulloch and the cadets were joined by family and friends for the ceremony at Lee Chapel in Elizabeth Hall on Stetson's historic campus in DeLand, Florida. In his 22-year Army career, McCulloch held numerous leadership positions in the Infantry, Quartermaster and Armor branches.
"It is nice to watch these young men and women develop over four years to become the leaders they are today," McCulloch told Stetson Today. "We are passing the torch of leadership of the Army to the next generation of great young leaders."
The commissioning address was given by Brigadier General (retired) Ernest C. Audino, a Senior Military Fellow at the London Center for Policy Research and Senior Fellow at Soran University in the Kurdistan Region of Iraq.
"We expect leaders to have an honesty with their team because otherwise, it violates the trust of the team," said Audino. "Adherence to our Army values puts you in that right place, that place where you're exemplifying for that team the loyalty you have to them and to the mission." Audino is completing a book based on his service with the peshmerga, the legendary Kurdish fighters of Iraq, which will detail the Kurdish story of triumph over atrocity, endurance under chemical weapons and freedom after genocide.
The ROTC program at Stetson provides students the opportunity to acquire skills and knowledge necessary to serve as an officer in the Army.
2017 Commencement Ceremony Survey
Please share your feedback with us on Stetson University's 2017 Commencement Ceremonies Survey. We will be accepting responses until May 31. Thank you for your feedback!