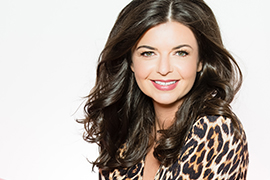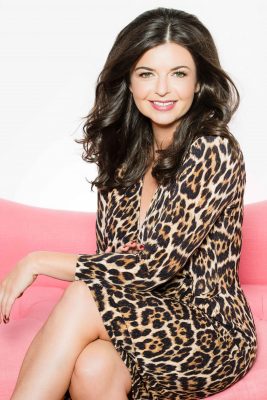 She's a Hatter with many hats: CEO, author, women's mentor and enlightened entrepreneur.
In a word, she is busy.
"Every day is different and that's what I love about being an entrepreneur," explained Kristina Tsipouras, '07.
Moroccan Magic is a lip balm company that Tsipouras started developing two years ago. A friend brought her a bottle of the pure, cold-pressed organic argan oil from Morocco. She told Tsipouras that, in Morocco, argan oil is more commonly used on lips and skin than on hair like it is in the U.S. Tsipouras researched and found that there were a few companies making high-end argan oil lip balm with a premium price tag; however, no one had created this high-quality product for the mainstream market at a reasonable price.
"I started working with formulators and introduced what people are now calling the smoothest lip balm in the world," she said.
And there's people like Apple Computer co-founder Steve "Woz" Wozniak who are big fans of her product.
"Ordered a bunch after discovering it," Wozniak tweeted in February 2016. "I have no financial benefit from this. We carry it in our cars, suitcases and backpacks."
Moroccan Magic lip balm is sold in over 1,000 CVS stores and starting in August, it will be available in CVSs nationwide. Another major retailer picked up the product for distribution starting in October.  ("I cannot yet mention the name," she said.)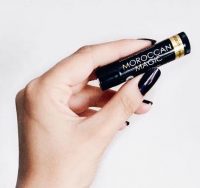 In addition to the shout out from Wozniak, The Today Show ran a feature about celebrity makeup artists' favorite drugstore lip balms and Tsipouras was thrilled to be included in that nationwide story. And last month, the Boston Globe featured her in a story, "Five things you should know about Kristina Tsipouras."
Her Foundation to Success
With all her accomplishments after years of hard work, Tsipouras credits her family and experience at Stetson University with shaping her into the person she is today.
Her grandparents immigrated to Boston from Greece and started a family business. Tsipouras said their work ethic and their love for life inspired her.
"They showed me what it means to be successful personally and professionally. I always strived to find a career that made me want to jump out of bed in the morning," she said.
But it wasn't until she transferred to Stetson University during her sophomore year that she was ready to take school seriously.
"I wasn't a great student growing up. I was definitely rebellious. I went on a self-help search trying to find my place in the world," she said.
The communication studies major/women and gender studies minor was a very active member of Delta Delta Delta sorority, and Tsipouras credits the experience of planning socials for her sorority with helping to launch her initial career as an event planner.
"Those years were honestly some of the best of my life," she recalled. "I found more time on personal development in college above anything else. My sorority and my extracurriculars were just as important to me as my courses, and I can see now how that led me to graduate as a more well-rounded young woman, ready to take on the world with experience on my resume. …
"I'm truly proud to be a Stetson graduate. When I talk to friends who've gone to some of the larger schools or even Ivy League schools, I never hear anyone speak about their undergrad as highly as I do. Stetson feels like a family and I think that's very hard to find in a college," she said.
When the Magic Happens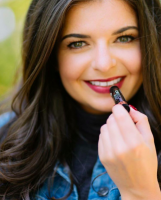 In 2013, she launched her first business, ZOOS Greek Tea, after several years as a high-level event planner in New York. Tsipouras penned a book, Busy Girl's Guide to Happiness, in 2016, and now she's set her sights on the very bright future of Moroccan Magic.
She is in the process of creating several other products to introduce to the Moroccan Magic line this fall (which can be found at  www.moroccanmagic.com). Though she has self-funded Moroccan Magic, and hopes to expand the business on her own terms, Tsipouras said she has very big growth goals for the next three years.
"We are determined to be a full line of products and a well-known family brand. I look forward to our rapid growth, moving to an office space soon and hiring a team of employees," she noted.
"I hope to still mentor young female entrepreneurs as I grow in my own career. Though I want to have a family and get married, I'm okay with putting my career first at this time in my life. As women, sometimes we feel like we have to do it all but that isn't realistic. I teach other women that that is what causes burnout," she said. "Right now, I'm going to be focused on being the best CEO I can and one day I'll be focused on being the best mother that I can, but I made the choice not to do it all at once."
-Trish Wieland