Stetson Graduates Largest Class Ever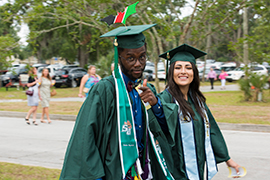 Stetson University graduated its largest class ever for a second year in a row, as President Wendy B. Libby, Ph.D., said she hoped students had experienced a metamorphosis because "college is all about growth."
A record 879 students graduated from Stetson in DeLand this weekend, including 687 undergraduate students who, along with their family and friends, filled Spec Martin Memorial Stadium on Saturday morning, May 13. Another 192 graduate students received their master's degrees at the Graduate Commencement Ceremony Friday night in Lee Chapel.
The total number of graduates sets a new record for Stetson, up from 830 graduates the prior year.
"Your exams are behind you and your life is ahead of you," Libby told the undergraduate students on Saturday morning. "I hope you feel all of the support and love surrounding you and overflowing the stadium today. And I hope you feel the spirit of community because with it all things are possible. I also hope that you feel a metamorphosis has just occurred in your life, that you have been changed by the Stetson community for the better.…I hope that your heart and your head are full. After all, college is all about growth," she said.
Stetson has a tradition of selecting two students to speak at the Commencement Ceremony. Graduating seniors are nominated by faculty and peers, selected by a committee and the finalists are asked to give a presentation. Being selected is considered "a high honor," Libby said.
This year, both speakers received bachelor's degrees in religious studies and were part of the college's prestigious Bonner Program. Bonner students receive financial aid and perform community service each week while also learning about community engagement, and personal and professional leadership.
Student speaker Chelsea Mariah Probus also played violin with the Stetson Symphonic and Chamber Orchestras, volunteered with the Interfaith Soup Kitchen and — as an avid rock climber — did her senior research project on "Rock Climbing as a Religious Phenomenon." She will attend Duke University this fall as a fellow in the Center for Jewish Studies.
In her talk, Probus praised her classmates for all their accomplishments at Stetson. The Class of 2017 turned the Reporter Magazine into an award-winning publication, represented Stetson at the Cannes Film Festival and others, hosted the Florida Collegiate Pride Coalition Conference this spring for the LGBTQ+ community, performed concerts across the United States and in the U.K., and studied abroad in places like Germany and Chile.
"The Class of 2017 founded the Muslim Student Association and African Student Alliance," said Probus, a member of the Theta Alpha Kappa and Phi Beta Kappa honor societies. "We've started so many things in our time here. Students have started environmental sustainability efforts, advocated for Stetson to be a Sanctuary Campus (that would have limited its cooperation with federal immigration enforcement), started countless organizations, engaged with the community, and developed Stetson's academic and political climate."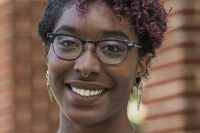 Student speaker Alexandra Panchita Sullivan found a home on campus at the Cross Cultural Center and became involved with organizations under the umbrella of Multicultural Student Council. She volunteered at the Boys & Girls Club in the Spring Hill community and interned for a nonprofit group on a Native American reservation in Montana. She plans to pursue a master's and doctorate degrees in cultural anthropology.
"The opening chapter in my undergraduate story was a trying one," Sullivan said. Her mother fell ill the summer before her freshman year, and she and her sister weren't sure if their mother would ever walk again. Sullivan doubted if she would like Stetson. She was there to get a bachelor's degree and a good GPA. But something happened along the way.
"One moment I'm me and then I blink and I'm the president of SONAR  (Stetson Organization for Native American Revitalization), the next I'm part of the Bonner Program working in DeLand and the Spring Hill community, the next working with different parts of the Cross Cultural Center. Waking up every day proud of the work I was doing was like seeing in color for the first time."
Woody O'Cain, assistant vice president of Alumni and Parent Engagement, told graduates that they were changed by their time at Stetson, but also Stetson was changed by them.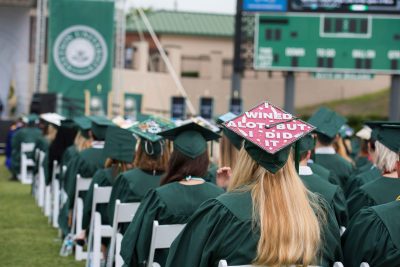 "You have shaped Stetson in a very significant and distinctive way," he said.
During Saturday's ceremony, Rosalie Richards, Ph.D., associate provost for Faculty Development, recognized the achievements of several students and professors:
The Etter McTeer Turner Award honors Stetson's first woman dean of students, and was established by the family of former Stetson President J. Ollie Edmunds through their Gualala Foundation. It is awarded for outstanding academic performance, leadership and community service. Richards presented this year's award to Valeria Roati, an international student from Italy with a double major in biology and chemistry, and an overall GPA of 3.8. She completed two senior research projects dealing with stem cells and enzymes, and competed on the Stetson Equestrian Team. She has been accepted for the fall at Ontario Veterinary College, Canada's top vet school, which accepts just 15 students from outside of Canada each year, Richards said.
The Hand Awards for Distinguished Faculty Achievements are made possible through the generosity of longtime trustee and alumna Dolly Hand, LL.B.'49, Hon '08, and her husband, Homer Hand. The recipient of this year's Hand Award for Community Impact is Bonnie Holloway, a visiting lecturer of accounting in the School of Business Administration. Holloway oversees the Volunteer Income Tax Assistance (VITA) Program, whose student volunteers are trained to prepare and file tax returns for families. The recipient of this year's Hand Award for Research, Creative, and Professional Activity is Mary Sanders Pollock, Ph.D., the Nell Carlton Professor of English.
The William Hugh McEniry Award for Excellence in Teaching is considered Stetson's most prestigious award for faculty. It is awarded to a faculty member chosen by students and faculty. Excellence in classroom teaching is the primary criterion, although other factors, such as intellectual growth, academic activities outside the classroom, and service to students and the university may be considered. The recipient of this year's McEniry Award is Dan Plante, Ph.D., professor of math and computer science.
Stetson awarded an Honorary Doctorate on Saturday to Fred Lane, retired president of Coordinated Care, Inc., and owner of DeLand Convalescent Center. Lane received a Bachelor of Arts from Stetson in 1952 and went on to earn bachelor and master's degrees from Southern Baptist Theological Seminary, and served as a church education and music director.
Also Saturday, the Stetson College of Law conferred degrees on a total of 254 Stetson law school students at a Commencement Ceremony in Gulfport.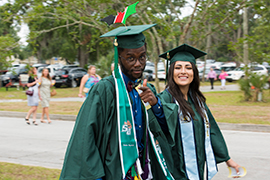 2017 Commencement Ceremony Survey
Please share your feedback with us on Stetson University's 2017 Commencement Ceremonies Survey. We will be accepting responses until May 31. Thank you for your feedback!