Army ROTC Cadet Selected for Flight School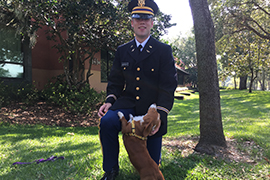 Ryan Newfrock gave his father's old Army dress uniform very little thought while growing up in a small town in upstate New York.
Over time, it became a dusty keepsake buried deep in a closet, an afterthought for a teenager focused more on playing high school basketball and running cross country.
But suddenly, old is new, as Newfrock, a 22-year-old Stetson senior and Army ROTC cadet, prepares for a May 12 ceremony when he will be commissioned as a second lieutenant in front of much of his family.
Newfrock plans on wearing the old dress uniform when he takes the military oath in passing-the-torch style from his father, Joseph, a helicopter pilot who retired in 1993 at the rank of major.
Amazingly, no alterations were needed.
"I saw it as a kid, but never thought for a second it would fit me like a glove," said Newfrock, who stands 6-foot-4. "When I was back home visiting last Christmas, I tried it on out of curiosity. It was a perfect fit."
He recalled stepping into the living room and saying to his mother: "Look what I found."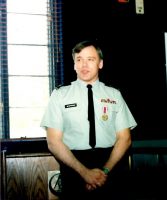 Shocked, she broke down in tears seeing her husband's old uniform come to life after more than 20 years, worn this time by the oldest of two sons.
Newfrock said his father was less emotional, but very proud.
"He was grateful when I asked him if I could commission in it. It's like passing on the legacy," Newfrock said, smiling. "The sentimentality is through the roof. It's very rare that something like this will ever occur."
Retired Lt. Col. Oakland McCulloch oversees the Army ROTC program at Embry-Riddle Aeronautical University, which includes 41 cadets from Stetson, as well as others from Bethune-Cookman and Daytona State universities.
MuCulloch said he knows of no other student anywhere in the country who was ever commissioned in a parent's dress uniform.
"And I've been associated with the Army for 36 years,' he said. "It's a very special thing."
McCulloch said Newfrock showed excellent leadership qualities from the beginning, an impressive and mature 18-year-old who always "stepped up to volunteer and be in charge."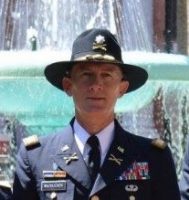 "He wanted to be a leader from Day 1," McCulloch said. "I think the future is wide open for him, certainly to go far in the Army. He has all the qualities to be a very good officer."
Newfrock arrived at Stetson initially thinking he might become a teacher working with people with special needs. But he also had interest in a career as a pilot.
He joined ROTC soon after arriving on campus as a freshman and landed a full scholarship his sophomore year that covered three years of tuition, on-campus housing, meals, books and a monthly stipend. The Army paid about $250,000 over the three years toward Newfrock's education in exchange for what will be a 9-year military commitment after graduation, at least five on active duty.
"I quickly decided the military route was best for me," Newfrock said. "I could choose my own path."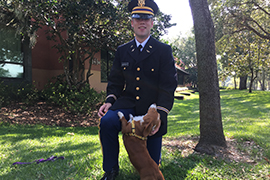 Newfrock also ran for the college cross country team, initially as a walk on and this year as a captain.
"ROTC opened up a lot more opportunities career-wise and socially," he said. "There's a focus on leadership. ROTC teaches you how to be a leader in and out of the military."
A generational bond exists between the Newfrock family and the military, dating back to a grandfather in World War II, his father, an uncle and a 20-year-old brother in the Air Force who will give his Army officer sibling his first salute.
"A lot of my family took that route," he said. "I decided that if I was joining the military, I'd go as an officer. There are more perks, financially and with leadership."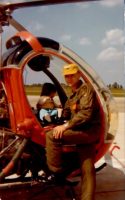 Right after his Army commission ceremony and graduation, Newfrock will depart for several months of training and then flight school to become, like his father, a helicopter pilot. He was selected as one of just 140 out of 6,000 cadets nationwide for flight school.
His mentor, Lt. Col. McCulloch, said Newfrock is just the third Stetson cadet in his six years of heading the program who qualified for aviation school.
"It's a very difficult branch to get into," McCulloch said. "So many people want it, but there are only so many slots."
But first things first. A memorable ceremony lies ahead on May 12, when Newfrock takes the oath from his father. And a long-forgotten Army dress uniform takes center stage for the first time in more than two decades.
"It's going to be very emotional," he said. "Very special."
-Ray Weiss