Stetson Students Serve as Health-Care Coaches to Area Patients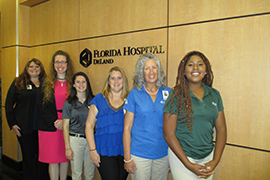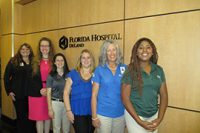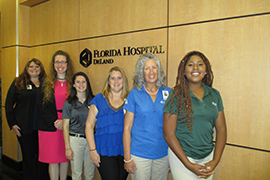 Serving others – particularly those who need help the most – has long been a core value at Stetson University. And thanks to a program launched by Stetson University's associate professor of public health in biostatistics, Laura Gunn, Ph.D., in conjunction with administrators at Florida Hospital, the DeLand community and Stetson students are each benefiting in significant ways. 
"The Florida Hospital-Stetson University community healthcare/health coach program began as an innovative solution to address complex health needs of those who are uninsured, underinsured, Medicaid-eligible, or on Medicaid within Volusia County, with primary focus on the DeLand community," explained Gunn.
"Since about half of healthcare spending goes to approximately 5 percent of patients, the goal of the program in population health is to train students to work closely with these 'frequent hospital flier' patients in an effort to mentor them with better managing their care, ultimately leading to reduced emergency department and hospitalization visits," she said. 
Students begin their first semester of the program in an interdisciplinary community healthcare seminar course led by Professor Gunn and co-taught by a team of Florida Hospital health professionals across a diverse array of expertise as well as additional Stetson faculty. Once the seminar is completed, students transition for the next two or three semesters into the community as health coaches who impact population health by influencing the lives of uninsured, underinsured, and Medicaid/Medicaid-eligible residents who benefit from the support of Stetson's students to guide them in managing their health outcomes.  
The program has between 20 to 40 students who enroll each semester.  
"Our first cohort of health coaches began in January 2016, and since then we have had 44 health coaches making a positive impact on the lives of residents within our community who need help solving complex public health, medical, and social issues," explained Gunn.
REAL-WORLD EXPERIENCE 
Stetson's health sciences major Arden "Ari" Tomassetti of Westbrook, Connecticut, has been with the student healthcare coaching program since its inception and has mentored three patients during that time.
"My favorite part about the program is having the ability to see my patient and her progression over the past two semesters. After building a relationship with her, it's awesome to be able to continue working with her and seeing how far she has come," said Tomassetti. 
As she prepares to graduate early (in December 2017), she reflected on the tremendous value that this initiative has brought her. 
"The healthcare coaching program has shown me how to build trust and instill a sense of confidence in my patients. In conjunction with this opportunity to build skills like reflective listening and motivational interviewing, I have also had the chance to learn about chronic diseases that are engulfing our country. Learning how to approach diabetes, chronic obstructive pulmonary disease, and congestive heart failure from many different angles including, but not limited to, the medical approach, the nutritional approach, and the psychological approach, has taught me to look at medical conditions with a more holistic and well-rounded eye," explained Tomassetti. 
"Simply sitting in on the case conferences each week teaches us at least one new thing each time. We're able to pick up on different medical terminologies and slowly learn about the many different pharmaceuticals we will eventually see in the field."
Tomassetti's current patient, Kathy Brayton of DeLand, has been with Tomassetti since the fall of last year, following a diagnosis of diabetes in July as well as several hospitalizations in 2016 for chronic obstructive pulmonary disease (COPD). In January of this year, Brayton was also diagnosed with irritable bowel syndrome (IBS).
"It's been a lot for me to figure out medically, and Ari has been such as God-send. I don't know what I'm going to do when she graduates. She's not only my health care coach but a good friend, too," said Brayton. "She helps me to know what I need to do for nutrition and exercise, and she also supports me spiritually and emotionally, which are things that are overlooked by a lot of doctors." 
– Trish Wieland
What they're saying: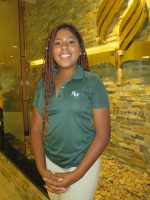 Student health coach Kendall Coakley, a sophomore molecular biology major/public health studies and religious studies minor from Miami, Fla., has been with the program for a year. 
 "I am a resource to my patient in trying to be there for my patient when he is not fully aware of his situation. I am connected to a hospital, can get expert advice rather quickly and pass it along. Also, I can meet my patient wherever he is most comfortable, which is a plus to most."
"My long-term career plan is to become a Physician Assistant and start my career as a PA in an emergency-room setting. Yes, I truly think the health coach program gives me an edge when I am applying for PA school. I have gained a lot of knowledge about medicine, but I have also learned a lot of important life lessons you can't teach in a lecture. I've had the amazing opportunity to get real life, hands-on experience building a rapport with my patients."
-Stetson's health sciences major Arden "Ari" Tomassetti