Stetson University Leaders Break Ground on Sandra Stetson Aquatic Center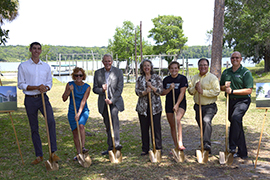 Stetson University leaders and athletes gathered on April 28 for a ceremonial groundbreaking of the much-anticipated Sandra Stetson Aquatic Center. Named for a great-granddaughter of the university's namesake, John B. Stetson, the 10,000-square-foot facility will provide a permanent home for Stetson University Rowing teams, a space for water research and a place for public recreation when it is completed next year.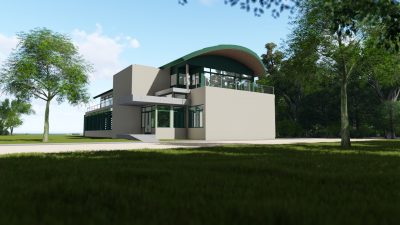 Sandra Stetson donated $6 million for this project, including $1.5 million which has been placed into an endowment to maintain and operate the building. In addition, Volusia County awarded a $400,000 grant from the ECHO program (for environmental, cultural, historical and outdoor recreation projects) to build public restrooms and public parking on the 10-acre lakefront site, and provide a public launch for canoes and kayaks.
At the University's 10-acre lakefront site along Lake Beresford, Stetson University President Wendy B. Libby, Ph.D., expressed gratitude to Sandra Stetson for her generosity, which is making this cutting-edge facility a reality for future Stetson students and the community.
"This facility is not only a mark of Sandra's generosity, but it will enshrine the Stetson family name on a university structure once again," said Libby. "Sandra is a donor who cares about the environment and shares a love for the water. Her generosity allows us to put water recreation and sport, and research together under one roof."
Just as Lake Beresford is the perfect place for rowing, it is also the best place to research and develop innovative technical, social and political solutions to protect freshwater resources and related environmental concerns. The Aquatic Center will enhance Stetson research at the Institute for Water and Environmental Resilience.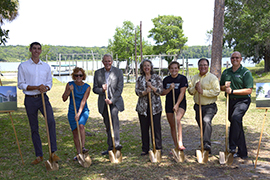 "This facility is the realization of a dream," said Karen Ryan, Ph.D., dean of the College of Arts and Sciences. "A place for the Institute to call home and a place for our students and faculty to interact with the water and environment around us."
Stetson leased the site for a decade before purchasing it four years ago for its rowing teams. Currently, the teams keep their crew boats in a greenhouse building on the site. The new aquatic center will provide storage for 60 boats on the first floor, as well as rowing machines for the team's daily workouts. The center will be used for rowing competitions and as a winter training site for high school and college rowing teams from the north. Stetson University has hosted the fall Rendezvous regatta, the largest racing regatta in Florida with more than 1,100 participants and 3,000 spectators, for the past four years.
"The new boathouse is a manifestation of where we are going," said Sarah Burnham, a member of the Stetson Women's Rowing Team. "We are growing so much in numbers and speed and it is important to have a boathouse that matches that. It is ushering in a new era that will make Stetson rowing known throughout the country."
The aquatic center was designed by Preston T. Phillips of Bridgehampton, New York, who was recommended to Stetson University by Sandra Stetson to design and provide the architectural and engineering for the project.
The second floor of the facility will have glass walls on three sides with a balcony that will wrap around three sides of the building. The second-floor ceiling will be vaulted. From the exterior, the roof is designed to resemble a boat. Outside the facility, trails and elevated walkways will lead to the water's edge. Along Lake Beresford, there will be docks to launch crew boats and a viewing platform that will overlook the lake.
About Stetson University
Founded in 1883, Stetson University is the oldest private university in Central Florida, providing a transforming education in the liberal arts tradition. Stetson stresses academic excellence and community-engaged learning, and consistently earns high marks in national rankings. Stetson encourages its students to go beyond success to significance in their lives, the lives of others and their communities. Stay connected with Stetson on social media.