Stetson University Board of Trustees Elects 4 New Members, Reappoints 7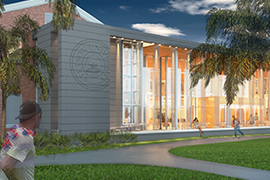 Stetson University's Board of Trustees elected four new members at its May 4-5 meeting in DeLand, and voted to re-appoint seven board members to additional four-year terms. The four new members will begin their terms on July 1, 2017. The new members are all graduates of Stetson University.
New Trustees
Susan Brockway of Boca Raton, Florida, worked as a CPA for Coopers & Lybrand in audit and consulting and later as a financial controller. She has been a member and chaired the Board of Trustees for St. Andrew's School, a private Episcopal K-12 school in Boca Raton. She has been active on university committees and boards in Virginia and North Carolina and with her husband Peter has supported the Miami Foundation and the Boca Raton Community Hospital.
Michael Davis of Miami, Florida, is a double Hatter. He received his undergraduate degree in political science and then was accepted into the Stetson College of Law where he served on the Student Bar Association and Stetson Law Review and Moot Court Team. Davis is currently with the Law Offices of Benedict Kuehne in Miami after serving as a federal law clerk and then as an assistant public defender for appellate and juvenile divisions.
Luis Maldonado of Atlanta, Georgia, was a first-generation student at Stetson University and his class commencement speaker. He earned his J.D. at the University of Florida and worked with the Legal Aid Society of the Orange County Bar Association before joining the United States Immigration and Customs Enforcement as Assistant Chief Counsel. He moved to Washington, D.C., as Associate Legal Advisor to the National Security Law Section within immigration and returned to Florida as Deputy Chief Counsel. He is now with the U.S. Department of Homeland Security as an Associate Counsel, and has been a member of the Stetson University College of Arts & Sciences Advisory Board since 2012.
William Voges of Ormond Beach, Florida, is a graduate of Stetson College of Law and was a partner in the law firm Fink, Loucks, Sweet and Voges before becoming general counsel for the Root Company in Ormond Beach. The Root Company is a private investment business previously known for designing the original Coca-Cola bottle in 1916. Voges is now chairman of the Root Company and has served on the boards for Consolidated-Tomoka Land Company and First Financial Corporation. He is a trustee to the Graham Family Foundation, William J. Voges Foundation and Sumar Foundation. He has served as well on Stetson University's Family Enterprise Center Board and the School of Business Administration Advisory Board.
Returning Trustees
The Stetson University Board of Trustees also nominated and approved additional four-year terms for seven board members:
Budget Approval
The board's finance committee reviewed and recommended approval of the university 2017-2018 budget. The $130 million budget was approved during the Board of Trustees General Session on Friday, May 5.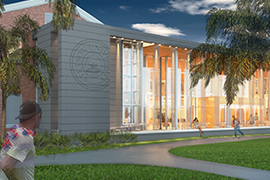 "The operating budget includes a two percent revenue contingency, three new faculty lines, and full funding of the university renewal and replacement reserve," said Bob Huth, Executive Vice President and Chief Financial Officer. "Capital appropriations in the budget include funding for the Carlton Union Building (CUB), the Sandra Stetson Aquatic Center and the south chiller plant at the College of Law, as well as a $1.5 million for energy efficiency upgrades with a four-year return on investment."
Huth pointed out the university's commitment to reductions in energy consumption and water usage is part of its Environmental Stewardship Plan, first developed in 2011 then revised and updated in 2015.
Campaign Update
The board's Development and Alumni Engagement Committee received an update on the university's $150 million comprehensive campaign by Vice President for Development Jeffrey Ulmer.
"We are making good progress toward achieving our goal of $150 million for student and faculty support and the expansion and renovation of university facilities," said Ulmer. "We're currently just south of $110 million, and the enthusiasm and generosity of our benefactors and donors to support students and Stetson University's academic mission have been incredible."
Ulmer also pointed out that Stetson is making progress building capacity and support for the university. More than 4,000 new donors have committed more than $8 million to the campaign. Ulmer said there was still much to do to reach the campaign goal, but thanked the board members for their support and guidance.