Teaching the Way on 'The Classical Path'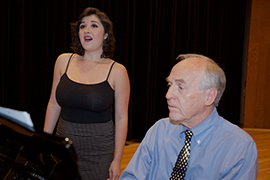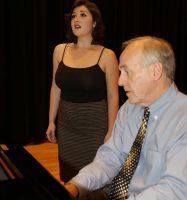 Anthony Hose remembers walking into Glyndebourne in England, a 21-year-old college student hired for the summer festival at one of the greatest opera houses in the world.
It was April 24, 1966, and Hose, then a student at the Royal College of Music in London, had landed his first job — playing piano for three months at the Glyndebourne Festival Opera in a grand countryside estate.
"This is the room in which I started my career," said Hose, director of Orchestras and associate professor of Music at Stetson University. He was seated in his office, looking at a historical photo of Glyndebourne's Organ Room.
"Glyndebourne is set in a big garden, three lakes there, and the opera house, they have a long interval when people bring picnics. … All the men wear tuxes, black ties, and the ladies are all dressed so elegantly," he recalled. "It's absolutely the most extraordinary place, highest quality – Pavarotti made his British opera debut there, for instance."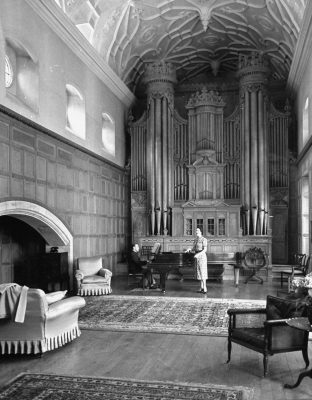 The job launched a 50-year career in opera and classical music, and instilled a love of summer festivals that continues today. Hose returns to the U.K. each summer for the Beaumaris Festival, one of the many festivals that he has started in his career, and regularly takes Stetson students along with him.
This year, graduating senior and vocal performance major Erika Sassmann will give four performances at the festival May 23-30 in the little town of Beaumaris on an island off the coast of Wales. She will sing during one concert while Hose conducts the Welsh Chamber Orchestra and she has been studying the Welsh language with Hose's wife, a native of Wales, to prepare.
Dean of Stetson's School of Music, Thomas Masse, D.M.A., raised money for Sassmann's airfare and expenses from a donor family. And he did the same for students in the Stetson Symphony Orchestra when they traveled twice with Hose to the Beaumaris Festival, as well as for a student violinist and student viola player in past years.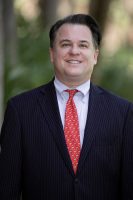 "These students need to be in the place where this music began," Masse explained, "and get an international perspective on what the standards are at an international level and see how we are preparing them to meet those standards. An international experience for a student always comes back as the most transformational aspect of their education."
Sassmann will perform songs and arias at the festival in Beaumaris. She also received this year's Giffin Scholar award for a senior vocalist and she will sing on Friday, May 12, at the Stetson Undergraduate Awards and Recognition Ceremony at 3 p.m. in Lee Chapel. The ceremony inside Elizabeth Hall on the DeLand campus is open to the public.
Sassmann said she was "thrilled' and "flabbergasted" when she learned of the invitation to perform in the U.K. later this month.
"I was on the verge of tears because I look up to Mr. Hose so much," said Sassmann, who grew up in Miami, the daughter of a commercial fisherman. "He is my favorite professor on campus because he is amazing, seeing where he has been, to end up teaching young people."
STARTING MUSIC FESTIVALS
Hose was raised in London and began playing the piano at age 3. His father was a "keen amateur pianist" and taught him early on. Hose gave his first recital at age 6 and, by 11, had auditioned and received a scholarship to attend the Royal College of Music Junior Department. He went to regular school during the week and spent Saturdays at the Royal College studying music.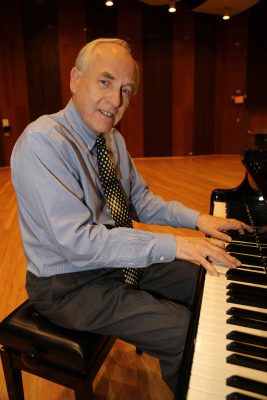 "I was there until I was 18 and then went as a full-time student," he said. Piano was his main instrument but he also played harpsichord, clarinet and double bass.
He joined rock bands and jazz bands around London as a teenager, and thought he might become a jazz pianist. At 19, he was offered a job to tour with Chubby Checker in Europe. But he turned it down and decided to concentrate on classic music.
"The classical path was really what I wanted to do," he said. "It's just that this business is so competitive, and so few jobs for so many people. Although I'd been through, from age 11 to age 18, the junior college, with great people, wonderful musicians, contemporaries, you just don't know if you're going to be able to get a living eventually. It wasn't until my first year at the Royal College as a full-time student that I realized I was able to keep my head above water with the standards of whatever was around."
At the end of his first year in college, a teacher at the Royal College suggested he consider playing in an opera house as a répétiteur, a highly skilled pianist who accompanies and coaches opera singers.
"Every opera house has its music staff, it could be 8 to 10 people, all of whom have to be really advanced pianists and you also have to be able to look at music and absolutely play on sight," he said. "Fortunately, I had that technique since a really young age. I was fortunate to be blessed with an ability to sight read very quickly."
Soon, he was hired for the summer festival at Glyndebourne — without auditioning, and based on the recommendations of one or two people in London, he said.
"The memories of walking in that first day into a major opera company, having come from being a student the previous week, it was such excitement for me. … We were paid relatively low sums of money, but all the music staff had a room in the house to live in, which was really terrific."
He returned for two more summers at Glyndebourne and then he needed a full-time job. He found one at an opera house in Germany, where he stayed for a year, before becoming chorus master with the Welsh National Opera and later its head of music. He worked there for 15 years and then went freelance, working with orchestras and conducting opera productions in Europe, Iceland and other places.
He started music festivals across Europe, including one in Buxton, England, where he helped restore a dilapidated 1903 opera house that continues to serve as home to the annual Buxton International Festival. One summer, he was teaching in Italy as a visiting professor for the Cincinnati Conservatory when he met a viola player from Mount Dora, Florida. She and her husband invited him and his family to visit for a holiday.
The two of them ended up starting the Mount Dora Festival of Music, which completed its 20th annual event this past February. Hose was attending the festival in 2000 when a professional acquaintance, Stetson Professor of Cello David Bjella, called him in Mount Dora and said Stetson was looking for a Director of Orchestras. Would Hose be interested in meeting the search committee?
"So, I came over and then they asked if I could come back and work with the orchestra. … I had to go back to Wales, but the university flew me over a week later and they offered me the job and I decided to take it," he said.
"Stetson is a wonderful place to be," he continued. "It's very different from any place I've been in the past. It's a beautiful place to work and we have great students here. And one always hopes one is helping to improve standards and so on. I really enjoy the challenge of doing that."
'COULDN'T BE MORE THANKFUL'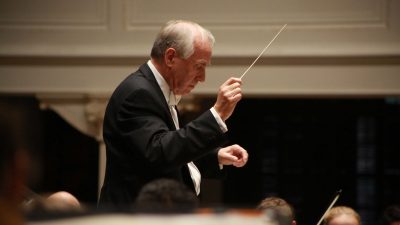 He remains principal conductor of the Welsh Chamber Orchestra, which he founded, and returns every summer for performances. The trip allows him and his wife to visit one of their two daughters, who is married and expecting her first child in London. Their older daughter lives in L.A. with her husband and daughter, and is an actress who has appeared in movies and on TV shows, such as Frasier and Northern Exposure.
"I still have a home in Wales, so I go back every summer for the Beaumaris Festival and usually one or two concerts with the Welsh Chamber Orchestra," he said. "Stetson encourages everyone to keep their professional ties and so I've been able to take some Stetson students over there.
"It's good for Stetson to have that sort of link," he added. "Everybody is excited about the opportunity to perform abroad. I know how I felt about doing that when I was at their age. And the fact that suddenly your career is going beyond your own boundaries is a very special thing."
Performing abroad also helps students like Sassmann, a mezzo-soprano, build their résumés as they launch their own professional careers. Hose said he enjoys working with singers – "I love finding people's voices" – and teaching them about what it takes to move into the world of classical music and opera. He developed a class at Stetson, called "the Path to the Opera House."
"It was a class for pianists and singers to show them what you have to do to make a career in opera. And it's a great life. I was in it full-time for about 25 years really," said Hose, who speaks four languages. "I really love doing it. I haven't counted, but I know I've conducted very close to 100 operas."
Sassmann, 21, took his Path to the Opera House class, which she described as "so in-depth, fast-paced, high-level. I was mesmerized by his teaching style."
"To be able to perform beside Mr. Hose, this is a professional job that he has given me the opportunity to do," she said. "I couldn't be more thankful for Stetson for everything."
-Cory Lancaster