'Immediate Large Returns'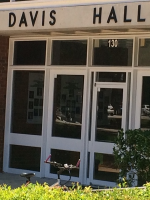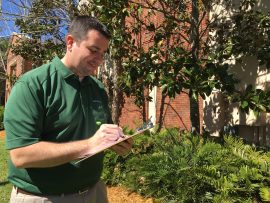 Chris Cloudman is almost anything but creepy. Talk to him for a few minutes and his genuine warmth and cheerfulness take over the conversation.
But walking through Davis Hall at 4 a.m.?
Cloudman says, with a smile, it's all part of his job. Actually, he adds, that same type of random stroll during wee hours occurs in most buildings on Stetson's historic campus in DeLand, Florida.
As the energy specialist of Stetson's Energy Management Program, Cloudman patrols and monitors in search of, let's call it, consumption misbehavior – from lights being left on in unoccupied spaces to thermostats possibly having a mind of their own.
Davis Hall was a recent spot check. There were no issues to resolve, not even close, only some good news to report.
In January 2105, Stetson signed a five-year agreement with Cenergistic, a Dallas-based company specializing in behavioral-focused energy conservation at large institutions, to establish ways of reducing energy (and water) consumption. Cloudman, who arrived at Stetson in 2009 with a background in operations and facility management, was placed in charge of the program, switching from a university employee to become Cenergistic's eyes on campus. His purview also includes Stetson's Center at Celebration.
The agreement continues Stetson's march toward a carbon-free 2050, a university pledge made in 2007 after then-Stetson President Doug Lee became a Charter Signatory with the American College & University Presidents Climate Commitment. Stetson's Environmental Stewardship Plan was put into place at that time.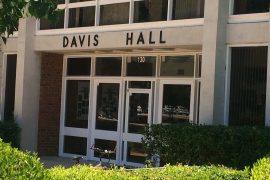 Today, with the second full academic year just completed with Cenergistic, Cloudman points to Davis Hall as he describes initial outcomes. He uses the words "immediate large returns."
"It's been one of the largest collaborative successes," he says of the 24,000-square-foot building that was built in 1966. "The university has invested in it, and being able to operate it down to the classroom level has really shown immediate large returns."
How does roughly 50 percent cost avoidance look? Not "savings," technically. This is more about avoiding costs through efficiency, so more dollars can be used elsewhere, wisely.
For comparison sake, Stetson selected its base year as July 2013 through June 2014. With Cloudman tracking monthly energy expenses in a computer program, a tally in late April revealed a percentage-use reduction in the "high 40s and low 50s" relative to the base year.
Credit both mechanical automation and human behavior.
At Davis Hall, while previously "there wasn't a lot of [mechanical] control," Cloudman concedes, new equipment for heating, ventilation and air conditioning was installed, along with LED lighting to replace fluorescents. Instead of running 24-7, thermostats were programmed for separate occupied and unoccupied times, with a uniform 75 degrees for cooling and 68 degrees for heating during normal building hours, and 82 degrees for cooling and 55 degrees for heating when the building is unoccupied.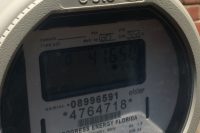 The thermostats operate "more like in a house at night, where there's a set point and if it's satisfied it doesn't come on," he says.
Individual behaviors are improved, too. Speaking in campus-wide terms, Cloudman comments, "Students, for the most part, have been very receptive to this. I've already started seeing shifts in the usage, especially this year over last year."
Further, Cloudman sees the greater efficiency as only a start. He stays busy.
When Cloudman isn't out on guard around campus, he's often speaking with groups on campus. He urges students and staff to conserve, be vigilant of potential problems and "take ownership."
Or, he is crunching numbers.
"This is a little extra work, but it's worth it," he says, "as long as everybody's needs are met and there's no one suffering through an uncomfortable night class or anything like that. That's the last thing we want."
Nothing creepy, just effective.