A Pioneer in Pediatric Orthopedic Surgery
Lauren (Leffler) Hyer knew by high school that a career in medicine was probably in her future.
She was influenced early on by the work of her father, an Ormond Beach veterinarian, and her mother, a hospital laboratory technician.
Hyer, a 2006 Stetson graduate in Health Sciences, initially was drawn to family medicine and preventative care. But her path abruptly changed after a surgical rotation in her third year at the University of South Florida College of Medicine.
Now she is a pioneer of sorts, the only woman pediatric orthopedic surgeon in South Carolina, a staff physician at Shriners Hospital for Children in Greenville since last October.
"I went to medical school bound and determined to go into family medicine," she said. "But I really liked the idea of healing people, fixing things. To be honest, I struggled for several months about what I wanted to do. I was torn."
So she applied for residencies in both specialties, ultimately deciding on orthopedic surgery, a field that historically has drawn mostly men. But the times are slowly changing, along with friendlier technology and attitudes.
The American Academy of Orthopedic Surgeons says the number of women residents in the field grew from 67 in 2007 to 105 in 2015.
Hyer said that about 6 percent of board certified orthopedic surgeons currently are women. And while half of medical school graduates are women, she said only 14 percent of them are applying to orthopedic residency programs.
While the field is still male dominated, Hyer said the "rough-and-tumble" physical stereotype of the job is disappearing, where innovative thinking and finesse by a surgeon are now more important qualities for success than "brute strength."
"When I was at USF there was only one woman part-time in orthopedics," she said. "So it was a big leap of faith for me (to go into the field). … I'm trying to help create a new perception of women in orthopedics. Twenty years from now, I see a very bright future with more women going into it and being less of a pioneer."
Most of her patients have chronic physical problems from birth that will require multiple surgeries, children and families that Hyer will come to know well for many years to come.
"A lot of kids are happier to have a woman doctor. We are more social by nature, more compassionate," she said. "Sometimes a family just needs someone to hold their hand."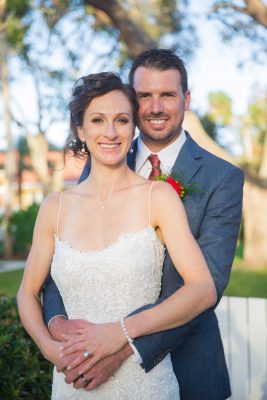 Hyer, who married Stetson alum Garrett Hyer last fall, credits several professors as important mentors during her four years at Stetson. They include Michele Skelton, Ph.D., associate professor of Integrated Health Science, and Mike King, Ph.D., professor of biology.
"She was a really strong student. It was clear from the beginning she would be successful and be able to do whatever she wanted to do," said King, who was Hyer's main pre-med adviser, helping her choose and apply to medical schools. "She took it on her own to excel. You'd tell her one time to do something and she'd do it."
King said there was a "thoughtful and caring" side to Hyer, a well-rounded student who also played for the college volleyball team.
Skelton echoes those sentiments, having taught Hyer anatomy and physiology, as well as supervising her senior research project. Skelton added that Hyer was an inquisitive and insightful student "where as a teacher you benefit from her as much as she does from you. She asked great questions."
And Hyer took chances, thinking out of the box — creatively. Her senior project measured whether dogs after surgery would secrete less of a specific stress hormone by listening to music through headphones. There were no significant positive results.
"But it led to another student's project that showed that classical music piped into a kennel helped make dogs calmer," Skelton said.  
Skelton stays in touch with Hyer and is proud of the woman and doctor she has become, focusing on the complete patient, treating the fears as well as the physical problems.
"Her compassion and kindness is genuine, and she is going to make a huge difference in medicine," Skelton said.
Ultimately, Hyer wants to help patients both in the United States and overseas, as she did for a month in her final of five years of residency as a medical missionary operating in a Kenyan clinic. 
"My hope is that once I am more established I could go overseas, once I get more experience," she said.
But for now, she has plenty of disabled children to help in a South Carolina hospital, and young girls and women to encourage to become future orthopedic surgeons.
"If someone told me in high school I would be doing this, I would have said, 'What?'" Hyer said laughing. "I'm grateful God didn't tell me at 18 what I'd become. It is a long, tough pursuit, but totally worth it in the end."
-Ray Weiss