John Sheehy, Stetson's Career Development Coordinator, Receives Top Award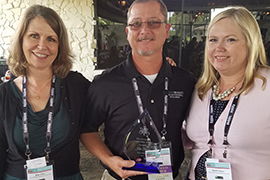 John Sheehy, Stetson University's Career Development Coordinator, has received the Brownlee Leadership Award, the highest honor from the Florida Association of Colleges and Employers.
Sheehy was nominated for the award based on his passion, dedication and hard work for the association and as Chair of the Colleges of Central Florida Career Consortium, which includes Stetson and 11 other private colleges from Flagler College in St. Augustine to Webber International University, south of Lake Wales. The two organizations promote internships and career opportunities for students by partnering with government and industry.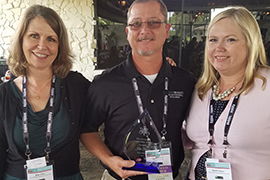 Sheehy received the award June 15 at a recognition luncheon during the Florida Association's annual conference in Tampa.
"It completely took me by surprise," he said.
Sheehy has been active in the Florida association for nine years, ever since he started working full-time in Stetson's Office of Career and Professional Development. Receiving the award was an honor, he said, because many of the previous winners of the John T. Brownlee Leadership Award have mentored him through the years.
"When I saw excerpts of the nomination letters, it humbled me," he said.
One nomination letter by Erin Minta, program manager for Career Services at Embry-Riddle Aeronautical University, said: "As the Treasurer for CCFCC, I grew under his leadership because the single-minded pursuit of his vision pushed us to expand as a consortium and to develop individually as professionals.  Additionally, John is quick to make newcomers feel welcome and to encourage service and engagement …
"I consider it a privilege to have worked so closely with him these last 3 years, and to have witnessed his exemplary leadership," she wrote.
Another nomination letter from Mark Colvenbach, director of Career Services for the University of Tampa, added: "John has been dedicated to his profession through his work on the leadership team of the CCFCC.  His enthusiasm and passion are evident in his commitment to the members of this group as well as the students served. John regularly schedules meetings, connects its members to professional development opportunities and just plain gets things done."
Sheehy said his goal has always been to help students become successful professionally and personally. As Career Development Coordinator, he helps students search for jobs and acquire career-building skills, such as writing effective resumes, practicing for face-to-face interviews and learning how to network. The Career and Professional Development Office also oversees HatterJobs, an online database of jobs and internships for Stetson students and alumni.
"I want people to know that Stetson has played a big role in me receiving this award," he said. "They've supported me and encouraged me in the FloridaACE and CCFCC."
Next month, Sheehy will take on his first role in the National Association of Colleges and Employers. He was invited to serve on a yearlong committee that will work on issues of inclusion, including finding ways to create an increasingly diverse and inclusive work force.
"Much like Stetson, we will be having discussions on inclusion and diversity," he said. "It was an honor to be selected."