Florida Highwaymen: Delivering Idyllic Art, Door to Door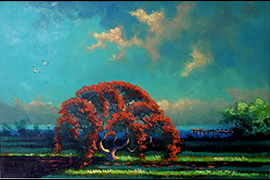 A quick glance around the Hand Art Center's galleries raises a question: What do these 38 big, bright, romantic landscapes have to do with the classic idea of swashbuckling robbers lurking on dark highways, hoping to waylay horse-drawn coaches?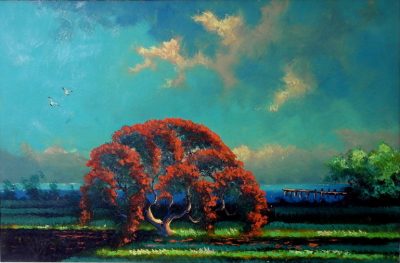 Gary Monroe, author of "The Highwaymen: Florida's African-American Landscape Painters," the pivotal 2001 study of the 25 young men and one women who hit on a new way of making and selling art, will talk about it at 1 p.m. on Saturday, June 3, when the Stetson art center's new exhibit opens.
"During the 'banner years' – the late 1950s, officially 1960, and about 1980 – the 26 original Highwaymen painted in the African-American sections of Fort Pierce and Vero Beach, and then sold the paintings up and down Florida's east coast highways," said Monroe, the Daytona State College art professor who went on to write four more books on the visionary artists.

"They were young guys – and a woman – of 18 or 19 who had the audacity of hope," Monroe says. "They painted, and took their paintings on the road. They knocked on doors and sold as many as 100,000 paintings — some still wet — right out of the trunks of their cars."
Lisa Stone, who with Hand Art Center Director Tonya Curran, organized "The Highwaymen: Art Innovators in a Civil Rights Epoch," understands why the young artists were so successful – and why their works still are.
"I'm a Florida native; there is a certain amount of nostalgia about the paintings. They captured wild Florida before its huge development," she said.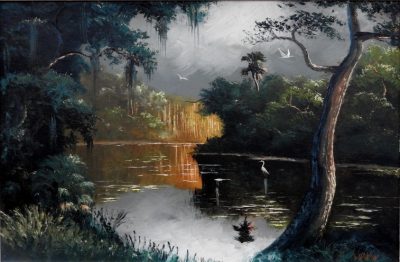 "One collector who is lending works to the exhibit grew up in Miami, near the Everglades, and the paintings remind him of the Florida he knew," says Stone, who handles their sales through Lisa Stone Arts. "I feel that; I have a pretty little Harold Newton in the show. It's a backwater scene, with a cow and a steer, and pink cotton-candy clouds. I respond to the nostalgia."
Also appealing is the way the 17 artists in the survey exhibit – some of the core 26 and more recent additions – represent an enterprising way to do business, in the Jim Crow South and also the turbulence of the Civil Rights Era.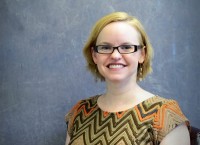 "I like it very much that they were innovators. They could have made three or four dollars picking cotton in the hot sun, but instead they made and sold paintings of their world, at a time when it was hard to be a black person in Florida," Curran says.
"The exhibit demonstrates both the art and the artists' entrepreneurship – what these young men – and one woman – did," she says. "I also really like what the paintings show of a vanishing Florida; they're also relevant in the way they speak to today's enormous concerns about what our environment was, and that we need to work to keep it natural."
Another key aspect of the new exhibit, following on the great recognition its artists have received since the University of Florida published Monroe's first book, is that many of its works have never before been exhibited. They were drawn from the collections of Kathryn and Eric Neitzke and four other area holdings, and some of them include figures – a fisher, animals grazing, says Stone. Most of all, however, the paintings are impressive because they are so romantic, and so expressive.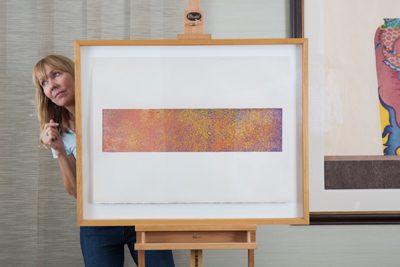 "The early artists painted in oils on Upson board or Masonite, inexpensive building materials they cut into standard sizes, and then they hit the road," she says. "This was their prime area; they sold to businesses, at the Law Center. Their typical prices were $25 for a standard 24-by-36-inch painting, and maybe $35 for what they called a 'jumbo' – and those prices weren't nothing back then.
"People liked the paintings – they weren't just 'motel art.' It's been said of Alfred Hair, who had the idea of working and selling quickly, that he could 'paint as good as he wanted, or he could paint as fast as he wanted.
'And fast was good.'"
-Laura Stewart
If You Go
"The Highwaymen: Art Innovators in a Civil Rights Epoch" will be at the Homer and Dolly Hand Art Center, 139 E. Michigan Ave. on Stetson's DeLand campus, from June 3-July 29. Admission is free and hours are 11 a.m.-4 p.m. Monday through Wednesday and Friday; 11 a.m.-6 p.m. Thursday; and noon-4 p.m. Saturday.
Author Gary Monroe will lead a gallery tour at 1 p.m. Saturday, June 3.