178 Hatters Recognized for Academic Excellence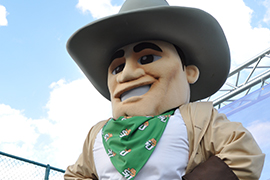 With a conference-best 82.27 percent of student-athletes earning at least a 3.0 GPA in the 2016-17 academic year, Lipscomb University claimed its fourth-straight ASUN Conference Academic Champion Trophy.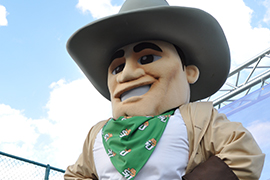 Stetson placed third in the conference academic rankings with 178 of its student-athletes earning ASUN Honor Roll recognition (football and men's and women's rowing are not ASUN sports and are not included in these totals).  Overall, 67 percent of Stetson's ASUN student-athletes compiled a 3.0 GPA or better during the 2016-17 academic year.  Only Lipscomb (283) and North Florida (183) had more total honorees than Stetson.
Conference-wide, 68.72 percent of ASUN student-athletes posted a 3.0 GPA or better; the second-highest percentage in league history – trailing only last year's total of 70.05 percent. Kennesaw State set an institutional record with 67.58 percent of student-athletes earning academic honors. The Owls finished third for the Academic Champion Trophy behind North Florida (67.78). Jacksonville finished close behind in fourth with 67.52 percent.
Four sports set new record-highs for percentages with Women's Golf, Beach Volleyball, Softball and Baseball. Women's Golf had 96.15 percent of its student-athletes obtain at least a 3.0 GPA, while Beach Volleyball posted 88.89 percent. Softball's mark of 77.78 set a new standard in 2016-17, while Baseball increased to 59.92.
In total, 1,430 ASUN Conference student-athletes registered at least a 3.0 GPA for the 2016-17 academic year with 119 earning a perfect 4.0 GPA. One hundred and seventy three league student-athletes graduated with ASUN Honors by having a cumulative 3.5 GPA or above upon graduation, including 21 from Stetson.
Headquartered in Macon, Ga., the ASUN footprint reaches into seven of the top 50 media markets in the nation. The ASUN includes a blend of the most prestigious and dynamic private and public institutions in the region: Florida Gulf Coast University, Jacksonville University, Kennesaw State University, Lipscomb University, New Jersey Institute of Technology, University of North Florida, University of South Carolina Upstate and Stetson University. The University of North Alabama will join the league for the 2018-19 season bringing the membership total to nine.
Stetson's 2016-17 ASUN Honor Roll Recipients:
Name
Sport
Misc.
Jorge Arenas
Baseball
Austin Bogart
Baseball
Garrett Capman
Baseball
John D'Amelio
Baseball
Griffin Fuller
Baseball
Dean Garabedian
Baseball
Logan Gilbert
Baseball
Jack Gonzalez
Baseball
Joseph Gonzalez
Baseball
Austin Hale
Baseball
Christopher Hopkins
Baseball
Jacob Koos
Baseball
Colton Lightner
Baseball
Andrew Macneil
Baseball
4.0
Benjamin Onyshko
Baseball
John Perkins
Baseball
Francesco Romano
Baseball
Benjamin Rowdon
Baseball
Mitchell Senger
Baseball
Matthew Sidwell
Baseball
Ryan Stark
Baseball
Robyn Steenstra
Baseball
Seth Sypniak
Baseball
Nico Torino
Baseball
Charlie Watters
Baseball
Matthew Watters
Baseball
Erik Wiebke
Baseball
Brian Pegg
Men's Basketball

3.5+

Joseph Beery
Men's Cross Country

3.5+,

4.0
Drew Denson
Men's Cross Country
Ryan Newfrock
Men's Cross Country

3.5+

Andrew Thompson
Men's Cross Country
Andres Fernandez Vilches
Men's Golf
Chase Levesque
Men's Golf
Jacob Ludwick
Men's Golf
Baylor Payne
Men's Golf
Tate Smith
Men's Golf
Christopher Williard
Men's Golf
Joseph Alamo
Men's Soccer
Trent Austin
Men's Soccer
Finn Busmann
Men's Soccer
Bernardo Carabelli
Men's Soccer

3.5+

Eyal Cohen
Men's Soccer
Sebastian Contreras
Men's Soccer
Julien Coulomb
Men's Soccer
Christopher Degance
Men's Soccer
Gabriel Diniz
Men's Soccer
Brock Exline
Men's Soccer
Jared Huber
Men's Soccer
Paul Ladwig
Men's Soccer

3.5+

Braeden Luna
Men's Soccer
Chandler Maynes
Men's Soccer
Ian Mccauley
Men's Soccer
Dante Medina-Feil
Men's Soccer
Joseph Melong
Men's Soccer
Nathan Monsanto
Men's Soccer
Peter Nyong'o
Men's Soccer

3.5+

Daniel O'Brien
Men's Soccer
Arturo Roosen
Men's Soccer
Graham Ball
Men's Tennis

3.5+

Loic Blanco
Men's Tennis
Colter Decoste
Men's Tennis
John Horoz Garner
Men's Tennis
Coilin Mac Namara
Men's Tennis
Ida Andersson
Womens Basketball
McKenna Beach
Womens Basketball
Paloma Gragera
Womens Basketball
Sarah Sagerer
Womens Basketball
Jordan Tully
Womens Basketball
Kaylee Anderson
Beach Volleyball
Emily Carroll
Beach Volleyball
Grace Christiansen
Beach Volleyball
Tiffany Creamer
Beach Volleyball

3.5+

Sam D'Adamo
Beach Volleyball
Darby Dunn
Beach Volleyball
Lauren Durham
Beach Volleyball
Lexi Ham
Beach Volleyball
Samantha Harris
Beach Volleyball
Kristin Lind
Beach Volleyball

3.5+

Katey Merksamer
Beach Volleyball
Rachel Noble
Beach Volleyball
Carly Perales
Beach Volleyball
Caroline Pomet
Beach Volleyball
Alexa Richardson
Beach Volleyball
Maggie Skjelbred
Beach Volleyball
Julie Varga
Beach Volleyball
Jamie Walsh
Beach Volleyball
Brianne Boldrin
Women's Cross Country

3.5+

Clarissa Consol
Women's Cross Country

3.5+

Daniella Godenzi Moreno
Women's Cross Country

3.5+

Grace Paul
Women's Cross Country
Laurie Scott
Women's Cross Country

3.5+

Maya Sherman
Women's Cross Country
Paige Kemp
Women's Golf
Alessandra Kutz
Women's Golf

3.5+

Erikah Neger
Women's Golf
Kristine Odaiyar
Women's Golf
Carolin Schart
Women's Golf
Ingrid Sjogren
Women's Golf
Giulia Van Den Berg
Women's Golf
Eilidh Watson
Women's Golf
Erin Busch
Women's Lacrosse
Bailey Busscher
Women's Lacrosse
4.0
Taryn Cook-Grisewood
Women's Lacrosse
Erin Cornell
Women's Lacrosse
Elizabeth Diamond
Women's Lacrosse
Peyton Holifield
Women's Lacrosse
Madeline Holvey
Women's Lacrosse
Shelby Lehmann
Women's Lacrosse
Jaclynn Levy
Women's Lacrosse
Julia Lozano
Women's Lacrosse
Samantha Maguire
Women's Lacrosse

3.5+

Karli Maguire
Women's Lacrosse
Devon Mckercher
Women's Lacrosse
Hallie Merz
Women's Lacrosse
Katharina Nevsimal-Ricci
Women's Lacrosse
Taylor Patrizi
Women's Lacrosse
Quinn Roe
Women's Lacrosse
Sandra Stephan
Women's Lacrosse
Lindsay Summers
Women's Lacrosse
Audrey Tatge
Women's Lacrosse
Sarah Trupp
Women's Lacrosse
Rachel Valocchi
Women's Lacrosse
Lily Ammon
Women's Soccer
Erin Avers
Women's Soccer
Katherine Christenson
Women's Soccer
Sarah Collins
Women's Soccer
Ashni Deschenes
Women's Soccer

3.5+

Elinor Hackett
Women's Soccer
Kendall Harmon
Women's Soccer
Riana Metzger
Women's Soccer
Emily Miller
Women's Soccer
Annette Morton
Women's Soccer
Lindsey Parent
Women's Soccer
Eduarda Pavao
Women's Soccer
Emily Plotz
Women's Soccer
Meredith Sinak
Women's Soccer
Kahri Smith
Women's Soccer
Adrianna Suarez
Women's Soccer
Alyssa Swett
Women's Soccer

3.5+

Greta Watkins
Women's Soccer
Hailey Williams
Women's Soccer
Allison Zaccheo
Women's Soccer
Blake Crews
Women's Softball
Lydia Kinney
Women's Softball
Molly McLaughlin
Women's Softball
Tori Perkins
Women's Softball
Kat Plescow
Women's Softball
Linda Ross
Women's Softball
Talli Sharp
Women's Softball
Ashly Smith
Women's Softball
Curstin Taylor
Women's Softball
Jessie TenBroeck
Women's Softball
Kelsey Waters
Women's Softball
Sofia Ferding
Women's Tennis
Isabella Fernandez
Women's Tennis
Brittany Hill
Women's Tennis

3.5+

Jordan King
Women's Tennis
Danielle Peele
Women's Tennis
Lucie Renault
Women's Tennis
Maja Salibasic
Women's Tennis

3.5+

Alexe Viaud
Women's Tennis
Madison Akins
Women's Volleyball

3.5+

Anna Bezhan
Women's Volleyball
Shelby Connors
Women's Volleyball
Eva Deisa
Women's Volleyball
Charlotte Earnhart
Women's Volleyball
Morgan Eiland
Women's Volleyball
McKenna Foster
Women's Volleyball

3.5+

Karmen Reivik
Women's Volleyball
Marissa Salazar
Women's Volleyball
Danielle Sink
Women's Volleyball
3.5+ = Graduates with ASUN Honors
4.0 = Student-Athletes with 4.0 GPA for 2016-17 academic year