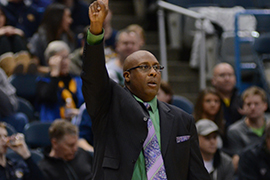 Former Utah Jazz head coach Frank Layden once famously quipped of his 7-foot-4 center Mark Eaton, "You can't teach height."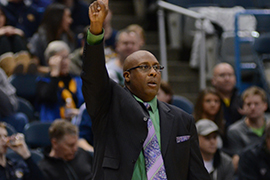 Stetson head coach Corey Williams knows that saying to be true, and he addressed the Hatters' lack of height – and length—as he completed his latest recruiting class by signing four players, three of whom are 6-foot-9 or taller.
Williams today announced that Ricky Gouety (6-10), Abayomi 'Baybe' Iyiola (6-9), Adam Webb (7-2) along with guard Raine McKeython (6-1) have elected to continue their academic and athletic careers at Stetson, beginning in the fall.
"One of the biggest disappointments for me last season was our inability to get rebounds," Williams said. "We depended so heavily on Brian Pegg in that area, that once he went down with injury it hurt us and I didn't want to be in that position again."
Pegg, the Atlantic Sun Conference's leading rebounder in 2015-16, has graduated and his departure leaves a void which Williams believes Gouety and Iyiola will help immediately fill.
"What I like about both of those guys is that they're always around the basketball. They can rebound and they can finish around the basket. Baybe can shoot it and stretch the defense. He has a little bit better ball handling skills than I thought. Ricky is a rim protector and has a knack for scoring around the basket.
"Length and size is a great equalizer. We want to be able to create havoc defensively. We want opponents to have a little bit of fear when they drive to the basket. And Ricky, Baybe and Adam help us in that regard."
Gouety, a 6-10, forward/center, comes to Stetson after spending two seasons at Indian Hills Community College in Ottumwa, Iowa. He helped the Falcons to a 58-10 record in two years, and a regional championship last season.
Prior to his two seasons at Indian Hills, Gouety attended Victory Christian Center in Charlotte, N.C., helping lead the Kings to a state runner-up finish as a senior. He also played for the Ivory Coast U17 team at the African Champions Cup.
Iyiola has spent his prep career at one of the top programs in Georgia, Greenforest Christian Academy in suburban Atlanta. The Eagles won state championships in both 2016 and 2017, and Iyiola was a primary contributor on both teams. As a senior he earned all-region honors after averaging 10.2 points, 9.5 rebounds and 2.5 blocked shots per game. In his junior season, Iyiola averaged 9.7 points and 4.7 rebounds per game as Greenforest went 27-2.
Iyiola's teammates the last two seasons have signed with the likes of Appalachian State, Florida State, Memphis, Miami (Ohio) and New Hampshire.
Webb, from Lakeland, Fla., prepped at Lakeland Christian School before spending the 2016-17 season at Link Year, a prep school in Branson, Mo. At LCS, Webb earned all-region honors after averaging 18.5 points, 9.9 rebounds and 3.4 blocked shots per game as a senior.
"His height pretty much says it all," said Williams. "He's really mobile, and he posts up strong. Adam can score with a jump hook using both hands. I think when it's all said and done, he has a chance to be a heck of a player because of his size and his ability to move. He's not a plodder that just sits in the paint and can't move. He can really get up and down the floor. I'm excited about Adam."
McKeython, a native of Washington, D.C., is a 2016 graduate of Riverdale Baptist High School in Largo, Md. He spent the 2016-17 academic year at Rise Academy in Ocala, Fla., where he averaged 18.5 points and six assists per game.
"He's built a lot like Divine Myles but with broader shoulders," Williams said. "He's athletic and quick and he knows how to score. He has an ability to get into the paint and create for his teammates. He's a tough, competitive kid. He gives us another guard who can defend and help us put pressure on the defense."
2016-17 Stetson Men's Basketball Signees
Kenny Anninye, 6-1, 185, G, Marietta, Ga. (Wheeler HS)
Ricky Gouety, 6-10, 200, F/C, (Indian Hills CC/Victory Christian Center)
Abayomi Iyiola, 6-9, 210, F, Decatur, Ga. (Greenforest Christian Academy)
Christiaan Jones, 6-4, 175, G, Columbia, S.C. (Cardinal Newman HS)
Keith Matthews, 6-7, 185, G/F, Blythewood, S.C. (Blythewood HS)
Raine McKeython, 6-1, 185, G, Washington, D.C. (Rise Academy/Riverdale Baptist HS)
Adam Webb, 7-2, 220, C, Lakeland, Fla. (Link Year/Lakeland Christian School)
 -GoHatters.com