After Stetson, Three 'Brothers' Set Off on Three Ships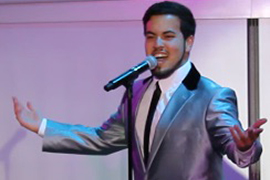 Take a Viking Ocean Cruise around Europe or the Mediterranean these days, and a Stetson Hatter will be on stage entertaining passengers.
Two Stetson University alumni and brothers, Brian and Manny Rodriguez, are singing and dancing in shows from Barcelona, Spain, to St. Petersburg, Russia, aboard the Viking Sea and Viking Sky cruise ships. Their best friend and "adopted brother," Haywood Dunston, also a former Stetson music student, performs on the Viking Star.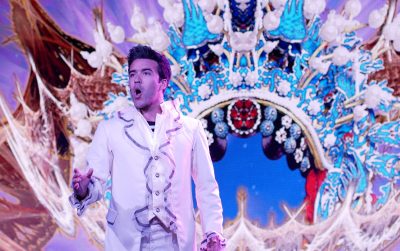 "There are three ocean cruises for Viking, and whichever one you go on at the moment will either be Manny, Brian or Haywood. That says so much about Stetson," said Michael Rodriguez, their youngest brother who just finished his junior year in Stetson's School of Music. "Literally no matter which ocean cruise you're on, it's going to be a Stetson tenor doing that role, which is incredible.
"So hopefully, I aspire to do that as well after I graduate," he added.
Michael gave an impromptu audition for Viking's production company, Orlando-based Mertz Productions, in February right before brother Manny set sail on the Viking Sky. Michael will graduate in May 2018, which, coincidentally, is when Viking will launch a fifth ship, Viking Spirit.
Michael hopes to perform on any Viking ship. And he is on the radar of Viking's production company, said Juan Cantu, creative director for Mertz Productions.
"He's extremely talented and his brothers sure have made a strong case for him," Cantu said. "I'm definitely interested and considering him and want him to audition for all of our ships."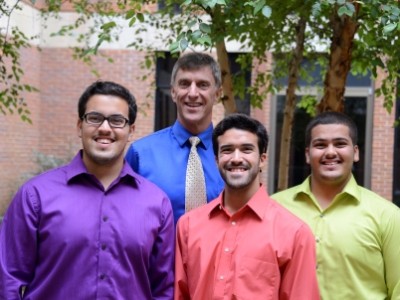 Craig Maddox, D.M., an associate professor of voice at Stetson, has taught all four singers in his voice studio in Presser Hall and believes it's only a matter of time before the four are performing on cruise ships.
"It's a unique story," he said. "Certainly in my time, I've never heard of anything quite like this."
The Rodriguez Tenors
As little boys, the three Rodriguez brothers sang as a trio, entertaining family and friends in their Miami home. Their mother, who was born in the United States to Cuban immigrants, called them Los Panchos Brothers. Dressed in little matching outfits, they'd put on shows and pass around a hat afterward for tips.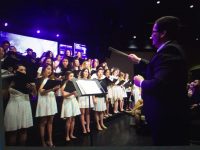 The family spent their vacations on cruise ships. Michael took his first cruise at four months old and has been on 23 cruises and counting. "We all absolutely love it. There's nothing we don't love about cruising," he said.
By elementary school, he and his older brothers were dreaming of performing on cruise ships one day.
"We've always wanted to be one of those entertainers when we grew up," he said. "We've always seen these shows and been like, wow, it must be amazing to be up there and touring the world and doing what you love and getting paid for it."
They sang in high school at Coral Reef, Miami's mega magnet school, and won a state competition for ensembles in 2011 as the Rodriguez Tenors.
Brian, the oldest, eventually considered five universities in Florida and decided on Stetson.
"I loved the small environment and knowing that I would get the individual attention from the professors in the conservatory-style School of Music that Stetson provides," Brian said. "I've loved Stetson since the moment I set foot there."
Manny and Michael followed, singing in the Stetson Concert Choir, performing together at various events and joining honor societies for their high academic performance.
"I always say Brian was one of the best recruiters I've ever seen for Stetson and definitely for my studio," Professor Maddox said. "He encouraged his brother and the youngest brother, Michael, as well Haywood. He also encouraged some other kids from that same high school – that performing arts high school, Coral Reef High School in Miami, to come. … I ended up with a bunch of students from that high school program."
Despite their talent, though, the brothers worried about supporting themselves as professional singers. So, each came up with a back-up plan: Brian earned a Bachelor of Music with an outside field in business and then an M.B.A. Manny majored in finance and pursued a minor in music, allowing him to take music and voice training in the School of Music. Michael will graduate next year with a Bachelor of Music with an outside field of physics.
"We all have other options going, nice safety zones," Michael commented.
'A Chain Reaction'
After graduation, Brian had lined up a temporary job in the production office for a cruise ship company in Miami, preferring to focus on the business side of the industry.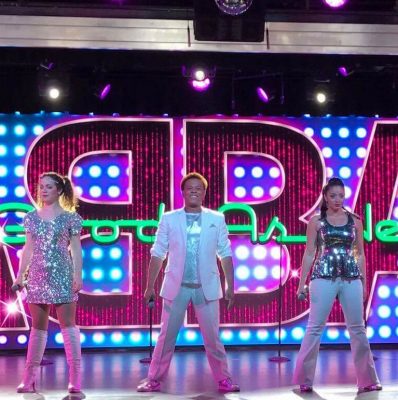 Middle brother, Manny, landed a job in banking in the Tampa Bay area.
And "adopted brother" Dunston planned to focus on classical music and dreamed of singing at the Metropolitan Opera in New York City one day.
But in a matter of months, all three changed their career paths, beginning with Brian. "Everything was like a chain reaction," Brian said last week during a stop in St. Petersburg, Russia.
While pursuing his M.B.A., Brian had interned at The Imagination House in Orlando, an arts and entertainment company co-founded by Jonathan Barr, who had attended Stetson and pursued a Bachelor of Music. Through Barr and The Imagination House, Brian met Juan Cantu, the creative director for Viking's production company, Mertz Productions.
Mertz Productions attracts 300-400 people to its auditions in New York City and another 100 or more in Orlando. Cantu kept encouraging Brian to apply, and finally gave him the music and script for a Viking stage production to practice while the Rodriguez family took a vacation to Hawaii. When Brian returned home, he sent Cantu some videos and pretty quickly was offered a job, working on seven-month contracts.
"This opportunity presented itself and I was like, in 10 years, I'm going to regret not taking this opportunity, so here I am on the Viking Sea," Brian said. "I love it. I've married both music and business while working out here, and I'm thankful for the education that I got."
'Seize the Moment'
The three Viking Ocean Cruises depart from Barcelona and have stops in places like France, England, Norway, Denmark, Russia and Greece, depending on the ship and length of the cruise. Along the way, passengers are entertained by a variety of shows, ranging from a celebration of Abba, a tribute to the Beatles and the Rat Pack, and an operatic fantasy that combines a range of music from arias to Queen.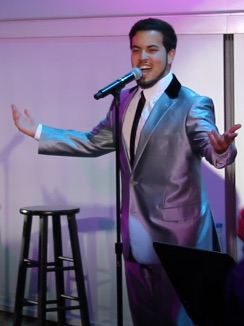 Brian soon was telling his brothers how much he enjoyed traveling the world and performing.  By then, middle brother, Manny, was working in banking.
"I kept thinking what if I had pursued singing," recalled Manny, speaking on an internet call from Bergen, Norway. "Brian was telling me he was loving this experience with Viking and the production company, Mertz Productions, that basically recruited him. And so I gave it a go and here I am.
"Five months ago, if you had asked where would I have been, I would not have said Bergen, Norway, singing on cruises. This wasn't the plan. But it taught me, just don't close any doors, go with the flow and whatever opportunity presents itself, you have to seize the moment."
Soon, Manny was telling their best friend, Haywood Dunston, that Viking needed a male singer for its third ship. It wasn't long before Dunston had a job offer, too. That meant the three singers would perform the same roles in the same shows on different ships, added Dunston, speaking on an internet call as his ship headed to Denmark.
"They call me the fourth Rodriguez," said Dunston, then in his third week on the job. "I normally would go home with them every (college) break. Over the summer, they've come to my home. We're like family."
Their Viking jobs, he said, show that Stetson provides a well-rounded education in music.
"It shows that Stetson is building a foundation – whether we've come to be classically trained, we're able to do other genres, rather than being stuck in one setting. It gives us a variety of things to do, which is very rare."
Cantu with Mertz Productions agreed. Their male roles are challenging, he said, because the performers must be able to sing pop and rock songs – everything from Frank Sinatra to Abba to Queen – as well as Broadway show tunes and demanding arias from two operas.
"They have handled it so beautifully and just really delighted our audiences," Cantu said.
Highly rated by magazines like Travel + Leisure and Condé Nast Traveler, Viking Cruises attract many retired couples, who tend to be more affluent and likely have seen a Broadway show in New York City or a local opera company or traveling symphony, Cantu said.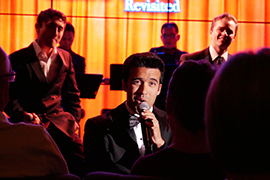 "They've seen the best and they've heard the best, so their taste level is high and their expectations are high. I think our audiences really like to hear young artists who are starting out their careers," he said, adding that Stetson "has a very fine program where they are developing young voices with really fantastic technique."
All four singers say they hope to keep singing aboard cruise ships for a while to come. But most of all, Brian, Manny and Michael say they hope one day to sing together as a trio again aboard one ship.
Responded Cantu, with Viking's production company, "I think there's a strong possibility they could end up working on the same ship together or maybe even develop a show for the three of them, create a show around them. You never know. The options are endless."
-Cory Lancaster