Stetson Professor: Don't link Societal Violence to Video Games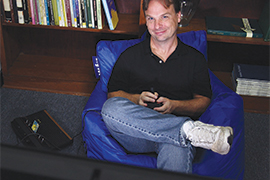 As students across the country get ready to put down their textbooks and pick up video game controllers, some parents may worry because they have heard media reports that violent video games cause real-world aggression. But this link is not based on facts, according to Stetson University Professor, Christopher Ferguson, Ph.D., who has extensively studied violent video games and aggressive behaviors and found there is no evidence to support a correlation.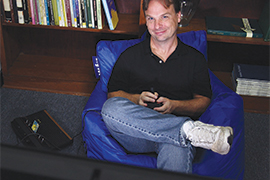 "For many years, journalists and government officials would point to violent video games as a contributing factor in mass homicides, particularly in cases where the perpetrator is a young male, but this is not supported by the evidence," said Ferguson. "Most children and teens play video games without exhibiting violent behavior, and spikes in sales of violent video games actually corresponds to decreased rates of violent crime."
Recently, Division 46 of the American Psychology Association (Society for Media Psychology and Technology) released a statement cautioning journalists and government officials against this conclusion. In the statement, Societal Violence and Video Games: Public Statements of a Link are Problematic, Division 46 discusses the lack of evidence to support this connection and that it may distract from addressing issues known to contribute to real-world violence.
Ferguson helped to lead the effort to caution against public statements that conclude a link between violent video game play and perpetrating acts of violence in real-world situations.  Ferguson, a clinical psychologist and author of "Moral Combat: Why the War on Violent Video Games is Wrong," has conducted extensive research on the issue over the past decade and found no evidence to support a correlation.
Division 46 also cautions that identifying violent video games as the cause of violent crime may distract from addressing issues that are known to contribute to real-world violence such as poverty, lack of treatment options for mental health, and educational and employment disparities. In the statement, Division 46 also provides six recommendations that will assist officials and journalists when informing the public of issues regarding violence and video games.
These recommendations include that public officials and news media avoid stating explicitly or implicitly that criminal offenders were caused by violent media including the use of language such as "it was as if they were playing a video game" or "the offender was obsessed with video games." The full list of recommendations can be found in the Division 46 statement.
About Stetson University
Founded in 1883, Stetson University is the oldest private university in Central Florida, providing a transforming education in the liberal arts tradition. Stetson stresses academic excellence and community-engaged learning, and consistently earns high marks in national rankings. Stetson encourages its students to go beyond success to significance in their lives, the lives of others and their communities. Stay connected with Stetson on social media.