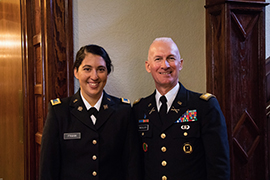 "She is one of the best leaders at her level I have seen in my 10 years of being associated with Army ROTC."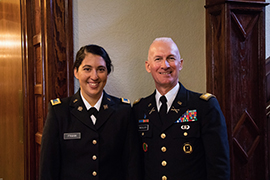 Retired Lt. Col. Oakland McCulloch, the officer in charge of Stetson University's ROTC (Army Reserve Officers' Training Corps) program, offers that powerful complement for recent Stetson University graduate, Maria Frank '17.
Frank, a history and Russian studies major from Fort Myers, Fla., was recently recognized as one of the top one percent of cadets in the ROTC in the nation.
To qualify as one of the best cadets in the country, students like Frank are ranked by their leadership ability, academic performance and physical competences.
"The order of merit list for cadet command is determined by the accessions 100-point process. Academic performance is worth 50 points, leadership assessments is worth 35 points and physical readiness is worth 15 points," explained McCulloch. "She was ranked against all the ROTC cadets in the nation who were being commissioned the same time she was, which was over 5,000 cadets. She was near the top in every category nation-wide to receive her high ranking."
Frank remains proud, yet humble, to be recognized as one of the highest-ranked cadets in the ROTC. She credits her peers and instructors as helping her through the program and into the top percentage of cadets.
"They pushed me at every turn and taught me a lot about how to follow and how to lead," said Frank. "My instructors taught us in the classroom and during our field exercises, but they also influenced us through counseling and meetings. I learned how to be the leader that I am from those who I have seen."
Moving Up, Moving On

Frank didn't rest on her laurels after graduating from Stetson University last month. The 22-year-old second lieutenant is immersed in a 16-week military intelligence basic officer leadership course in Arizona.
"The course prepares us to be intelligence officers and platoon leaders," explained Frank. "As a military intelligence officer in the United States Army, my plan is to continue in the military."
"Her future is hers to determine," said Ret. Lt. Col. McCulloch. "She certainly has the skills and ability to rise to high rank in the U.S. Army. She has a very bright future and I am looking forward to seeing where she goes from here."
To learn more about the ROTC Program at Stetson, visit: https://www.stetson.edu/artsci/rotc/
-By Trish Wieland