Theater in the Soviet State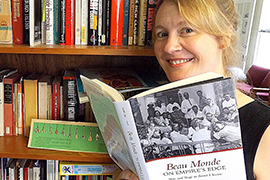 As a grad student at Princeton, Stetson assistant history professor Mayhill Fowler was astounded to discover "there was tons of theater in the gulag" in the Soviet Union during the 1920s and '30s.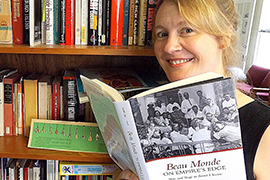 As a former professional actress who had jettisoned theater for academia in 2004, Fowler could relate. Well, not to the horrors of the gulag's forced labor camps, but . . .
"I was so over theater at that point," said Fowler, who is director of SPREES – Stetson University's Program in Russian, East European and Eurasian Studies. "I was so disillusioned and thinking (voice turns to a faux growl) 'You can't be an actor in the United States and capitalism is terrible – I'm done with theater!' And it was amazing to me that someone was making theater in the gulag, in the very worst conditions."
That discovery has led Fowler to combine her passions for theater and for Russian/East European/Eurasian cultures into her first book, "Beau Monde on Empire's Edge: State and Stage in Soviet Ukraine" (University of Toronto Press, 304 pages, May 2017).
The work, which Fowler said is her Ph.D. dissertation "much revised," examines more than just theater in those forced labor camps. It's a study of the burgeoning overlap between the arts and the state in the early Soviet Union, and how culture was created in that nation's multi-ethnic borderlands.
"My experience as an actor was really never in New York – it was in the regions," said Fowler, who majored in Russian language and literature and minored in theater at Yale in the mid-1990s, then earned her MFA from the National Theater Conservatory in 2000. "I never got that Broadway play. I always worked in regional theater."
In graduate school, her advisor suggested she research Soviet culture beyond Moscow and Leningrad. And so Fowler "started looking at theater in Soviet Ukraine" where not only Ukrainians and Russians but also Poles and Yiddish-speaking Jews exerted an influence on the arts.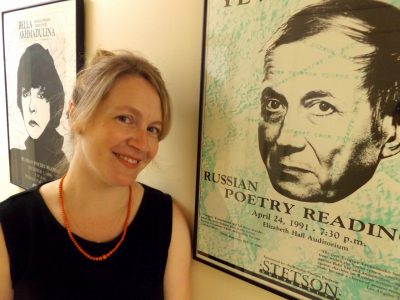 "It was so much more interesting actually," Fowler said. "It resonated so much more with my own experience being not in the center. And very little had been written about it in English."
At the center of "Beau Monde" is the story of "a group of guys –and they're all guys interestingly – who made something called Soviet Ukrainian theater," Fowler said. That circle included director Les' Kurbas, Red Army veteran and playwright Mykola Kulish, the "sort of famous comic writer" Ostap Vyshnia (whom Fowler affectionately dubs a "class clown" in her book) and artist manager Andrii Khvylia.
Fowler writes that "these men knew each other, socialized together, worked together and created art together." She notes that Kulish "seems to have believed in a special place for Soviet Ukraine in emerging Soviet culture" and quotes from one of his letters to a friend that she unearthed while researching archives: "Ukraine should give out the best Mark Twains in the world. And Mark Twains will never die out. Laughter, a smile through tears – this is rain for parched earth."
Kurbas and Kulish were each executed by shooting on the same day in 1937.
Fowler spent 18 months in Ukraine researching her dissertation, scouring "archival documents, reading 20 years of theater budgets or 20 years of this theater company writing in to the party saying we want money for this, here's what we did last season, here's what went well, here's what didn't, here's what we want for next season."
As for Fowler's language skills, she is careful to say that she is "not fluent" but is "communicative with no problem in Russian, Ukrainian, Polish, French, some German and some Yiddish. If you study a multi-linguistic region, you have to have the languages," she said.
Fowler's passion for theater took root early in her life, and was soon followed by her passion for languages and Russian literature.
Growing up in the San Francisco Bay area, she attended outdoor Shakespeare plays with her parents: "I remember so vividly seeing a 'A Midsummer Night's Dream' and seeing the actors on stage and feeling like that's where I want to be — I was like 4 or 5."
At San Francisco University High School, she studied Greek and Latin. She also became enamored with the titans of Russian literature as she read Tolstoy, Dostoyevsky and Chekov — although she impishly confessed that she "skipped all the philosophical parts" of "War and Peace."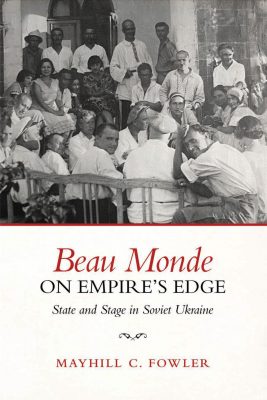 After earning her MFA in acting, she got an agent and an apartment in New York City. She would venture to Vermont, Florida and elsewhere to take on roles in regional theater, while back in the Big Apple she would bolster her meager acting income by tutoring, working for a caterer and even selling CDs in Times Square.
She loved acting but, she sighed, "Catering wasn't fulfilling." She also loved tutoring, so in 2004 she left the theater and decided to pursue a life in academia.
As her new book evidences, academia has allowed Fowler to combine her passions for theater and Eurasian cultures.
And what would Fowler say to someone who shrugged and said, "Why should I care what was happening in theater in the outlands of the Soviet empire a century ago?"
"Theater in Ukraine – niche, not really super sexy," Fowler said, smiling. "People want big geopolitics. People want Muslims on the silk road and new trade practices that explain Putin to us — not 'Here's a micro study of the art.'
"Well, the Soviet state cared. They cared so much about the arts that they wasted tons of paper, time, top politburo meetings, human resources and bullets on artists.  They cared so much they devoted all of these state resources to the arts. That's something you have to figure out."
With possible Russian influence on the last U.S. presidential election so much in the news these days, does that make "Beau Monde" suddenly more relevant?
"For people who study the region, we've always known it's still important, so it's not news to us," Fowler said. "What's frustrating to me is what people are interested in: What's Putin thinking, and geopolitics – what's going to happen politically.
"That's important, but I'm much more interested in the story on the ground. I'm much more interested in what's happening particularly in Ukraine, where there is a war going on and people are dying, and that's not looking like it's going to end anytime soon. How is that going to shape society in Russia and in Ukraine?"
Indeed, Fowler has taught in Ukraine and visits there annually. She leaves June 9 for a month's stay during which she will research two upcoming writing projects: one on Ukrainian, Russian and Polish military entertainment since World War II, and one on Soviet actresses.
"I think art is still sidelined in what people consider important. And I would profoundly disagree with that. I think by studying how people represent themselves to themselves and how people express themselves or don't express themselves, you find a profound lens on what's really important in a state and a society."
— Rick de Yampert