Winning Startup Company Emerged from Stetson Student Club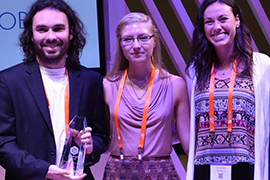 David Sawyer joined a student entrepreneurs' club when he attended Stetson University and he had an idea.
His grandmother had passed away and, as he heard stories about her life, he wished he could have heard her tell the stories in her own words. He imagined an online platform where people could record their stories and document their histories to share with future generations.

Sawyer formed a team with other Stetson students in the former Enactus club (Entrepreneurial Action Us) in early 2015 and continued to develop his business plan for The Story of Life, or TSOLife. The team won first place in the 2017 Startup Showcase, in the university category, at the eMerge Americas technology conference in Miami on Tuesday evening, June 13.
"We were lucky to be selected as one of the companies to go there and compete," said Sawyer by phone this week. "We presented in front of 10,000 people at center stage. From that, we were selected as the winner from our presentation."

Sawyer has been developing the company out of his DeLand living room with Stella Parris and Diana Dupre, who both graduated from Stetson last month. Parris, the company's Chief Operations Officer, graduated with a bachelor's degree in International Business with a minor in Spanish, Russian and Management. Dupre, the company's Director of Marketing, received a degree in Family Enterprise with a minor in Management.
"We actually started TSOLife out of the Stetson Enactus program. I was the president of it and that's where I met all of my key members," said Sawyer, a former Finance major at Stetson. "Everyone who's working on TSOLife was actually part of Enactus, so it's pretty cool that we had this group that came from this collegiate organization and that we've been able to turn it into a major company that's employing up to five people full-time at this second."
Dupre started working part-time in January for the company and Parris has been working there for two years. Also joining the team is Sawyer's younger brother, John, a junior at Stetson this fall who is majoring in computer science.

"We've been working really hard for the past couple of years," Dupre said. "We are grateful that we had the opportunity that Stetson and this club introduced us. … It's something we're all passionate about."

The company's website already features the personal stories of several notable Stetson alumni: former U.S. Senator and disabled Vietnam War veteran Max Cleland, '64; Gary Meadows, '59, '65, former Stetson associate vice president for Alumni Engagement and Dean of Admissions; and retired Stetson University Chaplain Michael Fronk,'74.

The team at TSOLife will relocate to the Tampa Bay area on July 1 and join the Tampa Bay WaVE Accelerator, a nonprofit group that supports entrepreneurs in tech businesses. It has raised more than $300,000 in seed money and needs $120,000 more, Sawyer said, adding the team met investors from around the country at this week's Miami tech conference, which attracted 13,000 people.
"It's definitely been a rollercoaster journey. It's one of those things that people only like to talk about the glamour, but it's been a lot of hard work," Sawyer said. "I don't want to overly glamorize the entrepreneurial journey because it's definitely a difficult one. …
"But it was great to have met such talented people (at Stetson) who wanted to take the initiative and create something amazing," he said.
-Cory Lancaster