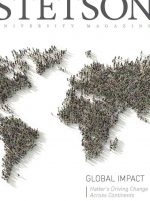 This article appears in the new Summer Issue of Stetson University Magazine. To read the entire magazine, click here.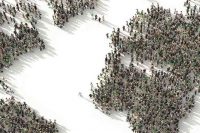 What is global impact? The term literally signifies things coming together with the planet or around the planet. While events of global impact might simply occur, it means something more when we intend to have global impact. The implication is making a difference for the better.
Thinking of global impact as an outcome of values, in practice, leads us forward. Our work at Stetson is a special opportunity to foster the practice of global impact, both in the classroom and, more importantly, beyond.
WITH THE PLANET
The Environmental Sustainability Fellow Scholarship — a pilot program for the broader emerging initiative of Stetson Values Fellowships — empowers students to engage their passion for environmental responsibility as part of their professional development.
Their efforts are numerous. Working with Facilities Management on the renovation of the Carlton Union Building, fellows have provided consultation for waste-minimization technology.
When the new CUB dining hall opens in 2018, food-preparation and plate waste will be processed by grinders to minimize bulk and weight. This material, free of plastic and inorganic material, yields a product that may be used in composting or for animal feed. In any case, it will relieve pressure on landfills.
Food plays an integral role in how people define their relationship to the planet on a daily basis. All we eat comes from the Earth, and must do so continually, meaning we need a sustainable food system. Stetson, through food forums, has brought together students, staff, faculty and others to think about how we may align our values with our eating.
Through reflective research projects, student focus groups articulated what makes food "good," with the concepts of wellness, social justice and environmental responsibility in mind. The policies and approaches resulting from the forums will bring our values to bear on commodity chains locally and internationally — proverbially putting our money where we want our mouths to be.
Hatter Harvest, with help from Hari Pulapaka (associate professor of math and owner/chef of Cress Restaurant) and Patrick Smallen (campus executive chef), exemplified the ideals of the food forum through a fundraising dinner and panel discussion, which featured sustainably sourced foods through a collaboration of staff, faculty, students, local producers and interested patrons.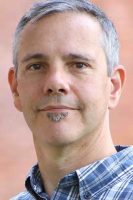 Also during the academic year, fellows worked with the Student Government Association to pass a resolution establishing the Green Fund, a green-development fee for the DeLand campus. Annually, the student body will vote to choose one among a variety of projects proposed by the environmental fellows in consultation with campus Facilities Management and the Stetson Environmental Working Group. Cost savings from these projects — for example, the energy savings resulting from solar power — are reinvested into the Green Fund to support subsequent projects.
Additionally, in alliance with Stetson's Institute for Water and Environmental Resilience, fellows conducted research supporting the replacement of campus water fountains with filtered, bottle-fill stations, further reducing waste and providing high-quality drinking water.
AROUND THE PLANET
World Wise is a Stetson initiative linking community engagement, international study and cross-cultural awareness with high-impact learning. A collaboration among the Office of Career and Professional Development, the Center for Community Engagement, the Bonner Program, and W.O.R.L.D.: The David and Leighan Rinker Center for International Learning, among other offices, World Wise deepens faculty, staff and students' involvement in global intercultural exchange.
With the concept of World Wise in mind, the Stetson Mentored Field Experience for 2017 is designed to develop student capacity for international service. Four students, from the School of Business Administration and the College of Arts and Sciences, are supported with scholarships from W.O.R.L.D. to travel with a mentor to Bogota, Cartagena and Barranquilla, Colombia. Participants have been charged to develop a persistent network and knowledge base linking resources available to students through World Wise and Partners of the Americas — a nongovernmental organization supporting Pan-American intercultural exchange.
Participants collaborate with Partners affiliates in Colombia through video chat and texting to develop service projects. Their efforts establish the framework for sustained, extramurally supported, student-led alliances with international partners throughout Latin America. Further extending the idea of study abroad, we are connecting communities on an expanding scale. Mobility, combined with the focused application of values in service, brings people together to affect change.
Building on our decades-long partnership with the Pädagogische Hochschule Freiburg (a nonprofit university in Germany), we have formalized a process for faculty to do short- and long-term exchanges with colleagues from other foreign universities. Visiting scholars, on either side of the exchange, establish enduring professional relationships with students and colleagues through coursework and research on a global scale. By stretching beyond the parochial, knowing others in the world and engaging in productive work in unusual situations, we better understand ourselves.
BRINGING IT TOGETHER
These are just some examples of "glocal" work. The skills and wisdom, instilled through service in communities, travel with participants as they move into the world. To carry the expectation for students, and provide evidence that values are part of professional life, we hope to inspire the same among people they come to know in the future.
Each student has an opportunity for global impact, because great lessons echo. When you reach one with something more than information, when you show one how to live, you affect everyone that student will eventually teach by example. You never teach one person. When you do it right, you are teaching the world.
– Anthony Abbott, Ph.D
Anthony Abbott, Ph.D., is a professor of Environmental Science and Studies at Stetson. Abbott also is Provost Faculty Fellow for International Learning and president of the Florida Colombia Partners of the Americas.