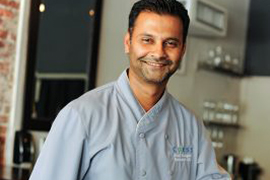 Stetson University math professor Hari Pulapaka and 10 other accomplished chefs will take a "grueling" eight-day test of their culinary skills this fall in hopes of reaching the highest level of certification for chefs in the U.S.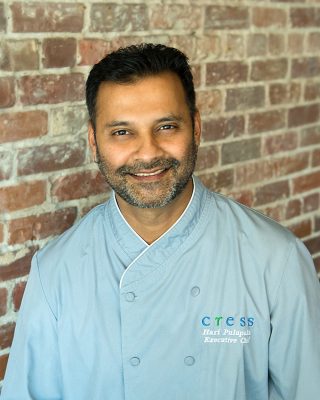 Pulapaka, an associate math professor and co-owner of Cress restaurant in downtown DeLand, will try to join just 67 other chefs in America with the title of Certified Master Chef. The exam comes as Pulapaka and a group of professors are trying to start a food studies program at Stetson, which, if approved, could begin in the fall of 2018.
The American Culinary Federation calls the master chef's exam "the ultimate culinary test" and has scheduled it for Sept. 30 through Oct. 8 outside Detroit, according to a Federation news release.
Said Pulapaka, Ph.D., "If I'm able to pass this huge test, with the timing of the evolving food studies program at Stetson University, then I think it provides some serious credibility for the faculty at Stetson because there's only so many of these folks in the country."
Tentatively called a Bachelor of Arts in Sustainable Food Studies, the new Stetson program would be housed in the Environmental Sciences Department and build on the first-year and junior seminars in food studies that are now taught by Pulapaka. The new program would delve into such topics as the U.S. food system – its production, distribution, economics, policies and sustainability practices, including how to reduce the 40 percent of food that goes to waste in this country, Pulapaka said.
A group of professors, including Pulapaka, Tony Abbott, Ph.D., professor of Environmental Science and Studies, and Wendy Anderson, Ph.D., professor and chair of Environmental Science and Studies, are working on the proposal to present this fall. The proposal would need approval from the Stetson faculty, a curriculum committee and the university's Board of Trustees, among others, before being offered as a major next year.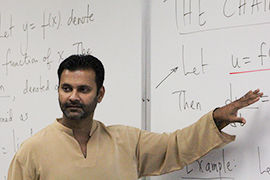 Pulapaka said he sees himself expanding his role as a food educator. A native of Mumbai, India, he earned a doctorate in mathematics from the University of Florida and opened the Cress restaurant in DeLand nine years ago with his wife Jenneffer, a podiatric surgeon. Cress has been rated as the best restaurant in the Orlando area by Zagat Orlando Guide, although starting next month the restaurant will no longer open nightly and instead will open only for ticketed events.
Pulapaka already is a certified executive chef, which is one of several requirements to take the master chef's exam at Schoolcraft Community College in Livonia, Michigan, this fall. Candidates for the exam are all accomplished chefs, but historically few of them have passed. For example, during the past two exams in 2012 and 2014, three certified master chefs were named, according to the American Culinary Federation.
"Simply to reach the point of sitting for the Certified Master Chef exam requires enormous commitment," said American Culinary Federation National President Thomas Macrina in a recent news release. "The test provides chefs the opportunity to prove they are the best of the best by demonstrating their technical skills and passion for the culinary arts. The title is as highly coveted as it is difficult to achieve and I wish each candidate the best in accomplishing this extraordinary goal."
The exam covers all aspects of culinary arts, from the ability to cook global cuisine to professionalism and plate presentation. During the eight days, each candidate must maintain an average score of at least 75 out of 100 to advance to the next day.
"It's a grueling eight-day process and it's very technical, highly managed and supervised, and very exacting in its demand," said Pulapaka, who already has begun training for the exam. "There's really almost no room for error."
– Cory Lancaster