Florida Highwaymen: 'Art Innovators in a Civil Rights Epoch'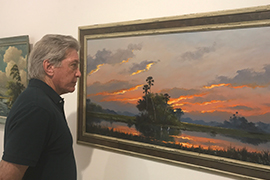 Walk to one luminous landscape painting after another with Gary Monroe, and the Hand Art Center's galleries blaze with so much energy that it's hard not to pause and linger at each.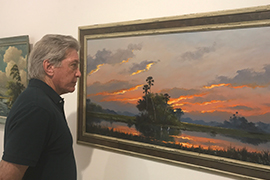 Stop for a moment at a radiant sunset by Willie Daniels, turn the corner and face Roy McClendon's turbulent seascape, grasses almost flattened by the winds that bend palms and churn the surf. Even Monroe, author of five books about the Florida Highwaymen, can't bring himself to just walk by these works in the exhibit, "The Highwaymen: Art Innovators in a Civil Rights Epoch," now in the Stetson gallery.
Neither could the viewers who crowded into Monroe's gallery walk-through last month, nor the visitors who have made the exhibit unusually popular, says Tonya Curran, director of the Hand center and co-curator with Lisa Stone of the exhibit. "This is our first Highwaymen show; it draws on regional collections and many of the works have never been shown before.
"A lot of native Floridians are interested in Florida before its recent development, and these works are very nostalgic for them," Curran says. "And it's very relevant today, at a time when racism is a big national topic. Besides being lovely paintings that speak of a bygone era, they speak of their painters' creativity."
Monroe adds that works like McClendon's seascape were "painted with no under-drawing, no grid," and he should know. Monroe's 2001 book, "The Highwaymen: Florida's African-American Landscape Painters," established the reputations of the group's 25 self-taught young men – and one woman. Between the late '50s and about 1980, they painted at breakneck speed, day and night, then left their Fort Pierce neighborhoods to sell their oil-on-board works up and down Florida's East Coast: door-to-door, store-to-store and from their car trunks.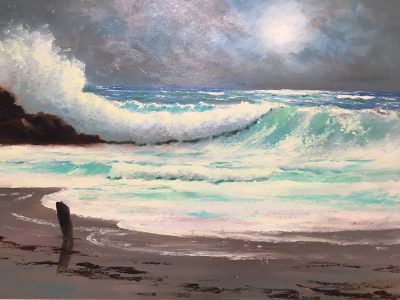 "Look at what McClendon is doing in this seascape – he's not painting something that's in front of him; he's painting a scene from his heart, his imagination," says the Highwayman expert, who went on to write four more books about the visionary self-taught artists. "Remember, this is fun for them – they're 20-somethings and it's 1960, at the height of the Jim Crow South and Civil Rights unrest, and they're making a lot of money and playing.
"If they weren't painting and selling, and doing it fast, their destiny would have been picking citrus or working in packinghouses," he said.
Instead, they listened to A. E. "Bean" Backus, the local landscape artist who told them to "paint their heritage"  – the Florida wetlands and beaches they knew so well.
"Basing their work on Backus's model, they basically attacked their Upson boards or Masonite – cheap materials they bought and cut into set sizes," says Monroe, a visual arts professor at Daytona State College.
"They were like-minded young people in a repressed society, and they didn't try for artistic self-expression – that would have been the kiss of death!
"They looked for what would sell, and chose idyllic tropical landscapes, pristine vistas that stripped out any artifice or extra element that might slow them down – and that really worked for them. It meant they could entice viewers to read into the works, to add their own experiences. And it allowed them to work on rows of paintings, all at once," he says.
But these were not production lines, or "motel art," Monroe is quick to add. "No two are the same; each work is one-of-a-kind. Copying would have been too slow, too boring. They wanted to attract newcomers, people seeking affirmation for their good sense in coming to sunny Florida – and what could be better than these, with their beautiful light, weather, color?
"It worked so well for everyone up to the early 1980s – they painted as many as 100,000 pieces," he said.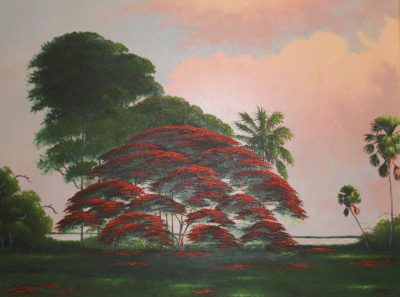 Monroe fell silent for a long moment as he smiled at a glowing sunset by Harold Newton, like the others untitled, but nicknamed "Fire Sky." "Paintings like this sold for $25 – not a small amount!" he says "And Newton, like the others, was having so much fun, partying, dating, going out to jai alai frontons and bars. At a time of struggle for Civil Rights, they were the exception, thanks to their art – which, sometimes, did tap into something deeper and took on a sense of real gravitas.
"They grew up in these landscapes, and they painted it with a sense of abandon, with no allegiance to painterly tradition," he says. "They had a deep experience of the land, and no desire to editorialize. They worked to entice the buyer, and they really did. The 'Highwaymen' had money falling out of their pockets."
If You Go
"The Highwaymen: Art Innovators in a Civil Rights Epoch" will be at the Homer and Dolly Hand Art Center, 139 E. Michigan Ave. on Stetson's DeLand campus, through July 29. Admission is free and hours are 11 a.m.-4 p.m. Monday through Wednesday and Friday; 11 a.m.-6 p.m. Thursday; and noon-4 p.m. Saturday.
-Laura Stewart