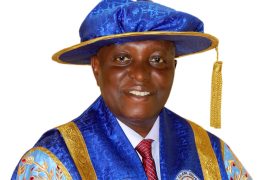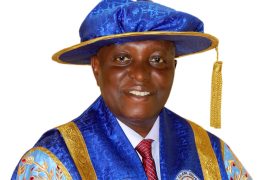 This article appears in the new Summer Issue of Stetson University Magazine. To read the entire magazine, click here.
Through almost four decades as an educator in his native Nigeria, Timothy Oyebode Olagbemiro '71 has seen many students ascend to positions of influence in business and government. Even in the often-infertile lands of his country, it is a harvest grown from seeds planted during his years at Stetson.
"Whatever I have achieved, I owe it to Stetson University, students and staff," asserts Olagbemiro, recipient of a 2007 Distinguished Alumni Award and a Stetson Athletics Hall of Famer.
Still exhibiting the drive to excel that resulted in a Hatters career goal-scoring record (56 from 1968 to 1971), Olagbemiro has since 2014 been the pioneer president at Edwin Clark University in Kiagbodo, Delta State, Nigeria. Previously, he led Bowen University in Iwo, Osun State, Nigeria, to tenfold student population growth during his decade-long tenure as vice chancellor (president). Bowen was the first, and is the largest, Baptist university in Africa.
Essentially, Olagbemiro — or The Big O, as he was known during his Stetson playing days — has replaced one success for another, year after year, with a single common component: education. "One vital way you develop a country is through its educational programs," he says, simply.
Olagbemiro's sights, however, always have extended broader, even beyond his African homeland.
"Advances in science and technology over the years have transformed the entire world from  small entities and enclaves into a global village," he says. "Knowledge is power, and I want to  be [one] of those that help to contribute my knowledge globally."
Not that his road to achievement was without potholes. Homesick and lonely arriving in the United States at 18, Olagbemiro struggled at first, finding himself with two D's and on probation at one stage. Yet, that setback, together with the encouragement received from those who believed in him, eventually spurred him on to the Dean's List at Stetson.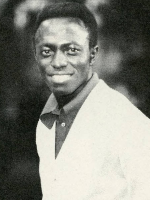 Following graduation, Olagbemiro went to Fisk and Howard universities for a master's in chemistry and doctorate in organic chemistry before working as a research chemist in New York, where he synthesized compounds that were patented as anti-tuberculosis and antipsychotic agents.
Returning to Nigeria in 1978, he was appointed one of the country's youngest-ever full professors of chemistry within six years, receiving several international research grants and awards and being published widely in international science journals.
Hatter Heritage
In his leadership roles, Olagbemiro says he's extended the same kind of personal care he received at Stetson to his own students. That includes ensuring each student had his phone number and sometimes eating in the student cafeteria. While at Bowen, he also took his place alongside students in the university's 450-strong choir. Not coincidentally, student enrollment at Bowen bloomed.
"Making [students] know they are our future leaders is crucial."
With a keen memory and a deep appreciation, Olagbemiro credits everyone from presidents and faculty to storekeepers and grounds people for instilling in him a potent blend of academic curiosity, commitment to hard work and concern for others.
He refers to then-Stetson President Paul F. Geren, Ph.D., as "a receptive father, an astute administrator and a visionary leader who was ahead of his time." He describes George Borders, Ph.D., dean of Student Affairs and his soccer coach, as "the elder brother I never had … my benefactor and a generous man." He points to Kathleen Allen Johnson, M.A., as the teacher who instilled in him a lifelong love of classical music. (Johnson was the 1976 winner of the McEniry Award for Excellence in Teaching.)
Also, he fondly recounts those who led the weekly interdenominational chapel services. Stetson's annual Christmas concert was a particular favorite, an event he replicated at both Bowen and Edwin Clark universities.
Olagbemiro looks back on his Stetson days as the time he "learned to steer the wheel of excellence and hard work" — a two-handed ethos he continues to share with students to this day.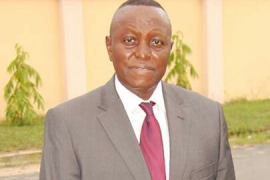 A man of both faith and science, who built the world's largest university chapel while at Bowen, he views his personal belief system as being intertwined with his academic life.
"I have been motivated by the faith I have in God, and the confidence in my ability and striving for excellence developed through the confidence reposed in me at Stetson," says Olagbemiro, who has been married for 44 years, with five children and five grandchildren.
"This gave me the leap to believe in myself, just as the Apostle Paul said, 'I can do all things, through Christ who strengthens me.'"
Seeing students develop integrity, transparency, honesty and sincerity of purpose, just as he had at Stetson, lifts his world.
"It gives me great joy that Nigeria's future is bright," Olagbemiro says. "When I see the joy in their faces as they graduate in character and learning, I have hope for Nigeria and Nigerians."
-Andy Butcher