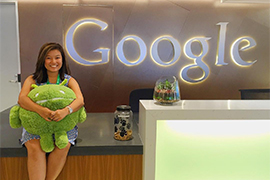 Three years ago, Erica Kok was sitting in her home in Manila, waiting . . . and waiting . . . and waiting for her Facebook page to load.
"Internet access was pretty bad," Kok said. "I'm sure the Philippines had one of the slowest Internets in the world. It would take so long for even Facebook to load. It was really frustrating."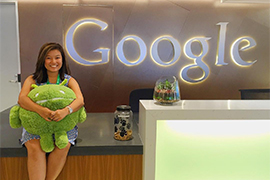 As a consequence, Kok was 180 degrees from becoming a techie. But things changed after her family moved to DeLand in 2014. Kok ditched her plans to become an accountant and instead enrolled in the computer science program at Stetson University.
Since then Kok's life has been a heady rush of mega-geekdom: Face-to-face encounters with Facebook founder Mark Zuckerberg during an internship with that company last summer. A current internship with Microsoft. Retreats at Google. Hackathons. AI (artificial intelligence).
Kok's techie "a-ha" moment came after her senior year at DeLand High School (her family moved to the town because they had relatives here). Looking for college scholarships, she applied for and was accepted into Google's computer science summer institute, a three-week program at its corporate campus in Cambridge, Mass.
"I wasn't expecting to get it," the 20-year-old Kok said during a recent phone interview from Seattle, where she's in the midst of her Microsoft internship. "After attending that I was like, 'Tech is really cool.' I really wanted to do computer science."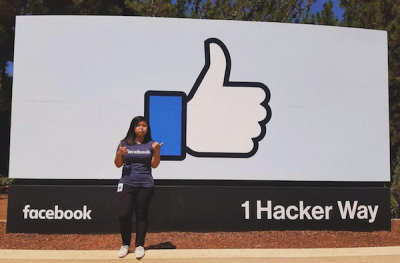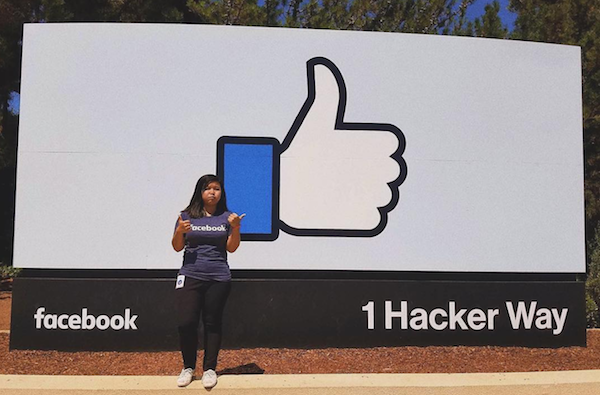 Kok planned to study at the University of Central Florida in Orlando, but she didn't connect to the vibe of that campus after visiting there.
"I did a tour of Stetson and I really liked the small community," Kok said. "And one of my teachers from DeLand High School said Stetson had a small but amazing CS program."
Now heading into her junior year, Kok already has a resume that boasts those three giants of tech: Microsoft, Facebook and Google. Not bad for someone who could hardly get on the Internet just three years ago.
"My sense is that this is unusual," said Joshua Eckroth, Ph.D., Stetson assistant professor of computer science, speaking about Kok's trifecta. "Erica is very motivated. She's a great student and she takes leadership roles. She spends a lot of time encouraging other students to participate in all the activities that are available."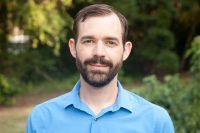 Her Microsoft internship involves "data analysis — analyzing the performance of the Windows operating system," Eckroth said. "I teach a class for juniors and seniors about data analysis in our computer science department, but Erica hadn't taken that class yet."
So, Eckroth added, Kok "crammed" by studying the class material for weeks before her Microsoft interview. "That obviously helped," he said. "That's just another example of how, if she thinks maybe I'm not qualified for this, she figures out how to become qualified for it."
One of the highlights of her Microsoft and Facebook internships has been "meeting people – the networks you form in these tech companies is amazing," Kok said. "When I was at Facebook (last summer at its headquarters in Menlo Park, Calif.), you could meet Mark Zuckerberg every Friday. He would be there – we could actually talk to him and ask him questions. There are just so many opportunities to learn and grow."
And the pay, Kok added "was amazing."
As for her Microsoft internship, "I'm also getting to work on actual Microsoft products and see them shipped and other people use them," she said. "And I'm very interested in working with artificial intelligence. It's amazing that I can just meet people and talk to different top engineers."
Kok recently was one of 20 students in North America to be awarded a $10,000 scholarship by Google's Women Techmakers Scholars Program. She attended a one-day scholars retreat at Google's main headquarters in Mountainview, California.
According to womentechmakers.com, the program's mission is "creating gender equality in the field of computer science by encouraging women to excel in computing and technology and become active leaders and role models in the field."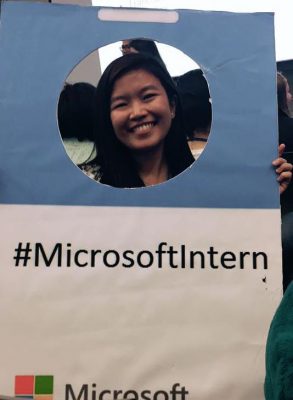 In recent years, the lack of females pursuing STEM careers (science, technology, engineering and mathematics) has garnered widespread media attention, and such organizations as the National Science Foundation and the American Association of University Women are working to address that situation. The greatest gender gaps, according to NSF statistics, are in computer science and engineering.
Professor Eckroth estimated that female enrollment in Stetson's computer science program is "20 to 30 percent. That's common across different schools. That's recognized as a problem and has been addressed in different ways."
One example: Eckroth and Daniel Plante, Ph.D., Stetson professor of mathematics and computer science, recently secured an NSF grant that will enable Kok and three of her fellow Stetson female CS classmates to collaborate on a research project in the coming year.
Microsoft, Facebook, Google and other companies "are starting to realize how important having more women in tech is, and they're actually doing something about it," said Kok, who helped start the Ladies in STEM club at Stetson. "A lot of girls start going away from STEM at a young age . . . I'm hoping to change that starting with STEM at Stetson. I'm hoping to partner with middle schools or high schools to get more women interested in STEM at a younger age."
Kok also is involved with HackStetson, an annual hackathon, or conference, which gathers computer programmers, software developers and other techies for networking, socializing and hardcore geek-ware development. After graduation, Kok plans to work as a software engineer for a few years and get more experience, all with an eye on returning to her homeland, where her father still lives and where she visits occasionally.
"I want to go back to the Philippines and start leading STEM there," she said. "When I was there, I was never really exposed to STEM. I want to help make that different in the Philippines."
— Rick de Yampert