Convocation Speaker Says Stetson Fueled her Dreams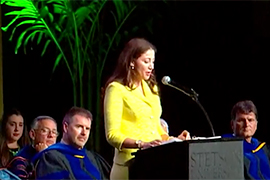 Julia Nesheiwat, Ph.D., learned to dream while sitting on her mother's bedside and found the fuel for her passion while attending Stetson, she said Wednesday evening at Convocation.
"I stand before you today as our nation's leading diplomat for hostage cases worldwide, as a former State Department official for Energy Policy, and as a proud Army veteran of both Afghanistan and Iraq," said Nesheiwat '97, Special Presidential Envoy for Hostage Affairs, Acting.
"It all started with my family at home, who are with us here today, and really caught fire with my Hatter family sitting around us."
Nesheiwat spoke to students, faculty and staff in the Edmunds Center for Convocation, which marks the official start of the 2017-2018 academic year. Classes begin Thursday for all students on the DeLand campus, which has enrolled about 3,000 undergraduates and 300 graduate students for the fall semester. Watch Convocation on Stetson Broadcast Productions.
Nesheiwat arrived at Stetson as a "nerd," she said, and was too shy to even play the guitar. She worked part-time in the library and was in Army ROTC.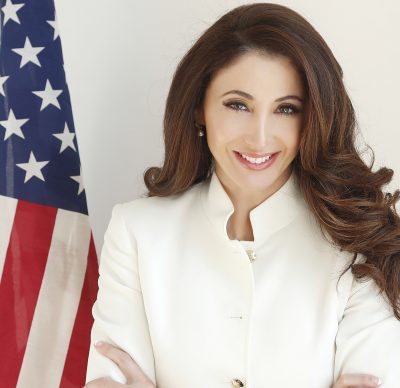 Her father had died while she was in high school and her mother, a nurse, worked hard to support the family — Arab Christians in a small rural Florida town. The five children would gather on their mother's bed to talk in the evening. She taught them to do their best, never give up in the face of hardship, and help others, regardless of their race or religion.
"The trajectory of our individual life journeys from that bed would propel us into philanthropy, pageantry, literature, law, medicine, government and television broadcasting, as each of my sibling's aspirations became realized," she said. "Stetson poured fuel on the fire lit by my mother and has taken us further than our dreams."
The oldest, Nesheiwat chose Stetson and graduated with a Bachelor of Arts in religious studies and sociology. Her three sisters and brother followed, and all attended and/or graduated from Stetson. Her mother, Hayat, took a class, too.
"They have fond memories of their years here at Stetson," President Wendy B. Libby, Ph.D., said in introducing Nesheiwat. "And in honor of their mother, Julia and her siblings have recently established the Hayat Nesheiwat Scholarship at Stetson."
Stetson is embedded in the family's legacy, like "higher education DNA," Nesheiwat said.
At Stetson, she found professors who served as "lamps" that have "never extinguished" and who helped fill the void left by her father's death. They included Mitchell Reddish, Ph.D., professor and chair of the Department of Religious Studies; retired political science Professor T. Wayne Bailey, Ph.D.; retired research librarian Sims Kline; and Leonard Nance, Ph.D., former sociology professor.
After graduating in 1997, she enrolled in Stetson College of Law. But then came the terrorist attacks of Sept. 11, 2001, and her Army unit was later called up for service. She deployed as an Army captain in military intelligence in Afghanistan and Iraq.
"Never in a million years while sitting here on campus as a freshman did I envision one day sitting across a table from the brilliant former Secretary of State, Condoleezza Rice, or serving as a military intelligence officer in Iraq and Afghanistan, living and studying for a doctorate in Japan and surviving an earthquake, tsunami, and nuclear meltdown I might add," she said.
"The work I pursue now began because of the mentorship of the educators sitting around you, who opened my mind and heart to the world from these walls, and broke through some walls of my own to give me the courage to embrace that world."
-Cory Lancaster