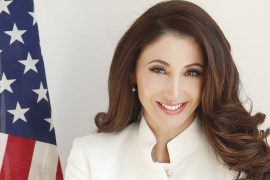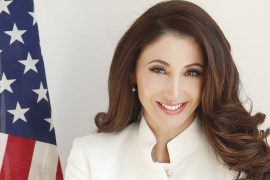 "Don't be afraid to lean on others as you chase your dreams; it is about the relationships you build along the way."
Those words pretty much explain the inspiring transformation of Julia Nesheiwat '97 from eager, inquisitive student to U.S. diplomat. Twenty years ago, Nesheiwat departed Stetson with a Bachelor of Arts in religious studies and sociology. Now, she is Special Presidential Envoy for Hostage Affairs, Acting, where she helps to secure the safe return of Americans held hostage overseas.
Not coincidentally, "dreams" and "relationships" will be dominant themes as Nesheiwat, Ph.D., delivers Stetson's Convocation speech on Wednesday, Aug. 23, at 5 p.m. to formally open the 2017-18 academic year. She will address students, faculty and staff in the Edmunds Center on the university's historic campus in DeLand.
Convocation also will be live streamed on the Stetson Broadcast Productions channel on Ustream.tv.
Serving in her diplomatic role since August 2015, Nesheiwat works closely with the families of American hostages, foreign governments and the interagency Hostage Recovery Fusion Cell. Previously, she was Deputy Assistant Secretary of State for Implementation in the Bureau of Energy Resources; a Political-Military Advisor and Visiting Professor at the U.S. Naval Post Graduate School's National Security Affairs Department; Chief of Staff and Senior Advisor to the Under Secretary for Economic Affairs; U.S. Special Envoy for Eurasian Energy Security; and Chief of Staff for Policy and Planning in the Office of the Director of National Intelligence.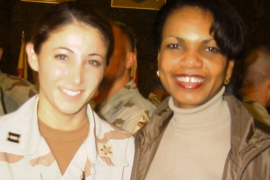 Earlier, as a military intelligence officer, Nesheiwat served consecutive tours in Afghanistan and Iraq. Also, as a senior operations officer, she coordinated and managed interagency assessments on terrorist networks within the Middle East and Asia, and acted as the U.S. military liaison officer with regional political parties on governance and threat reduction.
In addition to her degree at Stetson, Nesheiwat earned a doctorate from the Tokyo Institute of Technology in Japan and a master's from Georgetown University.
The Stetson Influence
As chief contributing factors to that impressive resume, Nesheiwat points directly to her faculty at Stetson, calling those relationships her "fondest memories" as an undergraduate and asserting they had a "profound impact on who I am today."
Having lost her father in high school, Nesheiwat says she arrived at Stetson in need of mentorship. She didn't squander the opportunity to make it happen, regularly seeking the guidance of several professors in a variety of areas. They not only helped in her academic disciplines but personally, coaxing her to "break out of my shell," she recounted.
"It is up to you build and nurture that relationship that goes beyond mentorship," she said in early August. "Whether you agree or not with certain ideas and perspective is not as relevant as to understanding their experiences and what brought them to that area of study."
Notably, Stetson became a family affair. Each of her four siblings also attended Stetson: Janette Nesheiwat '98, Daniel Nesheiwat '99, Jaclyn Nesheiwat Stapp '02 and Dina Nesheiwat '03. Even her mother, Hayat, took a class on campus.
At Stetson, Nesheiwat followed her passions, too, mostly regarding the environment. She does the same today.
"I'm known as a deep thinker and doer – thank you, Stetson – on many global issues. So, as the world evolves with challenges and new innovations, I seek to help where I can, given my own personal experiences," she said. "But at the end of the day, it is about following your passion. So many issues today are interconnected: economic/energy, national security, foreign policy, development, human rights, health, and understanding that nexus allows you to work on various portfolios."
Nesheiwat also believes in continual evolution as a person, conceding that her greatest fear is complacency. "We must step out of our comfort zone. There is so much to explore and learn," she said.
Just don't take her too seriously. Nesheiwat doesn't. She owns a 1966 convertible Mustang and a surfboard that fits perfectly in the back seat with the top down. She once studied tea. And she laughs about breaking her toes on multiple occasions, including at the United Nations' General Assembly in New York, when she hadn't packed flat shoes.
"I've learned over the years that most of what we worry about is not even going to matter in the long run." she said.
Her parting words, in preparation for her convocation address, go back to her start at Stetson – relationships. "Enjoy what is around you now," she offered, "and value the relationships that will carry on for a lifetime."
-Michael Candelaria