Retracing Bartram's Trail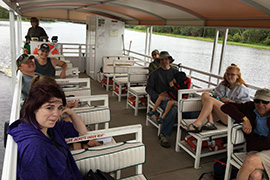 In 1774, naturalist William Bartram sailed up the St. Johns River to document the exotic Florida landscape and crossed a spot north of DeLand, teeming with alligators that attacked his small boat from all sides.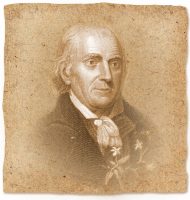 The terrible monsters rushed up with their heads and part of their bodies coming out of the water, "roaring terribly," said Bartram, who was alone in a canoe fitted with a sail. "They struck their jaws together so close to my ears, as almost to stun me and I expected every moment to be dragged out of the boat and instantly devoured."
Armed with a club, Bartram beat back the gators and wrote about the encounter in his 1791 book, "Travels," which captivated Europe and America, and remains a classic today. The book contains illustrations and scientific descriptions of plants and animals along the route, as well as his encounters with Native Americans.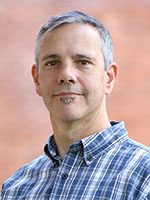 Stetson University Professor Tony Abbott, Ph.D., first learned about Bartram as an undergraduate at the University of Georgia, just as he was discovering his interest in naturalism and the environment. Years later, when he took a job teaching Environmental Science and Studies at Stetson, he ventured out in his free time to the river, imagining Bartram's adventures through the area.
Now, he's sharing that passion in a new brochure, "Experience William Bartram's Florida," with 30,000 of them being distributed in the region, including at Stetson's Gillespie Museum, in downtown DeLand and at tourist kiosks, allowing people to visit the places that Bartram described centuries ago. Abbott also is building a website, "Bartram Trail in Volusia County," and is enlisting Stetson students in his map-making class to create printable guides for people to walk, bike and canoe along the route.
"As I began to rediscover Bartram," Abbott said in an interview, "I realized several of his most exciting passages were right on the St. Johns River adjacent to Volusia County, either on the Lake County side or the Volusia side — interactions with Native Americans, a hurricane, the battle of alligators. Many of the passages that people thought were just too extraordinary to be real, they happened here."
On Bartram's trip in 1774, he came upon nearby Lake Beresford, alone in the canoe, after his Indian guide grew tired of the journey and deserted him. Bartram describes how a hurricane overtook him on the lake with violent winds. He fled to the western shore for safety, his boat filling with water, and his papers and drawings drenched.
His travels through the area may have included a stop at the Lake Beresford site where Stetson soon will build its new Sandra B. Stetson Aquatic Center. The center on the lake's eastern shore will house the university's rowing teams and Stetson's Institute for Water and Environmental Resilience.
Clay Henderson, the Water Institute's executive director, has been a Bartram aficionado for nearly 30 years. He and Professor Abbott recommended the Aquatic Center include a Bartram Garden with some of the native plants that he documented, as well as a historical marker in his honor.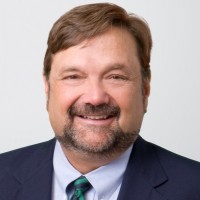 "Bartram is an iconic figure in any discussion of Florida ecology," said Henderson, an attorney and noted environmentalist, who named his son after Bartram. "The Aquatic Center will be a stepping-off point for people to go on the Bartram Trail. … The location is very close, or who knows, it could be the spot, where he crossed Lake Beresford on his second trip."
A Lasting Legacy
William Bartram first traveled to Florida in 1765 as a young man with his father, John Bartram, a botanist hired by King George III, who received Florida from the Spanish as part of the treaty to end the Seven Years' War.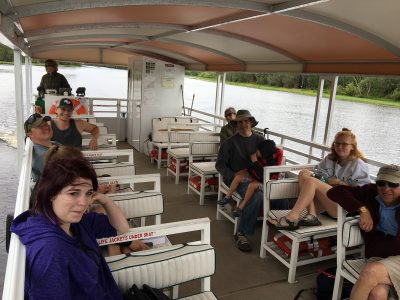 In 1774, William Bartram returned to Florida alone, financed by a wealthy English physician. His travels in Florida and seven other Southern states created one of the most important scientific books of the time, "Travels through North & South Carolina, Georgia, East & West Florida, the Cherokee Country, the Extensive Territories of the Muscogulges, or Creek Confederacy, and the Country of the Chactaws," which remains in print today.
His legacy "is expansive and undeniable," Abbott writes in the brochure, which was published late last year in partnership with the River of Lakes Heritage Corridor, Stetson University, Stetson's Water Institute and the Florida Department of Transportation.
Bartram's "Travels" inspired many English writers, including William Wordsworth and Alfred Tennyson, and set the stage for the celebrated style of John James Audubon, the wildlife artist who illustrated North American birds in the 1800s, the brochure says. But for much of his life, Bartram was considered "a ne'er-do-well," Professor Abbott said.
"He was considered a failure in his family for a very long time," he explained. "He couldn't get a plantation together. He couldn't hold down a job. He was often run out of town because he couldn't pay debts and his father had to bail him out on more than one occasion. It wasn't until after he finished this trip and he returned to Philadelphia that he settled into life and took care of the botanical garden there for his father and he published his book in 1791, which was a full 17 years later."
On the Trail
In the summer of 2015, Professor Abbott attended a National Endowment for the Humanities' summer institute, called Mapping Nature Across the Americas. As his independent project, he decided to try to retrace Bartram's Trail through Volusia County. He had no idea how challenging it would be.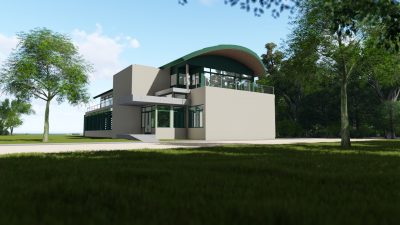 "When I came to this, I thought I'm going to place Bartram on a map and then I started doing it and realized this is horrible. This is so hard," he recalled.
"The challenging thing about Bartram is he's really pretty vague geographically, so when he's describing places on the river in his narrative, he scrambles his calendar so that even though he may have gone up and down the river in certain stretches several times, in his book he describes it as one straight trip down and one straight trip back. So the dates start to get jumbled, and in some places we're not sure exactly where he's at," he explained.
Abbott relied on earlier efforts, including a map by Bartram expert Dean Campbell with the Bartram Trail in Putnam County, a group that promotes trail sites there and hosts an annual Bartram Frolic festival. He consulted with the Water Institute's Henderson, who traveled on a houseboat 20 years ago with National Geographic to help the magazine with a story about Bartram.
Abbott also approached the nonprofit River of Lakes Heritage Corridor to ask if the group would be interested in a printing a brochure with his map. It was, and also appointed him to its Board of Directors.
"Tony wanted to see that information get out to people," said Cindy Sullivan, chairperson of the River of Lakes Heritage Corridor, adding that the group received permission from the Natural History Museum in London to use Bartram's illustrations in the brochure. "There are so many people who might have heard of Bartram and might have heard about his drawings. But many people don't know he came here, that he had guides who were Indians, and that he drew all the animals and foliage that he saw.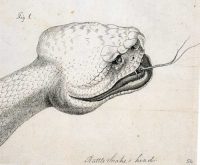 "Tony is right. This is information that shouldn't be lost," she said.
As Abbott worked on the project, he began to rethink the way he looked at Bartram, he said. He learned Bartram, an abolitionist later in life, held slaves on the St. Johns River prior to writing "Travels."  And many people think Bartram described a virgin Florida landscape, but "Travels" actually notes many human imprints.
"Bartram describes ancient Native American sites, citrus orchards (which are not native to the Americas), and species that were likely introduced by earlier inhabitants up and down the St. Johns River," Abbott said. "I hope the brochure prompts people to reflect on the changes happening on the landscape now as well as throughout history. "
-Cory Lancaster