Seeds of Change for 'A Food Desert'
Stetson student Madilyn Amico carried buckets of soil in the hot afternoon sun, helping to build a community garden for residents who lack access to fresh fruits and vegetables.
A 2016 study by Stetson Assistant Professor Asal Mohamadi Johnson, Ph.D., and her senior research students found 90 percent of the residents in Spring Hill were concerned about the lack of fresh produce available there.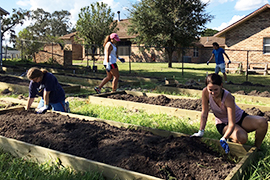 Those findings surprised Amico, a sophomore who was volunteering for her first time at Stetson.
"It's crazy because in my hometown every street has a fresh produce organic market or there's a community garden just around the corner," said the Communications and Media Studies major from Stuart, Florida. "I think it's great that this is here for the entire community to access.
"Today is my first day (volunteering) and I'm definitely coming back," she added.
Located a mile from Stetson's DeLand campus, the African-American community of Spring Hill is considered one of the most impoverished areas in Florida.
DeLand City Commissioner Jessica Davis supports the community garden because she has seen the need for nutritious food in the area. Some residents do not own a vehicle and can't drive to a grocery store outside of Spring Hill.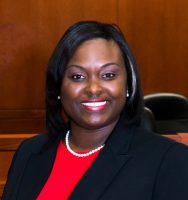 "Within the African-American community, they have their own areas of concerns about health-related issues, such as diabetes," said Davis, the first African-American female elected to the DeLand City Commission. "A big component will be the education piece – education on the nutritional value of produce."
Her husband, Mario Davis, is executive director of the Greater Union Life Center, a nonprofit in Spring Hill that awarded a $10,000 grant to Stetson's Center for Community Engagement to construct the garden, and refurbish a greenhouse to grow seedlings for it.
"We want to make fresh fruits and vegetables available for people in the community," Mario Davis said. "The best thing we can do is start with a garden, get people involved and engaged in the community."
Stetson's Center for Community Engagement is leading the effort. About 50 Stetson students volunteered on Values Day, and students will help on Saturday, Oct. 28, from 9- 11 a.m. when residents begin planting seedlings in their plots on city-owned land behind the Delta Sigma Theta House at 501 S. Delaware Ave.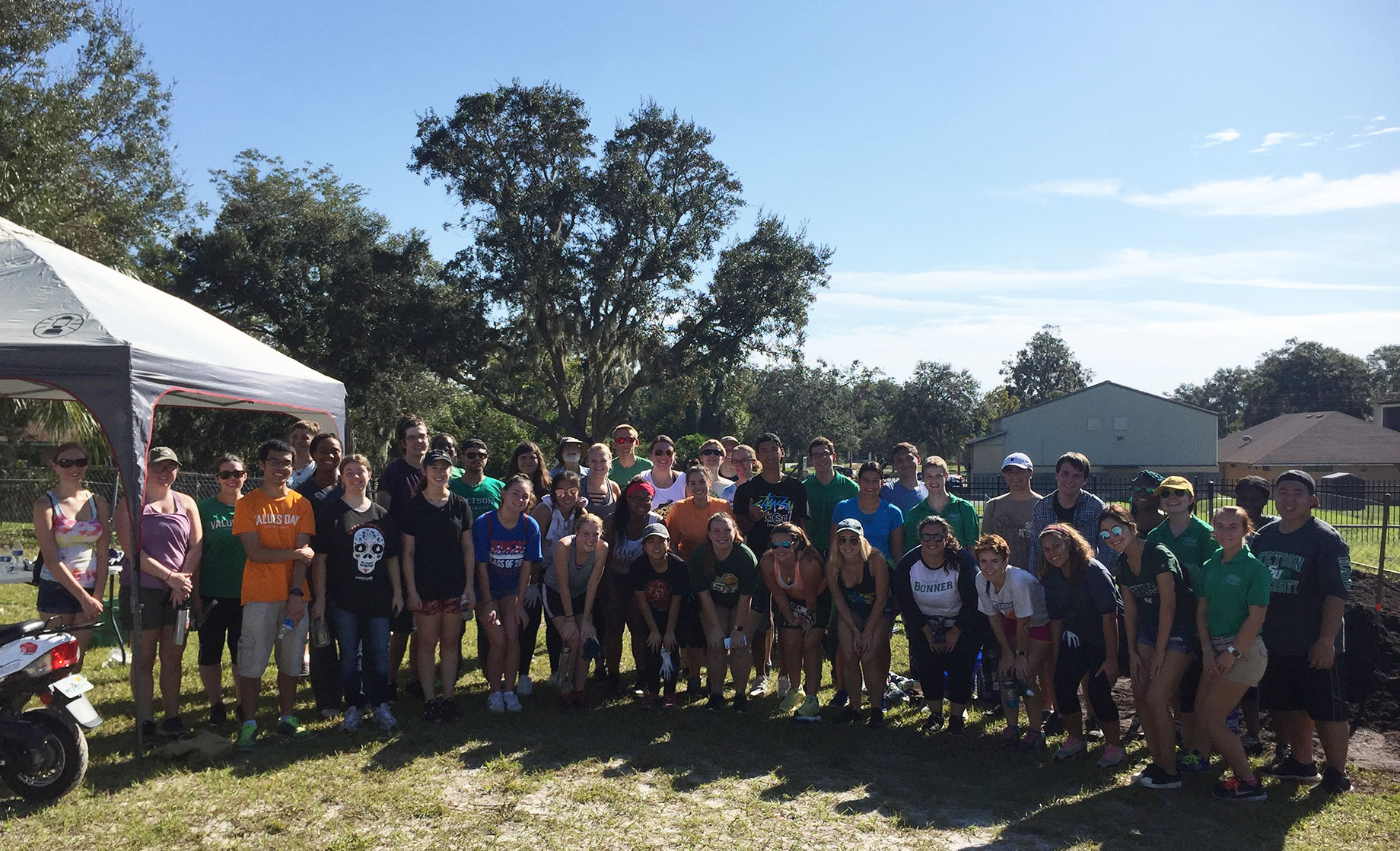 "We had known that Spring Hill was a food desert," said Maxwell Droznin, the Center's Community Engagement Coordinator, referring to areas that lack fresh, healthy food for sale. "But, just speaking for myself, I was shocked and upset frankly that this kind of disparity existed just a mile from Stetson."
Residents can lease the plots for $20 a year, which includes seedlings – plants like strawberry, tomato, zucchini, leafy greens and "cool" varieties, such as purple carrots, Droznin said. The residents also get free use of gardening tools and help from two master gardeners, as well as from Stetson student volunteers.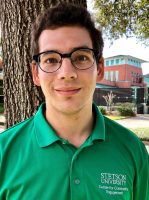 "It's a great deal. The monetary value of the pounds of produce will greatly exceed $20 a year," Droznin said of the leases for the 39 raised garden beds.
The community garden was created through a partnership among Stetson's Center for Community Engagement, the City of DeLand, the USDA, the University of Florida's Institute of Food and Agricultural Sciences, Volusia County Master Gardeners, the Greater Union Life Center, and the Florida Department of Health, he said.
The Center for Community Engagement also is working to make it easier for people to use food stamps to buy fresh produce at Artisan Alley's Farmers Market in downtown DeLand on Fridays from 6-9 p.m.
Under a statewide program called Fresh Access Bucks, people in the federal Supplemental Nutrition Assistance Program (SNAP) can receive a dollar-for-dollar match, up to $20, and double their spending power when they buy fresh fruits and vegetables grown in Florida.
Droznin has been working with the Farmers Market manager, Nize Nylen, wife of Stetson Political Science Professor William Nylen, to install an EBT card reader so people can use food-stamp debit cards to purchase fresh produce. The grant will cover the EBT card reader and all transaction fees, he said.
"You don't see a lot of Spring Hill residents at the market and there's a lot of different reasons that have to do with the history of racial divides in DeLand. And also, most of the vendors were cash only," he said.
"I was looking on a map and that actually is the closest source of fresh produce to Spring Hill," he explained. "I think it's the best source of fresh produce in all of Volusia County."
-Cory Lancaster