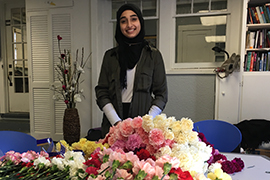 Stetson's Muslim Student Association will host its first event during Homecoming this year, inviting the Stetson community to an open house and dinner at the mosque in Daytona Beach.
Muslim Student Association President Fatima Asad said the group wants to provide a welcoming event to raise awareness of the Muslim community, and provide a gathering for Muslim alumni who return for Homecoming Weekend.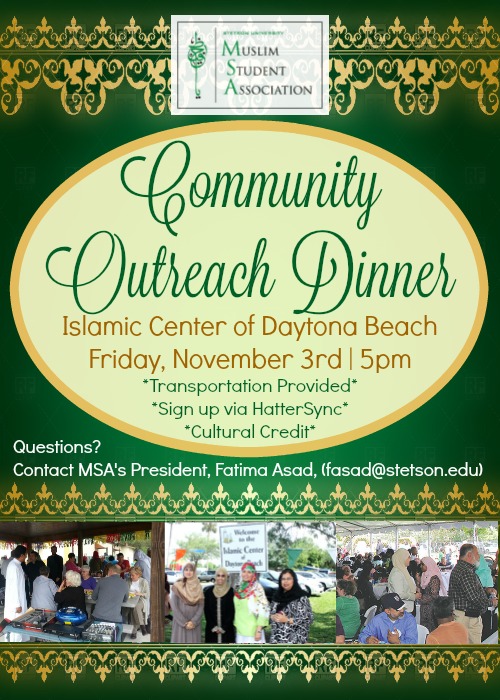 "It's a way for the Stetson community to interact with the Islamic Center" of Daytona Beach, said Asad, a senior majoring in molecular biology who plans to attend medical school. "The Muslim Student Association has never done anything for Muslim alumni, so this is a first for Homecoming Weekend."
The Community Outreach Dinner will begin at 5 p.m. on Friday, Nov. 3, at the Islamic Center of Daytona Beach, 347 S. Keech Street, Daytona Beach. Guests can discuss topics with the Imam, the mosque's religious leader, as well as observe Friday services and have dinner. Students, alumni, faculty and staff should sign up through HatterSync. Transportation will be provided and Cultural Credit is available for students.
Less than 1 percent of Stetson's undergraduates identify as Muslim, but that number is expected to grow, said Lindsey Graves, Stetson's assistant director of Interfaith Initiatives in the Office of Religious and Spiritual Life.
"Islam is the fastest growing religion on the planet today, so I would expect to see that number increase in the future," she said.
The Outreach Dinner follows the Muslim student group's Petals for Peace project in which members handed out nearly 700 carnations across campus last week with notes bearing quotes about peace from the Quran, the Prophet Muhammad and world leaders.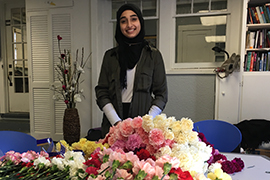 Asad said the Muslim Student Association first gave out flowers last February after Donald Trump was inaugurated and proposed a travel ban on people entering the U.S. from seven Muslim-majority nations, including Iraq and Syria. A federal judge blocked the order, and legal challenges continue over Trump's ongoing attempts to impose a ban.
"After the inauguration, there was tension on campus, so that's the reason we decided to do this project. That's the reason why we chose quotes of peace, positivity and hope," said Asad, who was born in Morgantown, West Virginia, and lives with her parents in Ormond Beach.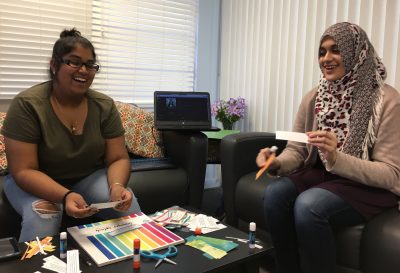 The Muslim Student Association won Stetson's first "Outstanding MSC (Multicultural Student Council) Organization Pop-up Program" last spring for the Petals for Peace project, said member Kristin Ramkissoon, a senior from Clermont, majoring in management. She was among the students handing out flowers again last week.
"It might be really simple, but I think that it really means a lot," explained member Zainab Nadeem, a senior psychology major from Ormond Beach. "It's really nice to bring people's spirits up."
Added Graves, with the Office of Religious and Spiritual Life: "It is a true extension of love, and it really brightens people's day. … The event also directly counters what the U.S. media says about the religion of Islam. Images of violence, hatred, and disrespect have been circulating our computers and televisions since 9/11. Petals for Peace allows people to positively and authentically interact with Muslims."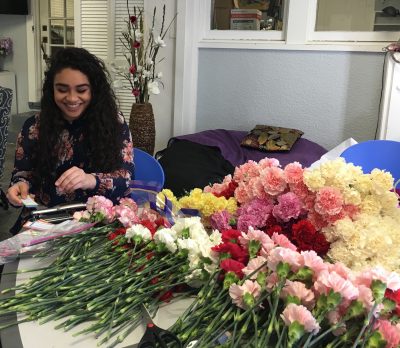 Asad said the Stetson community has "always been very kind and supportive," and she hopes the group can reach out more to the DeLand community to give residents an opportunity to interact with Muslim students.
"We have received such positive responses from Stetson students and staff, but I think it's very important to reach out to the DeLand community because the Muslim population is almost nonexistent," she said.
-Cory Lancaster