Stetson University's Centurion Sales Program Takes Off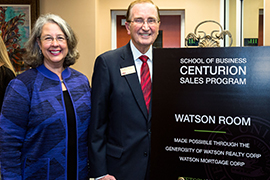 Stetson University's School of Business Administration recently held a ribbon-cutting ceremony for its new Centurion Sales Program celebrating the grand opening of five new role-play, sales laboratories on the DeLand campus. During the event, two local business partnerships were also announced and celebrated.
The event opened with Stetson University President Wendy B. Libby, Ph.D., addressing the standing-room only event.
"We are thrilled to partner with this savvy businessman," Libby said, indicating Leopoldo Fernandez, a Stetson alumnus and entrepreneur who has owned two major businesses in Spain.  "Sales is the fuel for driving business forward and we thank Leo for driving Stetson forward."
The sales program was made possible by a donation from Fernandez, in honor of his father, Genaro Fernandez Centurion.

Stetson has been working to develop partnerships with local businesses to give students an opportunity to learn the nuances of real world sales across diverse fields.
During the event, William "Bill" A. Watson Jr., Founder and Chairman of the Board, Watson Realty, unveiled the Watson Sales Lab, sponsored by Watson Realty Corp and Watson Mortgage Corp. The additional four sales labs will also be sponsored and branded by regional partnering companies in the coming months.
"This is an exciting day for our business school," said Neal P. Mero, Ph.D., professor of management and dean of the School of Business Administration.  "Leo wanted to invest in people and a program that can have an impact on the school. I want to thank you [Leo] — your gift has already had tremendous impact."
The program, which launched in January, gives students the opportunity to learn how to meet the needs of consumers and sell products and services through courses in sales, communication and negotiations.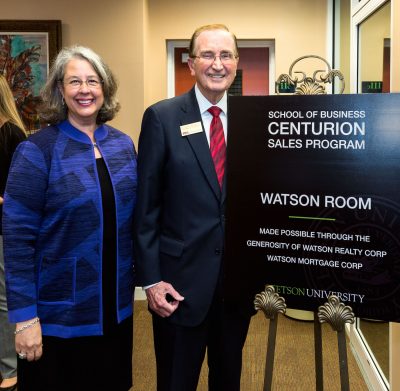 "In addition to the lab room partnerships, I'm excited to announce that the Centurion Sales program is now collaborating on a mutually beneficial project with the Volusia Flagler YMCA," said John Riggs, D.B.A., executive director of the Centurion Sales Program.
Students in the Advanced Sales class have been tasked with analyzing and addressing specific needs facing the YMCA, including healthy living, third-party membership, and marketing and development.  Students will address the needs from a sales standpoint and ultimately be responsible for determining how to increase membership utilization and referrals, and improve customer relationships.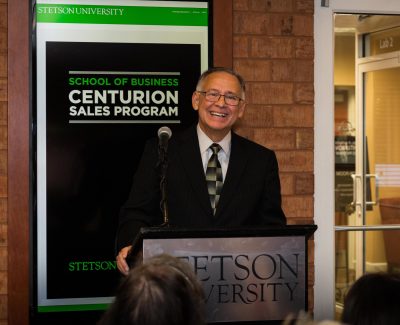 Following the ribbon cutting, guests received a tour of the sales labs where they witnessed students putting their knowledge to work through sales simulations using state-of-the-art cameras, microphones and recording software. Professors and students can access the recordings and review the footage for annotated audio and visual cues to help them refine their training.
-Marie Dinklage