Students Submit Ideas for Stetson's Inaugural Green Project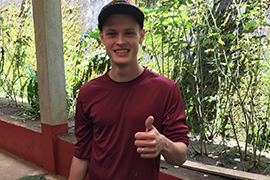 Stetson University students submitted their ideas this week for the school's inaugural Revolving Green Fund project.
The Stetson Revolving Green Fund (RGF) is 100 percent student-funded, with a $5 Green Fee paid per semester, beginning in Fall Semester 2017, to support the project and raise approximately $30,000 each year.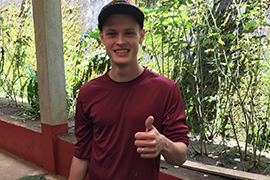 "It is paid by students and the projects that it funds are decided by the students. This is why it is so important for students to give their feedback on what they want the money to be used for," said Nathan Bodger '19, one of the Environmental Sustainability Fellows through Stetson University's Center for Community Engagement. "This is a great opportunity for students to use their voice to make a real impact on campus, where they get to tell the administration what they would like done.
"As far as I am aware, and I have done a lot of research, no other university has student funded environmental projects on this scale. This means that Stetson students are literally investing in their university for the sake of the future, and as a body they get to decide what changes to invest in," said Bodger, a religious studies major with dual U.K. and U.S. citizenship. "This is both valuable for the university and for the experience of the students."
The RGF initiative, which was supported by a majority of Stetson students in two surveys, was approved by the University's Board of Trustees last spring.
Bodger explained that once the student ideas were submitted, the Green Fund Committee would have several meetings to evaluate student feedback. They plan to select three of the student-suggested projects, which will be narrowed down to one next spring. Stetson students will get to select from those three choices in an online poll, and the project that garners the most votes will be installed on campus in the summer of 2018 by Facilities Management.

"The Revolving Green Fund will not only decrease Stetson's carbon footprint, it is also an incredible example of students creating tangible change on their university campus," Bodger added.
The deadline to submit ideas was Thursday, Nov. 16. The results should be announced in December or January.
– Trish Wieland