New $5 Student Fee Will Fund Environmental Projects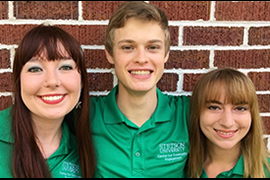 Stetson University student Nathan Bodger envisions a campus with solar panels on buildings, water heated by sunlight, and other conservation measures that will save resources and the environment.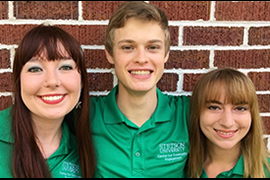 Bodger, an Environmental Fellow, led the effort in recent months for a $5 Green Fee each semester for students to pay for projects that will save money and decrease the university's environmental impact. Stetson students were surveyed twice about the fee and both times a majority supported the idea, which also received the backing of the Student Government Association. 
The Stetson University Board of Trustees approved the fee on Friday, May 5.
"Stetson students make great decisions," said Bob Huth, Stetson's executive vice president of Finance and chief financial officer. "They help resolve pressing problems and have shown their environmental concern."
The idea for the Green Fund dates back several years, Bodger said. Initially, Environmental Fellow Sarah Coffey suggested a Green Fund that would be endowed by a donor. But an endowment to pay for the projects could not be obtained.
Other universities have green funds, including Harvard University, Stanford, Cornell, Notre Dame, Furman and Rollins College. But, according to Bodger's research, Stetson may be the only university whose students pay for the projects through a fee.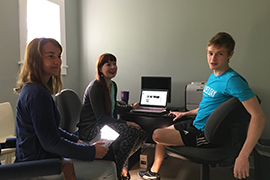 "I just thought if it went through, it would be a really impactful thing to do," explained Bodger, one of three Environmental Fellows on campus who work to raise awareness of environmental issues and sustainable practices. He thanked Stetson Environmental Science Professors Tony Abbott, Ph.D., and Wendy Anderson, Ph.D. and department chair, for helping with the Green Fund proposal.
"I know other universities have green funds, but they're not student-funded. They're endowment-funded, and they have a really big impact on campus. And it's not only something that helps the campus, it's just a pinnacle of what you want environmentally," he said.
Stetson's Green Fee will raise $30,000 a year, he said. Beginning in the fall semester, students will submit ideas for environmental projects on campus. By Spring 2018, the Environmental Fellows, an SGA subcommittee and Stetson's Environmental Working Group, which includes faculty, administrators and staff, will select three projects. Then, in April 2018, students will vote on the project of their choice in an online poll, and that project will be installed on campus by Facilities Management during the summer of 2018.
Each project must document how it would save money, such as reducing electricity consumption, and those savings will be rolled back into the Revolving Green Fund, Bodger said.
Last fall, Bodger surveyed 156 students to see if there was support for the new fee – and 79 percent of students said they would pay an extra $10 per semester to support environmental initiatives. He then conducted a larger survey in January, at the request of the Student Government Association. That survey targeted 300 students and 57 percent said they would support a green fee of at least $5 per semester.
With those survey results, the SGA Senate recently passed a resolution to support the Revolving Green Fund. The resolution requires the fee to be re-evaluated every three years and approved by another vote.
Bodger, a religious studies major who holds dual citizenship in the U.S. and United Kingdom, said he already is working on one possible project for the 2017-2018 academic year: Heating water directly by sunlight, a practice used throughout Europe. Storage tanks are placed on the rooftops of buildings and the systems use the sun's thermal energy to heat water, instead of using electricity.
"We're looking at multiple buildings on campus because that's actually very lucrative in Florida," said Bodger, who hopes to be studying abroad in Thailand next spring when Stetson students vote on the first project. "Using solar to heat the water is a lot more cost-effective than having solar panels. … It's the low-hanging fruit.
"There has to be some payback," he added. "That's how this will be funded in the long term. Eventually, the idea is it's funded by the payback of all of the different projects."
Other possible projects include installing solar panels on campus to produce electricity, motion-sensing faucets to reduce water usage, motion-sensing light switches to reduce electricity consumption, and water-saving toilets.
"The best option would be the solar thermal panels," added Environmental Fellow Sarah Coffey. "We have them on the Hollis Center Pool to heat the pool. If you're heating water with solar, it has a great return on investment."
 -Cory Lancaster