University Presents Awards to Alumni During Homecoming Weekend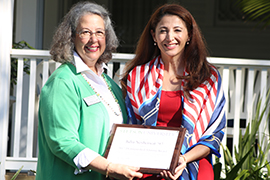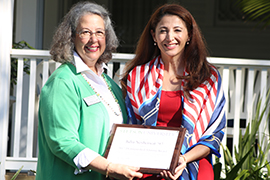 Stetson University presented awards to distinguished alumni at the President's Champagne Breakfast during Homecoming Weekend.
Alumni, faculty, staff, students and others gathered on a sunny Saturday morning for the President's annual breakfast in the Vera Lea Rinker Native Plant Garden at the President's Home.
The university presented the Distinguished Alumni Award for 2017 to Julia Nesheiwat '97, Acting Special Presidential Envoy for Hostage Affairs; and to Charles Wolfe, '85, a member of the Stetson University Board of Trustees and co-founder of Wolfe Kinkennon, which helps organizations with strategy and planning.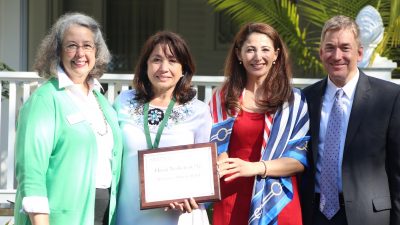 In accepting the award, Nesheiwat credited her mother Hayat Nesheiwat for her success and presented her mother with an Honorary Alumni Award from Stetson. Julia Nesheiwat, who gave this year's keynote address at Convocation, and her four siblings all attended and/or graduated from Stetson: Janette Nesheiwat '98, Daniel Nesheiwat '99, Jaclyn Nesheiwat Stapp '02 and Dina Nesheiwat '03.
"My mom's accomplishments far exceed anything I have done," said Julia Nesheiwat, Ph.D. "Hayat Nesheiwat worked and sacrificed and drove all of us – all my siblings and I today – to make a difference in the world in which we live."
The University also presented: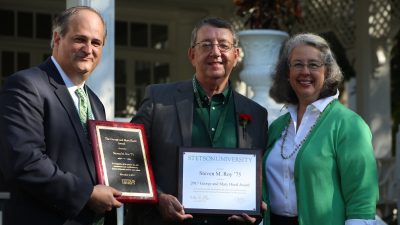 The George and Mary Hood Award, which recognizes an exceptional commitment and contribution to Stetson and its core values. This year's award was given to Steven Roy '75, who holds a law degree from the University of Florida, and has served as general counsel for The Villages of Lake-Sumter, Inc., for more than a decade. He also has served on the Stetson University Alumni Association Board of Directors since 2014.
The Distinguished Service Award for dedicated service to the advancement of the university went to Ronald Clifton Sr. '63, M.A. '65, an international lecturer and consultant who served as a scholar at the American Embassy and as director of the American Cultural Center in Calcutta, India.
The Doyle E. Carlton Award, which is given to an alumnus or friend of the university for devotion to Christian higher education and extraordinary contributions in the area. This year's award was presented to W. Theodore "Theo" Etzel III '80 and his wife Kim Lafferty Etzel '80. Theo Etzel is owner, president and CEO of Conditioned Air of Naples, has served on the board of Fellowship of Christian Athletes, and is past chair of the board of Grace Place, a faith-based nonprofit that teaches literacy and life skills to at-risk children and families. Kim Lafferty Etzel is senior executive marketing director for a nutrition company, Youngevity/Essential Health Science/90 for Life.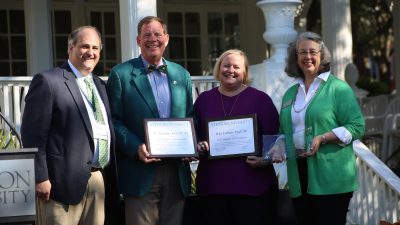 The Outstanding Young Alumni Award goes to Sarah Caudill '06 and Kristina D. Tsipouras '07. Caudill, Ph.D., graduated from Stetson with a B.S. in physics and completed a summer internship at Caltech working on the Laser Interferometer Gravitational-wave Observatory (LIGO) project, which made the ground-breaking detection in 2016 of gravitational waves, as predicted by Albert Einstein's general theory of relativity. Tsipouras is an entrepreneur who started Moroccan Magic, an organic lip balm sold in CVS stores and others nationwide. She was recently selected as one of the Boston Business Journal's "40 under 40," and is a published author and mentor to young women interested in entrepreneurship.