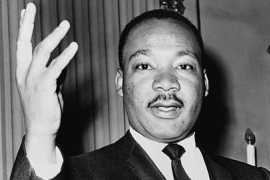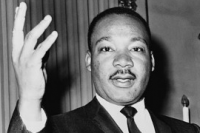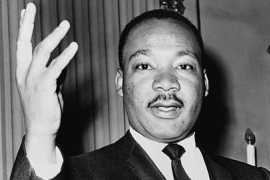 To mark the 50th anniversary of the assassination of Martin Luther King Jr., Stetson will host its annual DeLand MLK Breakfast on Jan. 15. The breakfast, free and open to the public, begins at 9 a.m. at the Hollis Wellness Center's Rinker Field House on campus.
Retired judge Hubert Grimes, interim president of Bethune-Cookman University in Daytona Beach, is the keynote speaker.
Although the breakfast is free, tickets are required. They are available at Stetson's Center for Community Engagement or register here. Students, faculty, and staff are encouraged to attend and may bring friends and family.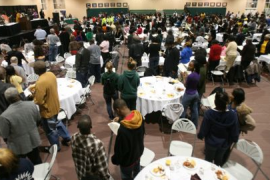 "We are honored to host the annual MLK Breakfast," said Kevin Winchell, Stetson's associate director of Community Engagement, noting the event has been a tradition at Stetson and in DeLand for decades. "It gives us an opportunity to bring citizens and stakeholders together to discuss our common purpose and vision for our community, and to identify how each of us can meaningfully contribute to fulfilling that vision. Dr. King had a dream, and it is the responsibility of each of us to fulfill it."
At 11 a.m., participants from MLK breakfasts in Daytona Beach, Ormond Beach and New Smyrna Beach will join the celebrants at Stetson for a formal march from the Rinker Field House to nearby Earl Brown Park. For the first time ever, those groups from throughout Volusia County will convene at Stetson to commence the march, according to Mario Davis, executive director of the Greater Union Life Center, a DeLand-based nonprofit community service provider and organizer of the event.
Following the march, a festival is scheduled at Earl Brown Park from noon to 4 p.m., featuring live music by the R&B group Pocket Change, a poster contest, sporting events, food vendors, children's performances and a community expo. The Greater Union Life Center also is organizing the festival.
Want to volunteer on MLK Day? Volunteers are needed to help set up the breakfast event and welcome guests. At the festival, volunteers are needed for set-up and to help with event activities. Also, campus and community organizations may host a service/activity booth as part of the community expo. Sign up here to volunteer for any or all of these events.
"As stakeholders in our local community, we at Stetson have a responsibility to work with our partners to solve the most pressing challenges in our community," Winchell concluded. "Our mission calls for nothing short of such action when it implores our students 'to be informed, active and engaged citizens of both local communities and the world.'"
– Rick de Yampert
EVENT HIGHLIGHTS
Monday, Jan. 15
9-11 a.m.: MLK DeLand Breakfast, Rinker Field House, Hollis Wellness Center, Stetson University
11 a.m.-noon: March from Rinker Field House to Earl Brown Park (750 S. Alabama Ave., DeLand)
Noon-4 p.m.: Festival and community expo at Earl Brown Park