Men's Tennis Opens Season on Saturday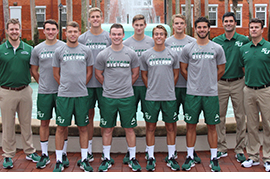 One of the deepest and most talented teams in recent Stetson men's tennis history opens the 2018 spring season on Saturday as the Hatters host Palm Beach Atlantic, 5 p.m., at Mandy Stoll Tennis Center.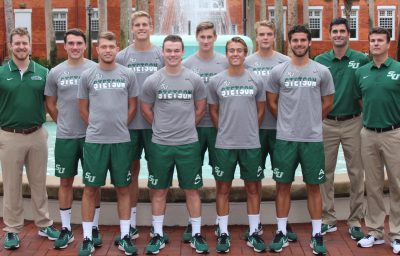 Third-year head coach Christophe Noblet is anxious to begin his program's championship season after a successful fall schedule which saw several new faces and an intriguing doubles tandem emerge to complement the talented veterans.
"This season has been long in the making in terms of recruiting the pieces and lining up everything," Noblet said. "We've spent a lot of time polishing the culture and learning some lessons over the last two years. We'll find out soon enough if we're as good as we think we can be."
ASUN Conference coaches think the Hatters could be pretty good, too. Stetson was recently picked to finish second in the preseason poll behind FGCU, receiving two first place votes.
"Talent-wise this is for sure the best team we've had since I've been here," Noblet said. "I don't think there's a point in hiding that. But talent alone doesn't win matches. We are going to have to dedicate ourselves to the process. On paper this is, theoretically, our best team."
Leading the Hatters into the season will be senior co-captain Loic Blanco. A three-time first-team All-ASUN selection, Blanco owns 42 career dual match singles victories and he is once again expected to anchor Stetson's lineup.
Sophomore Angus Bradshaw spent most of last season playing at No. 2 and earned a spot on the ASUN all-conference first team as well. Bradshaw led the Hatters with 15 singles victories a year ago and enjoyed a solid fall as well, highlighted by a pair of wins at the ITF Futures in Pensacola.
Junior Coilin MacNamara and sophomore William Shkrob will provide the Hatters with tremendous lineup depth this spring. Shkrob won 10 matches in singles play, and MacNamara matched him with 10 victories in doubles action.
Sophomore Colter DeCoste is likely to make his biggest impact in doubles. During the fall season, he teamed with freshman Linus Bergevi to reach the semifinals of the ITA Southeast Regional, a performance which led to the duo being one of 32 doubles teams nationwide selected to participate in the prestigious ITA Fall National Championships.
Noblet knows he has something special brewing with DeCoste and Bergevi.
"Sometimes people just find each other," Noblet said. "They really meshed together well. Colter took ownership and Linus was willing to try new things. They complement each other well."
Freshmen Malik Bhatnagar and Antonie Sanchez will be a big part of Stetson's success in the spring. Bhatnagar was tremendous during the fall play, reaching the finals of the Southern Intercollegiate. Sanchez teamed with MacNamara to win the doubles title at the Juan Varon Invitational.
Stetson's ultimate goal, of course, is to win the ASUN Tournament title and advance to the NCAA Tournament. For that to happen, the Hatters will not only need to perform well throughout the year, but also change how they approach the entire season.
"In the past we've made the mistake of looking too far ahead," Noblet said. "One thing I told guys is that we have to look at the next match and when that's done, then look at the next one. We cannot take anything for granted. We've learned our lesson. We have a chance this year, but looking too far ahead has been a mistake."
Stetson's chance to shine begins on Saturday.