Lt. Col. Mike Waltz: Warrior Diplomat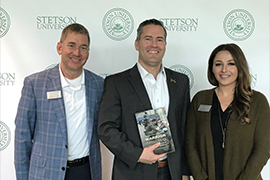 To say that Lt. Col. Mike Waltz has had an impressive career leading rescue missions, serving as a Green Beret, running a multi-million-dollar company and writing a book about fighting for our country on the front line is nothing short of an understatement.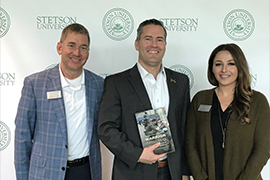 But the recent guest speaker to this year's Leadership Stetson group isn't stopping there: just days before his scheduled visit to campus last week, Waltz stepped up to the plate and tossed his hat in the ring as a Republican for Florida's 6th Congressional District on the heels of U.S. Rep. Ron DeSantis's announcement to run for governor of the Sunshine State.
"A good leader thinks outside the box," he told participants at Leadership Stetson. "You have to know how to push limits and take risks to ultimately get stuff done. Don't get so caught up in the process and rules."
Waltz, a Florida native, graduated with honors from the Virginia Military Institute in 1996. For nearly 22 years, he has served as an Army Special Forces officer with a rank of Lt. Col. while earning numerous recognitions for valor, including four Bronze Stars.
"To be a good leader, you need to set clear goals and go back to basics," Waltz told the crowd. "Be sure you're always working toward your goals. Create an environment that values all voices in order to build consensus as much as possible."

Waltz is the CEO at METIS Solutions, Inc. and a senior fellow for the Foundation For Defense of Democracies. Prior to those positions, he served as Principal Advisor to Vice President Dick Cheney on South Asia and Counterterrorism policy issues and Director for Afghanistan Policy at the Pentagon. Additionally, Waltz served as a contributor at FOX News for nearly a year and a half before announcing his bid for Congress.
"We want our Leadership Stetson participants to hear from someone like Mike Waltz who is a proven leader … someone who's decisions ultimately impact everyone in that room from a very high level. He's helped protect the citizens of this country, making for a better life," explained Woody O'Cain, assistant vice president of Alumni and Parent Engagement at Stetson University. "One of our goals in the last couple years has been to add programmatic sessions that would be a 'value added' component to this program, above and beyond the Stetson promo, designed to give our participants information, that they could take with them to use in their everyday lives."
Leading by What is Right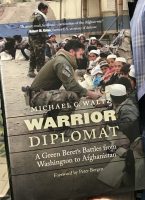 One of the Leadership Stetson participants who thought highly of Waltz's presentation on Friday, Feb. 2, is an alumna who has nothing short of a brilliant career herself: Atlanta-based attorney Trinity Hundredmark '01.
Waltz told several compelling stories throughout his talk, but the one that struck Hundredmark the most involved Waltz's experience when faced with orders that were a matter of life and death.
"While he had the legal ability to shoot, he didn't. A good leader knows you need to sometimes explore deeper what's going on in a situation," Hundredmark noted. "Just because you can, doesn't mean you should. A good leader looks to do what is right."
"He is someone who has made a difference in the safety and security of our country, and he has the potential to make an even greater impact on the national scene," explained O'Cain. "What a great person to have connected with Stetson. I know he really enjoys being connected with this community."
Waltz's visit to DeLand – which included talks with the local Rotary Clubs and business people as well as the ROTC groups from Stetson and Embry-Riddle Aeronautical University – wrapped up with a special "Candidate Meet and Greet" event where pizza, cultural credit and a question-and-answer session allowed students to have a first-hand experience of democracy in action.
-Trish Wieland