Lunar New Year celebration attracts nearly 200 students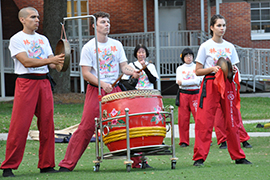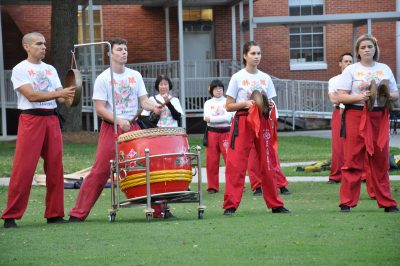 The Asian-Pacific American Coalition (APAC) hosted the Lunar New Year festival recently on the green, engaging nearly 200 Stetson students to partake in a cultural celebration of the new year.
The event Feb. 15 opened with a performance from Wah Lum Kung Fu Temple, a martial arts academy based in Orlando. Complete with musicians and a dragon-costume, the performers combined elements of dance with fierce displays of fighting style and sword play.
In order to receive cultural credit and food, students participated in three out of the four activities, including dumpling-making, identifying Asian countries based on their flags and tying wishes to a "Prayer Tree." After receiving the meal, executive members of APAC led a presentation on the cultural significance of the festival.
Typically considered as the "Chinese New Year" by non-celebrating people and based on the Chinese calendar, the Lunar New Year is celebrated by other East Asian countries such as South Vietnam, South Korea, Tibet and Mongolia with some variance on days from early to mid-February.
In the spirit of tradition, participants received a red folder with a gold coin — understandably chocolate instead of currency.
Characterized by loyalty and justice, the Year of the Dog, according to the Chinese calendar, is the 11th animal of 12 zodiac animals. The zodiac order goes as follows: rat, ox, tiger, rabbit, dragon, snake, horse, goat, monkey, rooster, dog and pig. For reference, 2019 will be Year of the Pig, while 2017 was the Year of the Rooster. The last Year of the Dog was 2006.
Having hosted events such as Holi (the Indian Festival of Colors) and the Lantern Festival (an Asian celebration of new beginnings and good fortune), APAC has delivered large-scale event on campus with hundreds in attendance. The organization has aimed to showcase the diversity in Asian culture, sharing celebrations with a student body from differing backgrounds. Filling both the minds and stomachs of the Stetson community, attendees eagerly await the next event.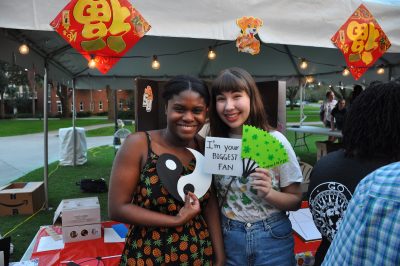 For more information on APAC or if interested in joining the organization, please contact [email protected] or attend its open meetings, held every Monday at 5:30 p.m. in the Cross-Cultural Center (Tri-C).
-Story and photos by Veronica Faison