Stetson Student Takes Second at Entrepreneurship Conference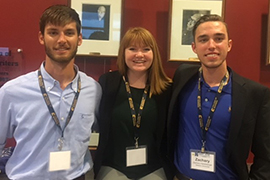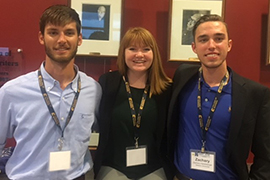 A Stetson University student, Zachary Harshbarger from Panama City, Fla., placed second in the Southeast Entrepreneurship Conference held this past weekend at the University of Tennessee in Chattanooga. Hosted by the Collegiate Entrepreneurs' Organization, the competition gives students an opportunity to pitch their marketable business ideas and compete for prizes.
Harshbarger is a first-year student in Stetson's entrepreneurship program.  Six Stetson University students participated in the competition with Harshbarger, Thomas Oltorik and Josey Pearce progressing to the final round of the competition. Participants were tasked with identifying a significant problem shared by a large number of people, offering a unique and executable solution to the problem with a high potential for financial success, and delivering a stellar presentation of the idea.
The Stetson participants were led by William Jackson, D.B.A., professor of Entrepreneurship and director of Prince Entrepreneurship Program, and Lou Paris, assistant director of the Prince Entrepreneurship Program in the School of Business Administration.
-Marie Dinklage