Perkins Gem Lifts Hatters To Fifth Straight Win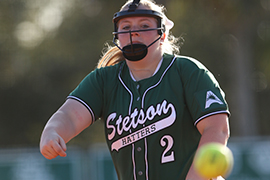 Tori Perkins threw a two-hit shutout and Devin Lewis hit her second home run of the year as Stetson (7-7) defeated Mount St. Mary's (3-6) 5-0 Tuesday night at Patricia Wilson Field.
The win was Stetson's fifth in a row and the 999th in program history.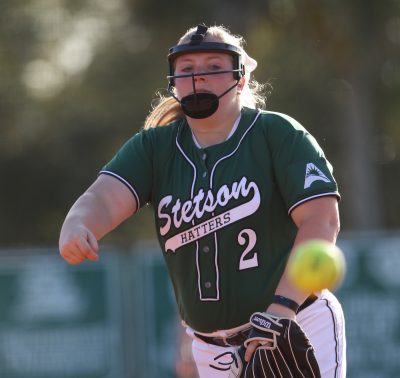 Perkins (3-4) needed just 70 pitches to complete her ninth career shutout.  She threw 54 strikes and recorded 16 ground ball outs.  She retired 10 in a row at one point.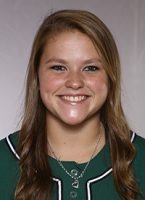 "I thought we got a real good pitching performance out of Tori," Stetson head coach Frank Griffin said.  "This past weekend she was throwing a little flat.  She had injured her foot, and she just wasn't spinning the ball like she normally does.  Tonight, I thought her spin was back and her location was good.  She wasn't walking batters, and the infield played really well behind her."
Perkins allowed just a two-out single in the second and a two-out single in the seventh.  She did not walk a batter nor even face a three-ball count.
"A little bit of everything was working," Perkins said.  "I was just focused on keeping it low and trusting my infield to get those outs."
Danielle Diaz made her first start at third base and made a nice play off a deflection in the top of the first inning to set the tone.  Lizzie Shubert was perfect in six chances at shortstop and second baseman Molly McLaughlin ranged far to her left to snare a grounder for the final out of the game.  Ashly Smith moved back to first base and had 16 putouts.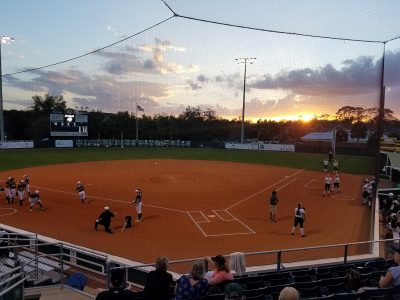 "We made a couple of changes on the infield that I like what I saw," Griffin said.  "It made us a lot quicker.  We just have to get more bats in the lineup to get where we want to be, but I think our defense is dialed in."
Stetson's offense was aided by a two-run home run from Lewis in the bottom of the fourth, her second home run in as many games.  Linda Ross and Kasey Fava added RBI singles later in the inning to put Stetson ahead 5-0.
"Those runs made me feel a lot better," Perkins said.  "I was able to relax, throw it a little bit harder, throw it a little bit lower, and get more ground ball outs."
Stetson will host the Hatter Classic this weekend at Patricia Wilson Field.  On Friday, the Hatters will face Drexel at 5 p.m. and Tennessee State at 7 p.m.