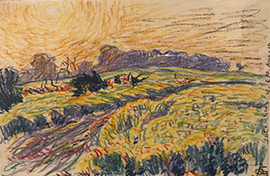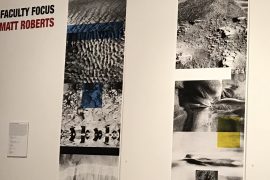 The eerie droning of wind, wings and warmth dominate "A Better Nectar," a bumble-bee-inspired exhibit so large and ambitious in its associations that it extends from the Hand Art Center to the Gillespie Museum at Stetson in DeLand. It's hardly surprising that viewers are drawn to its luminous spheres and echoing score as they enter the art center.
Still, two very different shows also share space in the gallery, and offer similarly unusual perspectives. Through March 3, jangling chords in Faculty Focus: Matt Roberts, M.F.A., add to the cutting-edge aspects of "Unfolding," a major video-and-print work, and the three immense archival pigment prints in "Drift."
Roberts, an associate professor of digital art at Stetson, made the multimedia "Drift" last spring, during his sabbatical.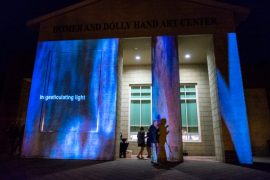 "All of its images are based on walks I took along the Canaveral National Seashore coastline with the camera I always carry with me," Roberts said. "The lines are the paths, or fragments of the paths, I took."
The final image of the four-part composition is the show-stopper. It's a small three-dimensional print, dramatically up-lit by computerized light from a projector. The beam hits the gallery wall at a sharp angle, rising in a conical ray from the piece to the ceiling. "That's the new thing – a 360-degree photograph of debris on the beach," Roberts said.
Around the corner, in the gallery at the heart of the Hand center, is the most exquisite exhibit in recent memory. "Thoughtful and eloquent, (Un)canonical Bluemner" was organized from the Hand's keynote collection by student curator Abigail Ramsbottom '18, and is the visual component of her senior thesis. The exhibit continues through May 3.
Student Perspective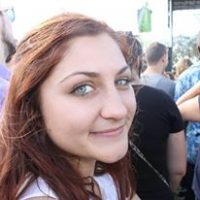 "Abby did a terrific job," said Stetson Professor Emerita Roberta Favis, Ph.D., who recently retired as curator of the collection that was donated to Stetson by Vera Bluemner Kouba, daughter of the German-American abstract master Oscar Bluemner. "She took an original track on the collection and looked at it in a critical context, working partly from some interesting stuff."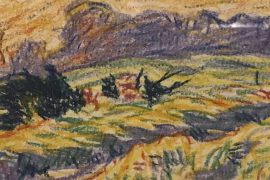 Among those interesting sources were letters between Kouba, a DeLand resident in her later years, and the Museum of Modern Art. A 1916 exhibition catalogue of works by Paul Cezanne, with Bluemner's admiring notes, also is featured to make points in a way that is both scholarly and broadly intriguing, along with a 2011 Christie's auction catalogue with Bluemner's "Illusion of a Prairie: New Jersey (Red Farm at Pochuck)" on its cover.
A tour of the elegant exhibit's well-chosen works shows why an artist who was underappreciated during his mature years and for decades after his death in 1938, is on the way to taking his place among the modernist greats. Vivid colored pencil lines create an animate quality in a 1910 study reminiscent of Vincent van Gogh's animated vistas. But "Gutenberg (New Jersey)" is more: Its rich, fiery reds and stubby green-blacks build a solid sense of radiant field and scrubby hedges.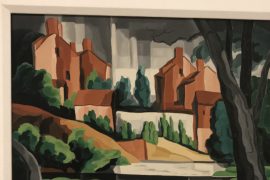 Tracking Bluemner's development and techniques with several series of sketches and paintings, separated by wall texts that explain them fully, Ramsbottom builds from the artist's tentative foray into abstraction to its full expression. In works such as "Stanhope (Contemplation in a New Jersey Town) Old Canal Port," a watercolor and gouache on paper, and "Sunset Effect on Rain (North Bloomfield, Third River at James St.), the show explores Bluemner's evolution and demonstrates its steps.
Nowhere is this clearer than in the meticulous notations Bluemner made on drawings and quick watercolors like his 1920 "Riviera." In fine pencil, he scrawled, "sky crystal, m[ou]nt[ai]ns (sic) all solid … Trees div[ide] center … h[ou]ses solid at angles."
Above the tiny but very precise notes, Bluemner added dimensions, a date and abbreviations for the colors he wanted to remember, perhaps to include later in the studio.
Thanks to Ramsbottom's gracefully didactic approach and presentation, "(Un)canonical Bluemner" is everything a museum exhibition should be: personal, scholarly, joyous.
– Laura Stewart
IF YOU GO
"(Un)Canonical Bluemner" will be at the Homer and Dolly Hand Art Center on Stetson's DeLand campus through May 3. Curator Abigail Ramsbottom's Gallery Lecture is set for 7 p.m. on March 3 at the Hand center. Admission is free. Hours are 11 a.m.-4 p.m. Monday through Wednesday and Friday; 11 a.m.-6 p.m. Thursday; and noon-4 p.m. Sunday. Phone: 386-822-7270.