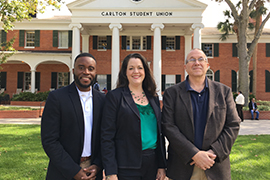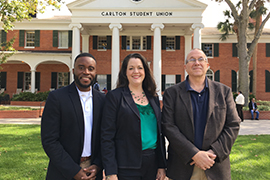 This Thursday, March 15, Stetson University Religious and Spiritual Life hosts the third event in the "Big Words: Perspectives on Religion and Spirituality" series.
The theme of this week's event, Awe, focuses on research done by Patricia Bockelman Morrow and her team on the feelings of awe and wonder experienced by astronauts during space flight. Bockelman Morrow is Primary Research Investigator at the University of Central Florida's Institute for Simulation and Training.
Awe is the emotional and spiritual response to becoming aware of something vast that can transcend or transform our understanding of the world. More and more, scientists are asking why we experience awe, how it contributes to our mental and spiritual wellbeing, and how we can experience more of it.
Big Words: AWE will be held at the Rinker Welcome Center, starting at 6:30 p.m. Dinner will be served. Cultural credit is available for the event.
Religious and Spiritual Life presents Big Words every month, with each event focusing on a theme relevant to the exploration and practice of spirituality. In April, "Big Words: JOIN" will be a part of Better Together Week, April 9-13.