Coming Out against Heckling and Discrimination on the Court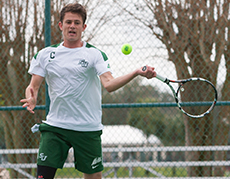 As a Hatter tennis player, Graham Ball sometimes stepped onto the court with added stress and anxiety.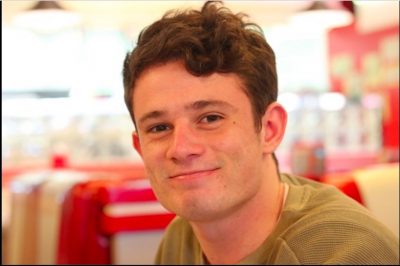 He worried fans or other athletes would heckle him during matches and shout out slurs based on how they perceived his sexual orientation. If they did, he would need "an incredible amount of focus" to play his best.
"I was targeted a lot and it was not routine like every match, but it was something I had to worry about," he said recently. "It was something that was consistently in the back of my mind that caused me stress and anxiety as I was walking on the court to play matches. Okay, how are the fans going to behave? How are my opponents going to behave?"
Before graduating from Stetson University last May, the once-closeted captain of the Men's Tennis Team decided to speak out. With encouragement from several of his professors in the Philosophy and English departments, as well as officials in Athletics and the Title IX Office, he wrote and asked the NCAA to adopt a "No Tolerance Policy" for heckling and intimidation of character.
"In my cases, I often was the target of harmful comments aimed to induce fear or diminish character based on perceived sexual orientation," Ball wrote to the NCAA's Office of Diversity and Inclusion last May. "As a closeted gay student-athlete, these comments bear tremendous weight on my personal life, and I do not believe that they should have a place in any sport etiquette."
Ball is taking off a gap year at home in Montreal, Quebec, before starting law school. But he has not given up his efforts to create a safer space for athletes. Last month, he wrote an article for Outsports.com about his experiences and outlined his recommendations to the governing body for collegiate sports.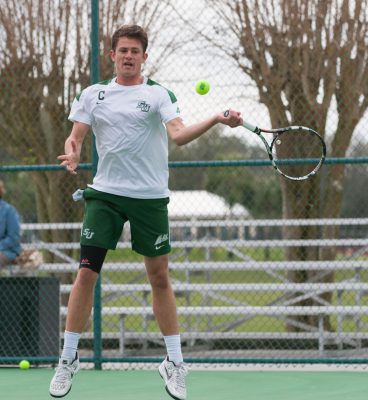 "I do think that the sports world is relatively behind society in terms of speaking out against things like discrimination and slurs. I think my experiences in college, studying philosophy helped me largely to see that," he said by phone from Canada. "I was exposed to issues of gender, race, sexual orientation, ethics, social justice and I was able to connect that to my life as an athlete. Growing up in tennis, I never really noticed these problems up until college."
The NCAA opposes discrimination based on sexual orientation or gender identity, as well as race, ability, national origin and religious belief, according to its website.
In a Statement of Affirmation by the NCAA LGBTQ Subcommittee, the association acknowledged that LGBTQ student-athletes, coaches and administrators "too often endure social stigma and emotional trauma on the court, in the classroom, and in the workplace." But the association said it celebrates their "courage and fortitude" and encourages everyone to speak out against all forms of prejudice.
Ball, in his letter to the NCAA, said the environment at many tennis matches did not reflect the association's stance against discrimination. "In my view, much more should be done to amend this problem," he wrote to the NCAA.
Ball recommended the NCAA take a firmer stand against heckling, such as requiring more oversight of the crowd and athletes to prevent taunting based on sexual orientation or gender expression. Ball said more oversight is needed because he sometimes complained about heckling at tennis matches, but the "officials brushed off my concern."
"I think Graham is a man of character," said Cathy Downes, Stetson's executive director and Title IX coordinator. "I applaud his willingness to confront gender and sexual orientation discrimination in a sport he loves, especially understanding the personal risk associated with speaking up. Personal integrity is what allows his voice to resonate through the NCAA."
Added Stetson Athletics Director Jeff Altier, "In my eyes this is leadership and I am proud that a Stetson education and leadership training from the athletic department, coaches and staff has provided Graham with a foundation that allows him to move his advocacy forward. I applaud Graham for taking a position and for sharing his experience."
Ball said the letter to the NCAA was "a group effort" at Stetson. He met first with Assistant Professor Melinda Hall and Associate Professor Susan Peppers-Bates in the Philosophy Department, and Visiting Assistant Professor Michele Randall in the English Department. "That's something I'm incredibly appreciative of because if I hadn't been supported by the professors I don't think that I would have had the strength to continue," Ball added.
He also met with Jeff Altier and PJ Moses, associate athletics director for Student Services, and both were equally as supportive. They helped him craft the letter to the NCAA, along with Downes in Stetson's Title IX Office.

"The reason I decided to speak up about this issue in my senior year was following the presidential election, the person who got into office, the climate that was exposed following the election made me realize that I want to contribute as much as possible to give him a counter to what the current norms are," Ball explained. "I felt that coming out was incredibly important for sharing my story and having my voice heard in a meaningful way."
Since then, he has been surprised by the outpouring of support from former collegiate athletes and current athletes across the United States and Canada, and as far away as Spain.
Although the NCAA has yet to adopt his recommendations, Ball said he plans to continue his advocacy. He is still deciding on which law school to attend this fall, including possibly Stetson College of Law in Gulfport.
"I will tell you that I have received attention from two tennis companies who are wanting to feature me, too, and want to partner with me on this issue so that's very promising and we're going to pursue this to the full extent that we can," he said.
-Cory Lancaster
What is Title IX?
Title IX is a federal law that protects people from gender-based or sex-based harassment, discrimination and violence in an educational institution. Stetson University strives to be a safe place, free from harassment and discrimination of any kind, said Cathy Downes, executive director and Title IX coordinator at Stetson.

The university has people and resources in place to resolve concerns that are reported to the university, and Downes said she wants to assure the Stetson Community that these reports are responded to in a respectful, empathic and effective way.
For more information about Title IX policies, procedures and resources, go to https://www.stetson.edu/other/title-ix/. To report an incident, contact Cathy Downes at 386-822-7960, email [email protected] or go to https://www.stetson.edu/other/title-ix/reporting-options.php.
Students interested in this work can help the Peer Advisory Council for Title IX (PACT) by contacting Downes at [email protected]. Stetson employees can participate in workshops and training like "Safe Zone" training through the Office of Diversity & Inclusion, or "I'm Not Trained for This!" workshops through the Title IX Office.